NEW: UAD-2 Ultimate 6 Bundles from Universal Audio
Posted on Thu 16 November 2017 in entries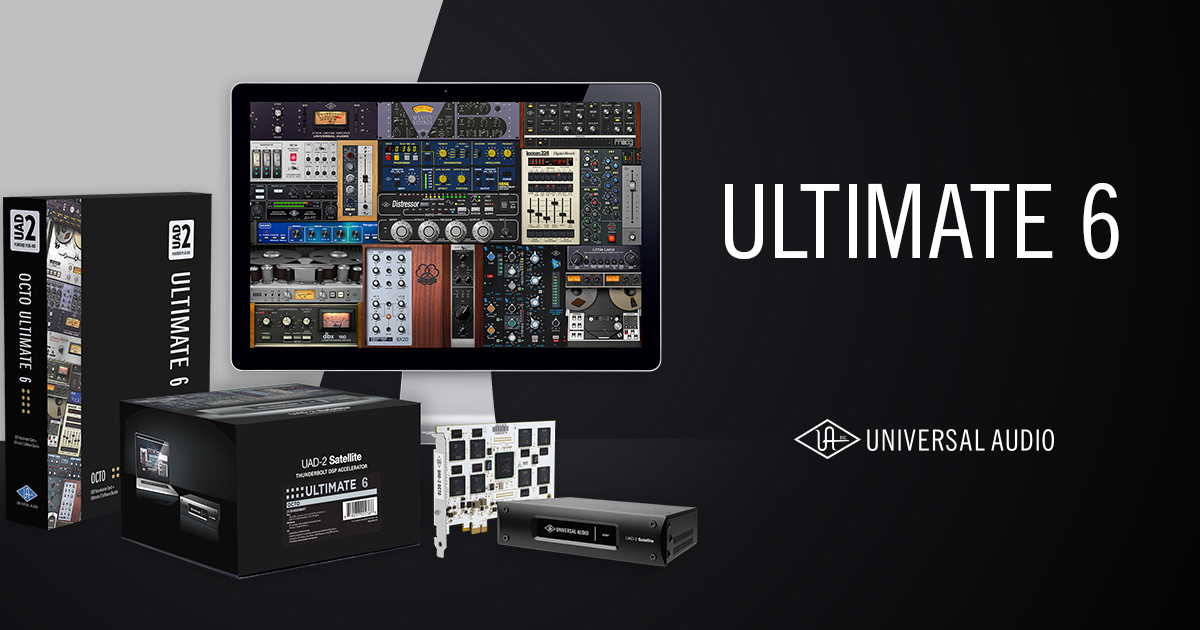 Universal Audio just unveiled a pre-Christmas treat in the form of an updated DSP accelerator and plugin bundle!
The UAD-2 Satellite Thunderbolt OCTO Ultimate 6 is Universal Audio's most powerful DSP accelerator, combined with a flagship collection of 95 UAD Powered Plug-Ins. This sleek desktop unit is compatible with Thunderbolt-equipped Macs and Windows PCs, and can supercharge Apollo interfaces and other UAD-2 DSP Accelerator systems to run larger mixes filled with rich analog emulation plug-ins. This new package has been released alongside a USB and PCI Card equivalent.
The UAD-2 Satellite Thunderbolt OCTO Ultimate 6 includes 95 UA-developed* plug-in titles from a world-renowned library that includes Ampex, Lexicon, Neve, Manley, Fairchild, Empirical Labs, Fender, Studer, SSL, KORG, and many more. In creating UAD plug-ins, Universal Audio's DSP engineers work with the original hardware manufacturers — using their exact schematics, golden units, and experienced ears — to give you all the warmth of classic analog equipment in your DAW.
The UAD-2 Satellite Thunderbolt OCTO Ultimate 6 provides massive horsepower via eight SHARC processors, and its Thunderbolt technology offers reduced plug-in latency compared to FireWire 800.
Key Features:
Run UAD Powered Plug-Ins via Thunderbolt connection on modern Macs or Windows 10 PCs
8 SHARC processors provide a massive DSP boost for running large professional mixes 
Includes "Ultimate 6" plug-in bundle, featuring 95 UA-developed plug-ins from Ampex, Lexicon, Studer, Neve, Manley, SSL, Empirical Labs, Fender, KORG, and more*
Take UAD plug-ins "on the road" for mixing on Thunderbolt-equipped computers
Dual Thunderbolt ports allow convenient daisy-chaining of Thunderbolt peripherals
Compatible with Pro Tools, Logic Pro, Cubase, Ableton Live, and more
Combine with other UAD-2 devices, including UAD-2 PCIe card(s), and Apollo audio interfaces
VST, AU, RTAS, AAX 64 and 64-bit DAW compatible
* Ultimate 6 package includes 95 UA-developed plug-ins up to and including UAD Software v9.4 Does not include any Direct Developer (3rd party) plug-ins, nor plug-ins released after UAD software v9.4.
UAD-2 Satellite Thunderbolt System Requirements
For complete compatibility information, visit help.uaudio.com
Mac:
Apple Mac computer with available Thunderbolt port
macOS 10.10 Yosemite, 10.11 El Capitan, or 10.12 Sierra
Windows:
PC computer with available Thunderbolt 3 via USB-C port
Windows 10 (64-Bit Edition)
Qualified Thunderbolt 3 to Thunderbolt 2 adapter (sold separately)
All:
Thunderbolt 2 cable (sold separately)
6 gigabytes available storage
Internet connection to download software and authorize UAD plug-ins
Compatible VST, Audio Units, RTAS, or AAX 64 plug-in host DAW software
Quad Core i7 or better processor recommended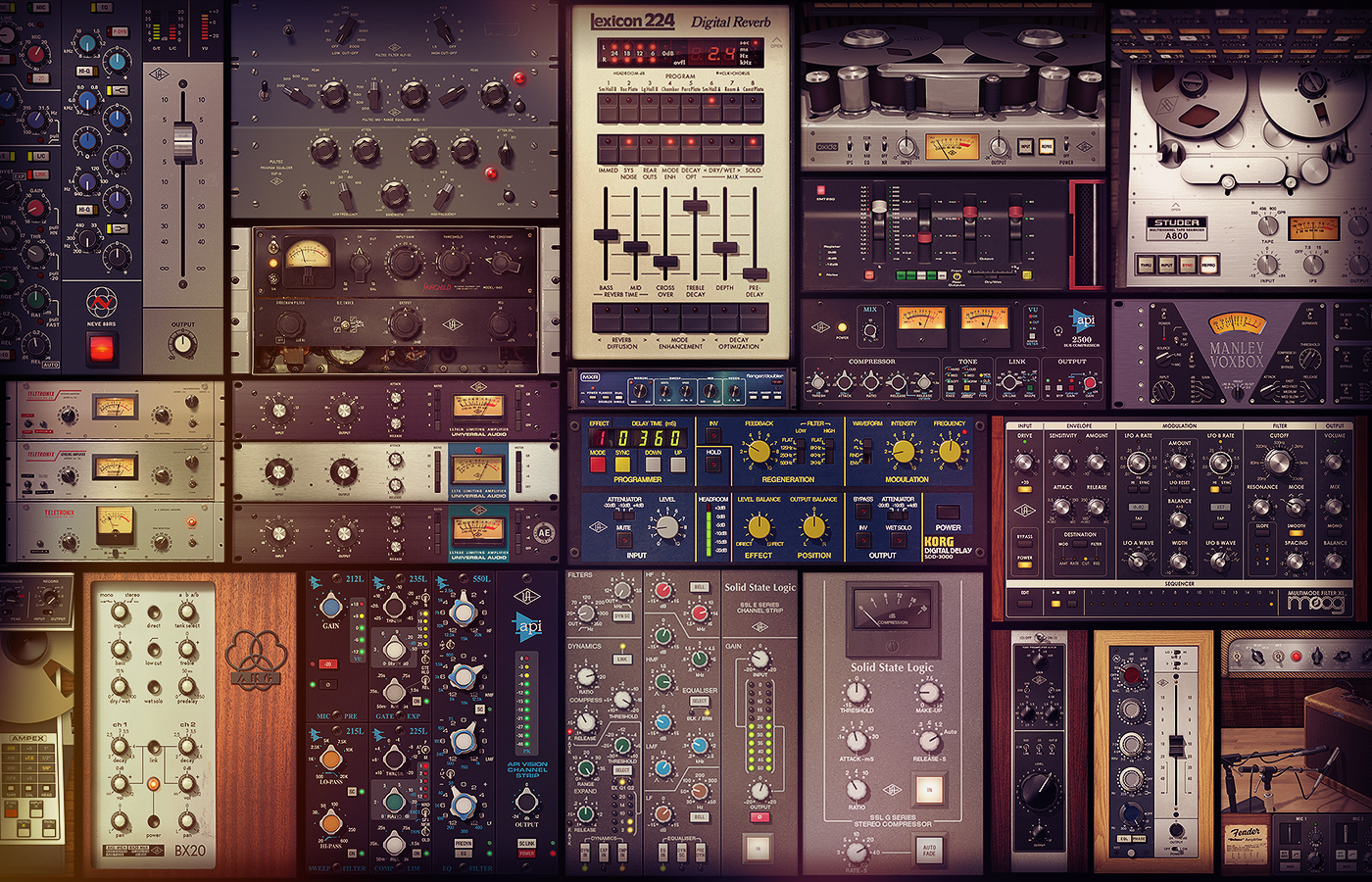 Ultimate 6 Software Bundle Contents:
Compressors/Limiters (22)
API 2500 Stereo Bus Compressor
dbx® 160 Compressor / Limiter
Empirical Labs Distressor™
Fairchild® 670 Compressor
Fairchild® 660 Compressor
Fairchild® 670 Legacy Compressor
Manley Variable Mu® Limiter Compressor
Neve® 33609 Compressor
Neve® 33609SE Compressor
Precision Buss Compressor
SSL® 4000 G Bus Compressor
SSL® G Series Legacy Bus Compressor
Teletronix® LA-2 Classic Leveler
Teletronix® LA-2A Gray Classic Leveler
Teletronix® LA-2A Legacy Leveling Amplifier
Teletronix® LA-2A Silver Classic Leveler
Teletronix® LA-3A Classic Leveler
UA 1176AE Classic Limiter
UA 1176LN Legacy Limiting Amplifier
UA 1176SE Legacy Limiting Amplifier
UA 1176 Rev A Classic Limiter
UA 1176LN Rev E Classic Limiter
Equalizers (20)
API 550A Parametric EQ
API 560 Graphic EQ
Cambridge EQ
Harrison® 32C Channel EQ
Harrison® 32C SE Channel EQ
Helios™ Type 69 EQ
Neve 1073 Preamp & EQ
Neve® 1073 Legacy Classic Console EQ
Neve® 1073SE Legacy Classic Console EQ
Neve® 1081 Classic Console EQ
Neve® 1081SE Classic Console EQ
Neve® 31102 Classic Console EQ
Neve® 31102SE Classic Console EQ
Precision Equalizer
Pultec EQP-1A Legacy EQ
Pultec EQP-1A Passive EQ
Pultec HLF-3C Passive EQ
Pultec MEQ-5 Passive EQ
Pultec Pro Legacy EQ
Trident® A-Range Classic Console EQ
Channel Strips (10)
API Vision Channel Strip
CS-1 Channel Strip
Manley® VOXBOX Channel Strip
Neve® 88RS Channel Strip
Neve® 88RS Legacy Channel Strip
Precision Channel Strip
SSL® 4000 E Channel Strip
SSL® E Series Legacy Channel Strip
UA 610-A Preamp & EQ
UA 610-B Preamp & EQ
Delay & Modulation (9)
Brigade Chorus Pedal
Cooper® Time Cube MkII Delay
EP-34 Tape Echo
Galaxy Tape Echo
KORG® SDD-3000 Digital Delay
MXR® Flanger/Doubler
Precision Delay Modulation
Precision Delay Modulation Long
Studio D Chorus
Special Processing (15)
Ampex® ATR-102 Mastering Tape Recorder
FATSO™ Jr. Tape Sim. & Compressor
FATSO™ Sr. Tape Sim. & Compressor
Little Labs® IBP Phase Alignment Tool
Little Labs® Voice Of God Bass Resonance
Moog® Multimode Filter
Moog® Multimode Filter SE
Oxide Tape Recorder
Precision De-Esser
Precision Enhancer Hz
Precision Enhancer kHz
SPL® Transient Designer
Studer® A800 Multichannel Tape Recorder
Thermionic Culture Vulture
Moog® Multimode Filter XL
Guitar (4)
Bermuda Triangle
Fender® '55 Tweed Deluxe
TS Overdrive
Raw Distortion
Mastering (6)
Precision K-Stereo Ambience Recovery
Precision Maximizer
Precision Multiband
Precision Limiter
Manley® Massive Passive EQ
Manley® Massive Passive Mastering EQ
Reverbs (9)
AKG BX 20 Spring Reverb
DreamVerb Room Modeler
EMT® 140 Classic Plate Reverb
EMT® 250 Electronic Reverb
Lexicon® 224 Digital Reverb
Ocean Way Studios
Precision Reflection Engine
Pure Plate Reverb
RealVerb Pro Custom Room Modeler