New: The Focusrite Clarett Sound - now on USB
Posted on Wed 17 January 2018 in entries

Popular studio hardware company, Focusrite just announced a trio of new products, adding to their Clarett family of interfaces.
The new range of Focusrite Clarett USB interfaces promises to beat interfaces twice the price or more, according to the Focusrite website. This is a very tall claim, is it one they can live up to?
The new Focusrite Clarett USB line features specially designed, low-noise (-128dB EIN) mic preamps with a low distortion, ultra-linear design that guarantees a clean, open and transparent sound, giving an accurate representation of the original performance with little to no colouration.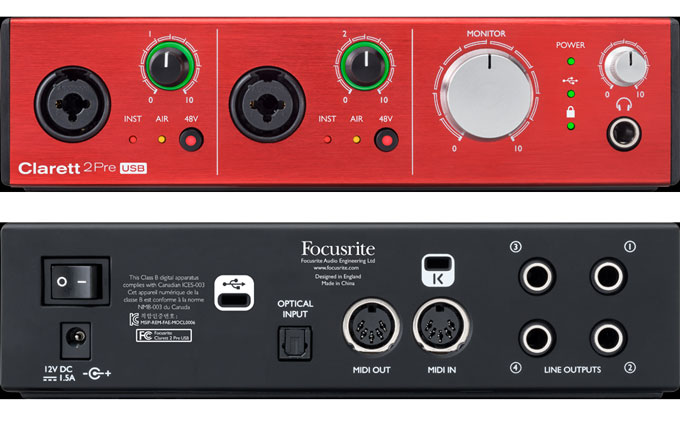 The new Focusrite Clarett 2pre USB Interface
The new series of interfaces is comprised of 3 models: Focusrite Clarett 2Pre USB (10-in, 4-out), Focusrite Clarett 4Pre USB (18-in, 8-out) and the rack-mounted Focusrite Clarett 8Pre USB (18-in, 20-out).
Boasting an impressive dynamic range of up to 119dB, Clarett can now be used with any Mac or PC with USB 2.0 and above. The new USB Focusrite Clarett interfaces come with standard USB and USB Type-C cables to connect to Mac® or PC, allowing you to record with super-low latency through amp simulators and effects plug-ins.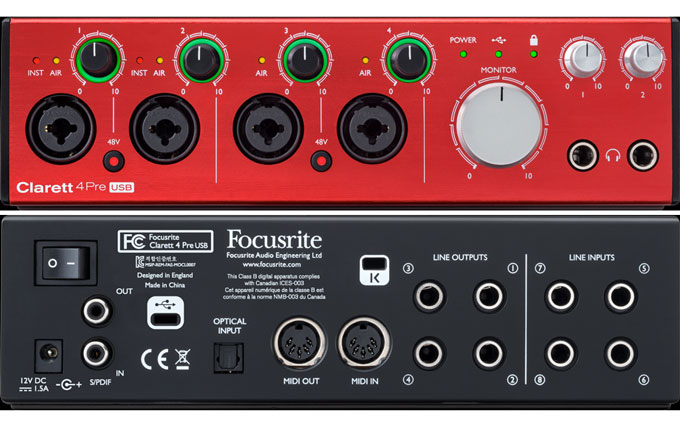 The new Focusrite Clarett 4pre USB
Focusrite have been developing their analogue circuit design for many years now, enabling the new models to deliver 24-bit/192kHz A-D and D-A conversion. In addition, the Air-enabled mic preamps can reproduce the input impedance, clarity and frequency response curve of Focusrite's original ISA mic preamp.
The Clarett range from Focusrite is acclaimed for its sound quality. It's due partly to Clarett's specially-designed mic preamps with the unique "Air" effect, adding air and clarity especially to vocals and acoustic instruments. Plus Focusrite's precision digital conversion, carefully balancing noise floor, dynamic range, frequency response and distortion for the best possible sound to and from your DAW.
As with many generations before them these new interfaces sport the same sleek red chassis and gain halo meters that show the input level at a quick glance. The mic/line/instrument inputs can record everything from condenser mics to super-hot pickups with no unwanted distortion. The ADAT input supports an additional eight channels in combination with multi-channel mic preamps like Clarett OctoPre.


The new Focusrite Clarett 8pre USB
These exciting new interfaces are now available to pre-order here:
Included software:
XLN Audio – Addictive Keys: one of four inspiring and interesting keyboard instruments
Focusrite – Red Plug-in Suite: accurately models our classic Red 2 equaliser and Red 3 compressor
Softube – Time and Tone Bundle: four of Softube's world-class reverb, delay, mastering and distortion plug-ins
Focusrite – Plug-in Collective: exclusive offers, tutorial content and more, from some of the most innovative and prestigious plug-in companies
Ableton – Live Lite™: Industry leading music-making software
Loopmasters - 2GB of royalty-free sample libraries