New: Focal Shape Active Studio Monitors
Posted on Fri 05 May 2017 in entries

After three years of R&D behind firmly-closed drapes at Focal HQ, the JMLab team have finally announced an whole new range of active studio monitoring speakers featuring their most innovative technology to date, and promises a truly critical and articulated listening experience.
Right off the bat you'll notice the new cabinets of the Focal Shapes feature a very classy looking Walnut-Effect veneer. The dimensions of each speaker cabinet throughout the range have been calculated to ensure a linear high-end frequency response.
There's a lot of new developments under the hood. Focal have introduced a newly designed 'flax sandwich cone' woofer consisting of a layer of flax fibres between two glass fibre layers. The composition of materials is similar to that of the drivers used in Focal's SM6 and SM9 ranges and delivers predictably striking results.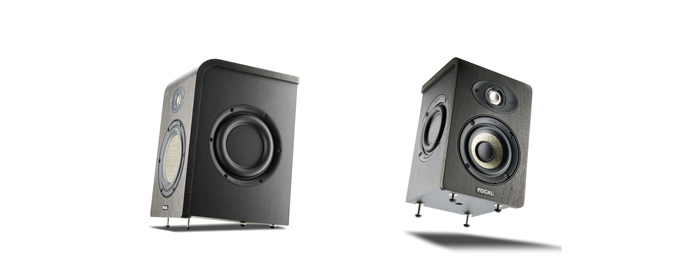 The new Focal Shape models also feature a new M-shape inverted aluminium/magnesium composite tweeter offering a linear frequency response below 6 kHz and optimising the crossover with its woofer counterpart. The rigid design is surrounded by housing that has been designed to reduce distortion and provide equal horizontal and vertical directivity.
Something else that you will notice from the photos is that unlike the majority of Focal's other nearfield monitors, the Shapes are un-ported, sealed units. The task of maintaining an extended frequency response in such compact speakers has been achieved by introducing dual passive radiators to the side of each model. This tactic not only means that impressively low tuning is possible, but also that the monitors can be placed in close proximity to walls without the worry of rearward reflections and compromised accuracy.
Several other innovations have found their way into the Focal Shape design: a 'Neutral Inductance Circuit' (or N.I.C.) reduces the effect of the woofer voice coils on their magnetic field whilst optimising tweeter crossover. Plus, around each of the drivers, Focal have employed a TMD surround system which optimises harmonic absorption ensuring a piston like action reducing distortion and yielding a greater overall stereo image. And finally, class AB amps have been specially chosen to ensure optimal control over signal and dynamic range.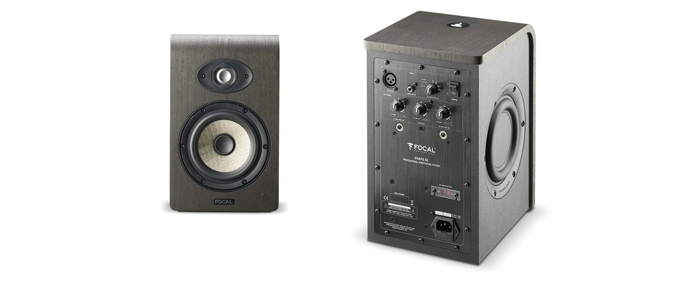 Every aspect of the Focal Shape has been carefully considered to ensure the greatest critical listening experience in any situation – and we mean any situation: each model ships with protective grills and height-adjustable spikes to customise elevation and angle and threaded back panels designed for speaker brackets. The Shape 40 and Shape 50 also include universal threads on their undersides for microphone stand mounting.
The new Focal Shape 40, Shape 50 and Shape 65 (named because of the size of their woofers - 4 inches, 5 inches and 6.5 inches) are available to order soon, so get in touch for more details on the individual products. We are very excited about having these in stock, so keep your eyes and ears open for further updates, and when they are here you can come along to our superstore and listen to them for yourself in our Studio Monitor demo room.
UPDATE: These are now in our studio monitor demo room - come along and hear them for yourself!
Tweeter with very low directivity for a flexible listening position
Designed without a port, but with a double passive radiator, allowing it to be placed near a wall
Numerous settings for optimal integration
Accurate control, even in the very high end
Flax sandwich cone: controlled and articulated bass, natural and detailed lower mid-range and upper mid-range registers.
Mounting mechanisms present on the back and underneath the loudspeaker