New: Fender Brad Paisley Road Worn Telecaster
Posted on Thu 13 July 2017 in entries


An acclaimed superstar of modern country music, Brad Paisley has defined a guitar-centric sound infused with the voice and vibe of the Telecaster®.
Fender has teamed up with this award-winning guitarist to create his signature model, the limited-edition Brad Paisley Road Worn Telecaster. An eye-catching instrument with plenty of country mojo, this stage-tested Telecaster is ideal for adding some Nashville flair to your arsenal.
The Brad Paisley Telecaster is crafted from a paulownia core with a spruce top and back, providing a solid, lightweight foundation with acoustic-like resonance. The Paisley-approved pickup configuration includes a custom-wound '64 Tele® bridge pickup and a Fender Custom Shop Twisted Tele® neck pickup for classic tone with just the right balance of warmth and twang. Playability is key to Paisley's fleet-fingered style and the "Enhanced V" neck profile is designed for comfort, filling the hand at the nut for easy chording while flattening out in the upper registers for soloing. The modern 9.5" radius fingerboard and medium-jumbo frets make it easy to play fast and bend big.

"The best thing about having a Fender Signature Telecaster is the unwavering quality associated with the brand's legacy and confidence that I'm introducing a great guitar at an incredible price point," says Paisley.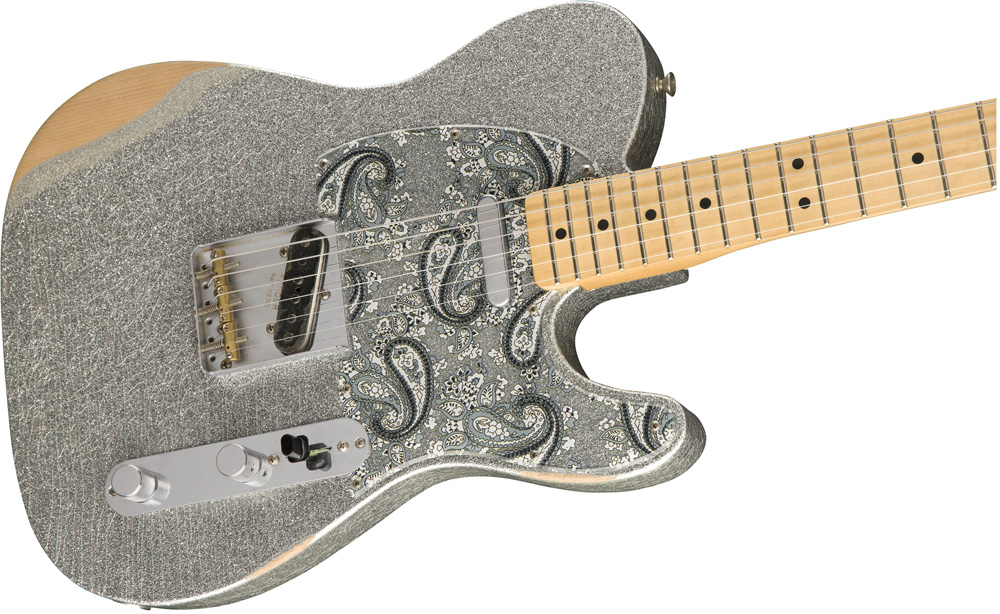 This new Fender Brad Paisley Road Worn Telecaster wears a silver sparkle Road Worn lacquer finish and aged hardware, inspired by many years on the touring trail. Elegant signature touches include a custom clear pickguard with black and silver paisleys and a cowboy hat insignia on the headstock. Simply put, this easy-playing music machine is a must for Tele lovers and belongs centre-stage in any country collection.

We are expecting to see these new Brad Paisley Signature Telecaster guitars on our wall very soon, so keep your eyes open for availability and price updates.