NEW: Audient iD44 Audio Interface Announced
Posted on Wed 24 January 2018 in entries

Possibly our nearest interface manufacturer, Hampshire-born Audient has taken the opportunity to launch a new flagship interface at this year's NAMM show - the iD44 which promises to be their most powerful desktop unit yet.
Audient barely needs any introduction, those in the industry know the name and will agree that the British manufacturer has a sterling reputation for audio interfaces for professionals and home studio enthusiasts alike.
The new Audient iD44 is a 20-in, 24-out desktop USB interface that houses 4 Audient Class-A console mic pres offering 60 db of gain, all new class-leading converter technology, options for digital expansion, new mix-focussed software specifically designed for ease of use when managing large sessions and an all-metal build. Designed to deliver ultra- low noise and low distortion, the Audient mic pre will provide an accurate reproduction of your source, along with enough analogue warmth to add a bit of character, making it the go to mic pre for any project.

As well as offering you 4 channels of mic pre, the Audient iD44 has two harmonically rich JFET D.I inputs designed to replicate the input stage of a classic valve amplifier. Simply plug in your guitar, bass or synth whenever inspiration strikes and start recording instantly.
The look and physical feel of the unit will be very familiar with existing users, and admirers, of the other models in the Audient interface family.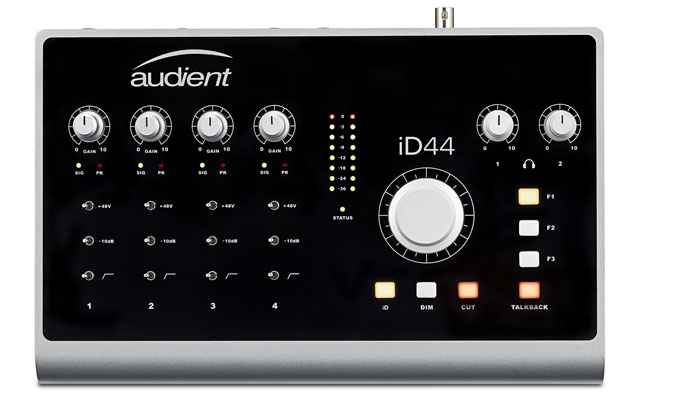 Equipped with two Optical input and output connectors, the iD44 gives you plenty of options for expansion. Supporting both ADAT and SPDIF, iD44 enables you to add up to 16 channels of mic pres to your setup - perfect for bigger sessions or tracking a live band.
Two fully balanced insert points enable you to integrate your outboard gear prior to conversion, letting you quickly insert your favourite compressors, vintage mic pres or EQs. The insert return also gives you direct access to the analogue to digital converters - providing the cleanest signal path possible, making it great for print-backs or integrating outboard analogue line level sources. Whether you're creating vocal chains or processing stems iD44 gives you the flexibility you need.
"iD44 is the natural expansion of Audient's high performance audio interface range, building on award-winning features; utilising high grade components and adding innovative, new enhancements inspired by listening to our customers' feedback," says Andy Allen, Audient's marketing manager.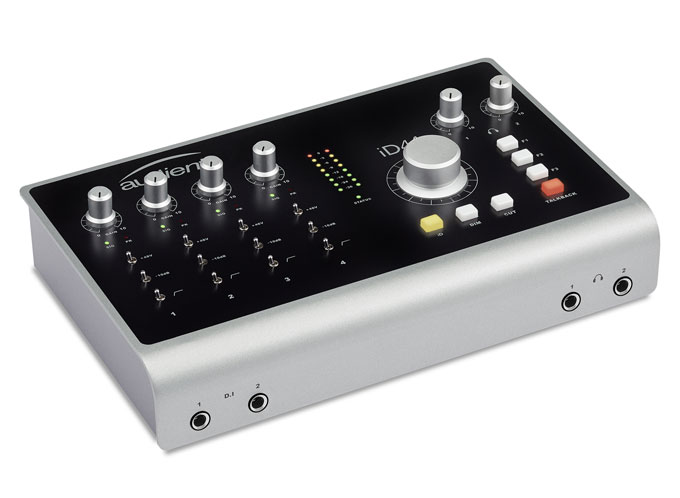 Here at Absolute Music we are very excited to be getting our hands on the Audient iD44 interface when it arrives in the next couple of months. This is sure to be a very popular unit, so make sure you get your order in quickly.
20-in, 24-out Desktop Interface
4 x Class-A Audient Console Mic Preamplifiers with 60 db of gain
Class Leading AD/DA Converters
2 x ADAT Inputs & Outputs for Digital Expansion
2 x Discrete JFET Instrument Inputs
2 x Fully Balanced Inserts
2 x Independent Stereo Headphone Outputs
Main and Alt Speaker Outputs
ScrollControl
3 x User Defined Function Keys
Dedicated Talkback, Dim and Cut Controls
Low Latency DSP Mixer
Word Clock Output
USB2.0 Compliant
24bit/96khz
All-Metal Enclosure
Over £500 worth of plugins and software free with ARC