NEW: ADAM Audio T Series Monitors
Posted on Sat 27 January 2018 in entries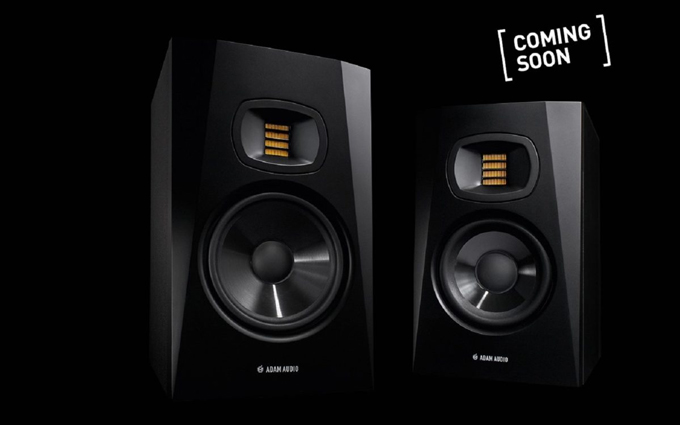 ADAM Audio has just announced the introduction of the ADAM T Series, their new accessibly-priced range of nearfield studio monitors for audio recording and production professionals.
The monitors' small dimensions belie their outstanding performance: Their wide frequency response, high dynamic range, excellent transient response, wide sweet spot and small footprints make both monitors perfectly suited for use in small control rooms for music production, video post-production and radio broadcast. And because of its attractive price point the T Series monitors are a great fit for the modest budgets that many facilities need to work with.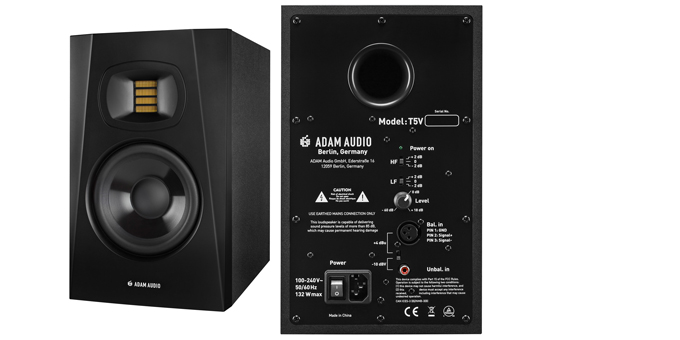 The German engineered ADAM T Series monitors share many of the design innovations created for ADAM's acclaimed S Series flagship monitor range, resulting in the accuracy, precise dispersion characteristics, and high dynamic range, that have positioned ADAM Audio as one of the premier names in studio monitoring worldwide.
The new T Series features ADAM's U-ART Accelerated Ribbon Tweeter along with a newly designed polypropylene symmetrical-excursion woofer that extends bass to lower frequencies with less distortion than historically possible in this price category.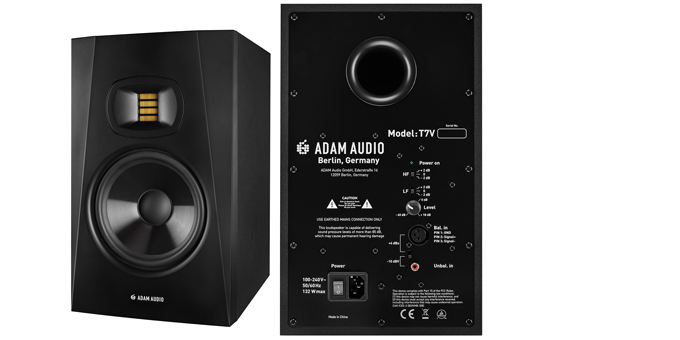 The new U-ART 1.9" accelerated ribbon tweeter, as used in the T Series, is made of a high-tech polymide film and provides pristine and extended high-frequency response up to 25 kHz—virtually unheard of in monitors in this price range, and a breakthrough solution for use in high-resolution recording and mixing on a budget. Unlike a conventional dome or cone tweeter that uses a piston action to move air and reproduce sound, the U-ART tweeter uses a pleated ribbon that alternately draws air into its folds and squeezes it out as the folds respectively expand apart and press together in response to inputted audio signal. This design produces four times as much air movement as does a piston-based design, creating higher sound pressure levels (SPLs) with lower distortion.
ADAM Audio's T Series of 2-way nearfield monitors brings significant technical achievements to a new lower price point with two models, the 5" woofer Adam Audio T5V and the 7" woofer Adam Audio T7V. Multiple technical innovations designed for ADAM's flagship S Series and iconic AX Series have been included in this lower priced monitor range, including ADAM's High Frequency Propagation System (HPS) yielding extremely consistent horizontal and vertical dispersion across the frequency spectrum, DSP innovations for the crossover system, and Class D amplifier systems.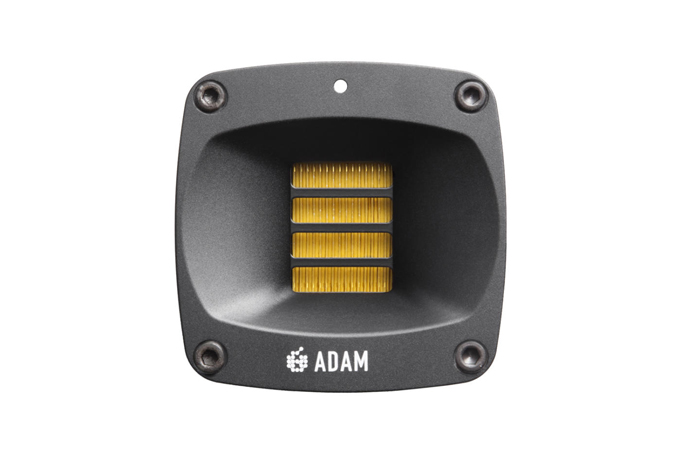 "The engineering team at ADAM Audio was a given a challenge," says Christian Hellinger, CEO of ADAM Audio. "We asked them for a range of nearfield monitors that will fit into tighter budgets without compromising the design standards that made ADAM a fixture in studios around the world. The T Series delivers, with wide frequency response, low distortion, and precise dispersion control in a value-conscious solution."
The availability of the T-Series is scheduled for spring 2018 but is available to pre-order now:
ADAM Audio T5V nearfield studio monitors - Single or Pair
ADAM Audio T7V nearfield studio monitors - Single or Pair
U-ART 1.9" Accelerated Ribbon Tweeter with HPS Waveguide
Polypropylene 7" woofer and rear-firing bass-reflex port
Cumulated Amp. Power RMS: 70 W
Frequency Response: 39 Hz - 25 kHz

Max. SPL Per Pair at 1 m: ≥110 dB

U-ART 1.9" Accelerated Ribbon Tweeter with HPS Waveguide

Polypropylene 5" woofer and rear-firing bass-reflex port
Cumulated Amp. Power RMS: 70 W
Frequency Response: 45 Hz - 25 kHz
Max. SPL Per Pair at 1 m: ≥106 dB