KURZWEIL PC3LE6 REVIEW
Posted on Mon 25 February 2013 in entries

You can read more reviews like this, listen to Tony's productions, purchase synth patches and more at his personal site -> Tony Long Music.
KURZWEIL PC3LE6 - INTRODUCTION
Here is an interesting synth that you may not know too much about; it is the Kurzweil PC3LE6. Kurzweil produce some great quality synths and pianos and have been going since 1982. Their products are used by some top artists such as Alicia Keys, Peter Gabriel, Jean Michel Jarre, Duran Duran, Delerium, New Order and Tori Amos to name but a few.
The PC3LE6 was announced at NAMM 2010 as a performance controller keyboard that was designed to be very easy to use, taking much of its fantastic sound quality, features and soundset from its more expensive brother, the popular PC3. A version 2.10 OS update was released for the PC3LE6 on 13 April 2012, which provided further enhancements as well as new piano programs and effects, plus more in-depth editing facilities.
There are two other models in this series, the PC3LE7 and PC3LE8. I always like to hear the synths of other companies, providing an alternative sound palette to the Korg, Roland and Yamaha offerings. The Kurzweil PC3LE6 appears to be a very affordable synth for its specification and facilities, currently costing somewhat less than when it was first released. I am interested to find out how user-friendly this is for live playing and how good it sounds.
KURZWEIL PC3LE6 - PLAYING STRAIGHT OUT OF THE BOX
The PC3LE6 is a little bit heavier than I expected for a 61 note keyboard, weighing 31 lbs (14.06 kg). As you pick it up it feels like it has been built like a tank. It is of a very sturdy metal construction with curved solid plastic end blocks. In the main, it has a dark-grey professional look about it with some nice touches such as highlight LEDs.
The power supply is inside, which obviously adds to the weight but makes it more roadworthy. Its size is very similar to most other 61 note synths: (height) 5" x (depth) 14.5" x (length) 41.5" (12.7 x 36.83 x 105.41 cm). The PC3LE7 is obviously heavier at 37.5 lbs.
I plugged the PC3LE6 in and switched it on and was instantly playing on its 61-note Fatar TP-8 keyboard that has a semi-weighted action with velocity and aftertouch sensitive keys. Without the need to refer to the manual, most of the controls looked very self-explanatory.

](https://www.absolutemusic.co.uk/kurzweil-pc3le6-61-note-performance-controller-synthesizer.html)
KURZWEIL PC3LE6 - CONTROLS, MODES AND ASSIGNABLES
Ok, working right to left: firstly, on the top right you have 22 category buttons for extremely quick selection of sounds. What I swiftly found out here is that you can select a favourite program within each category that will automatically be recalled when you choose that category. That is the sort of live-playing feature every keyboard should have.
To the left of this is a very large navigation dial, which is smartly backlit in blue. There are also up, down, right and left selectors. It is a shame that the expensive Korg Kronos doesn't have a main selector dial as good as this. There are also plus and minus, save and exit buttons.
Next up is a 240 x 64 backlit LCD, which does a good job most of the time although occasionally it can get a little crowded with information. Navigation of the LCD is via six soft buttons below the display, as well as the jog wheel, cursor buttons, and the plus and minus buttons. Underneath the LCD are eight MPC-style drum pads. These pads can be assigned to trigger notes or control other functions. When you select a program in Program Mode, the PC3LE6 will also select an associated drum program to be triggered by the pads.
To the left of the pads and LCD are six Mode buttons:
1. Program Mode, for selecting your sound patches.
2. Setup Mode, which lets you select, play and edit setups. Setups consist of up to 16 separate zones, split or layers, each having its own program, MIDI channel and control parameters. This reminds me of Korg's Combinations. At first I just concentrated on playing in Program Mode but on discovery of the Setup Mode, I realised I could have some great fun by soloing over what sounded like backing tracks, especially the ones that had a drum pattern and bassline playing. Listening to some of the other examples certainly shows you what this synth is capable of and can give you a starting point for developing your own ideas.
3. Quick Access Mode. This is very useful as it enables you to combine programs and setups into banks of ten. Each of these programs or setups can then be selected with a single alphanumeric button. You can then use Quick Access banks and group many sounds of a particular type together for fast auditioning, or assemble all sounds for a particular song or set in one place. This is great for playing live as you can have your most used sounds at your fingertips.
4. Master Mode contains the parameters that control the entire PC3LE6. You have all the normal global settings here for things like for tuning, transposition, velocity and aftertouch sensitivity.
5. Song Mode gives you a fantastic sequencer to record/play your songs.
6. Storage Mode allows you to load and save programs using a USB device.
Under the Mode buttons you will find three further useful buttons for Arp Settings, Split/Layer and Tap Tempo and then you have three transport buttons to Record, Play/Pause and Stop.
Moving on to the next section, which I have to admit I did not find particularly user-friendly. There are five assignable switches here for two rows of five parameters and then there are five assignable control knobs for three rows of five parameters. There is also a Shift key for each of the two sections. It did not take me long to realise that you use the appropriate Shift key to toggle between the rows of five and then use the control knobs to alter the parameter, but I did not get the assignable switches at first. Reading the manual shows that the switches are to switch FX on or off, mute layers of sound, or control other functions. Each of the five switches can control two separate functions independently, effectively giving you access to 10 switches.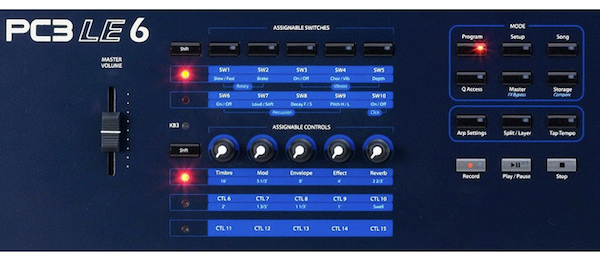 ](https://www.absolutemusic.co.uk/kurzweil-pc3le6-61-note-performance-controller-synthesizer.html)
Something I did find useful when editing sounds is that with the PC3, Kurzweil introduced something called the 'INFO' feature, which allows you to see which controllers have been assigned to parameters within a program. However, for the LE they have provided an interactive user interface that communicates directly with you whenever you move a real-time controller. Turn a knob, hit a button or move a wheel and the LE's screen will display the controller, its real-time value and the parameter being affected.
Lastly there are the Pitch and Modulation wheels with two buttons unusually placed for Arp Enable and Arp latch.
KURZWEIL PC3LE6 - KEYBOARD ACTION
The 88 note version has full hammer action keys but the 76 note and the 61 note (which I am playing) has full size but semi-weighted keys. I am always on the lookout for a great keyboard action and as I have said on many previous occasions, it is always a balancing act between cost and weight, plus keyboard players tend to want something close to a real piano feel for when they are playing piano and then something faster for synth playing.
I hope that they achieve this in the future. Just imagine having a relatively lightweight and portable keyboard and when you play piano you feel like you are playing the real thing, but you also have a 'Synth Action' switch that instantly changes the feel of the keyboard to something very fast and light!
Ok, I am dreaming, but who knows, if you plant an idea, someday it may happen! Back in the world of Kurzweil's full size but semi-weighted key action and I have to say that whilst it is very good it is not quite what I am seeking. Don't get me wrong here, what you are getting for your money is excellent and Kurzweil have made some of those awkward decisions to try and bring you that compromise of requirements at an outstanding cost. Also don't forget that whilst I may find the action a little too springy, you might find that this is just right for you. So as always make sure you try one before you buy. The other consideration here is that in my opinion, this keyboard action is far better than most of the competition at this price point and many more expensive keyboards.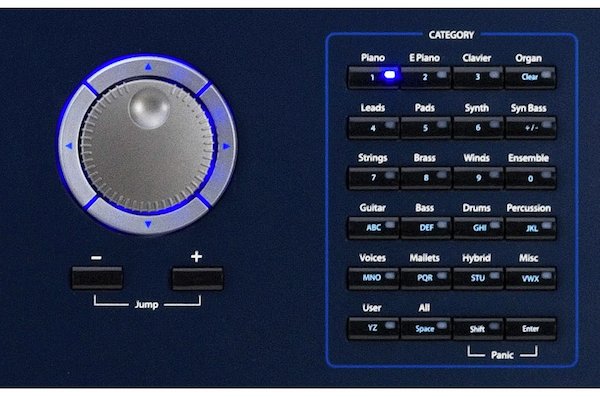 ](https://www.absolutemusic.co.uk/kurzweil-pc3le6-61-note-performance-controller-synthesizer.html)
KURZWEIL PC3LE6 - SOUNDS
As I have said, the PC3LE6 has all of the PC3's sounds. Most of these programs use Kurzweil's Dynamic Variable Architecture Synthesis Technology (VAST), using high-quality samples and detailed programming of literally hundreds of synth and effects parameters. There are also new virtual analogue sounds and these use KVA (Kurzweil Virtual Analogue oscillator modelling technology).
As well as the classic Kurzweil grand piano there are some other very good acoustic and vintage electric pianos. I really like the Cold Piano (presumably from the sound of Coldplay) and the Pop Piano, which has a very bright cutting sound. Some of the pads are also really stunning. The organ sounds make use of Kurzweil's KB3 organ-modelling engine, and the drawbars, percussion, chorus/vibrato, key click, and Leslie rotating speaker speed are all mapped to the control knobs and switches and can be tweaked in real-time.
You will find many true re-creations of those electromechanical instruments like Mellotrons, Clavs and Electric Pianos with the PC3LE6. As you go through the presets (850 or so), you will notice sounds for both old classic songs and bands with names such as Lola Piano, Lord's B3, Supertramp Wurly, FlydDarkside, Rufus/Marley WAH, FooledAgn Vox, 70's Stones Horns, Jaco Fretless, Stevie Fuzz, Whiter Shade B3, Doors Vox, Motown Bass, Goldfinger Brass, EvilWomanDeepFuz, StrawberryFlutes, White Satin Splt, Zepelin Solo and Fairlight Pad. There are many more but I think that this list should give you a good idea of what this keyboard is about. As well as abundant vintage sounds, there are also over 250 orchestral and string sounds, which are very realistic, and nearly 200 programs developed specifically for the LE, giving you over 1050 programs in all.
The difference (in fact improvement) between the PC3 and the PC3LE is that the LE makes it much easier to navigate through this amount of sounds. The category buttons on the far right of the keyboard make this process very user-friendly.
KURZWEIL PC3LE6 - THE INCLUSION OF DRUMS
This one surprised me, but included with the PC3LE6 are 8 backlit MPC-style, velocity-sensitive drum pads so you can trigger sounds, sequences, chords and even arpeggiations. Even more surprising was that each of the programs in the machine has a drum kit assigned to the pads, so you'll always have access to a rhythm track when you need it. I was very pleased to see this and as I worked my way through the kits I was amazed as they seemed to go on forever! In fact there are over 100 of them, most of which sounded excellent and with the quality pads that they have installed, they were a treat to play.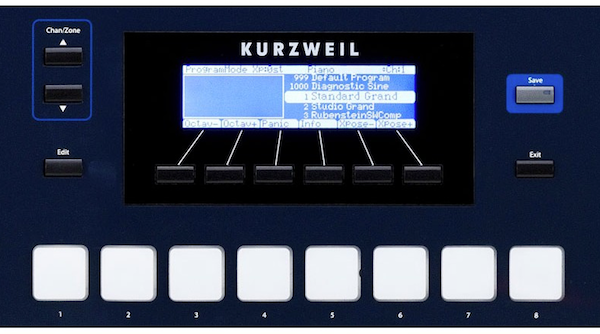 ](https://www.absolutemusic.co.uk/kurzweil-pc3le6-61-note-performance-controller-synthesizer.html)
KURZWEIL PC3LE6 - WHAT CAN YOU DO WITH YOUR SOUNDS?
Sometimes (usually more so for live players), you want the easiest and quickest way possible to adjust your sounds. You don't necessarily have the time to go through endless editing screens hoping that you will quickly find what you want. What I like about the PC3LE6 is that Kurzweil have provided, in any given program or effects chain, the parameters that you'd want to tweak and adjust. These have been assigned real-time controllers. All you need to do is adjust a controller to the position of your choice and press the Save button - easy! They have also given you some flexibility in what controls you can use. For example, if you prefer to have, say, a particular parameter assigned to the modulation wheel instead of a control knob, then the Parameters page allows you to re-assign any controller to any available parameter. Once you have created your new masterpiece of a sound, there is a massive user bank with over 1000 spaces to save your custom sounds.
One other thing worth mentioning is that if you select a new sound program while an existing sound is still being triggered, the PC3LE6 will continue playing that sound until you hit the next note. This can make a nice transition from one sound to the next.
KURZWEIL PC3LE6 - EFFECTS
This section, like the drums, impressed me, not just because of the studio-quality but because of the quantity included with this powerful effects engine. The only downside is that selecting effects can be quite time-consuming because there are just so many of them! Scrolling through the insert effects in Program Mode, I clocked up 1008! Some of the effects presets are chains of multiple effects. You really have some classy reverbs, warm phasers and flangers and gritty distortions; sometimes a little too gritty for my liking, but excellent all the same.
You can apply up to ten effects at once to a sound and the preset effect chains have real-time controllers already assigned to relevant parameters.
KURZWEIL PC3LE6 - ARPEGGIATOR AND SEQUENCER
Well, the PC3LE6 may have some limited specs, such as the fact that it does not have sampling, but it does come with both a great arpeggiator, with dozens of patterns and a 16 track sequencer, which has 960 PPQ resolution, song editing functions and both event and track-based tools like quantize, swing, remap, controller scaling and more. Song Mode activates the sequencer of the PC3LE6, which is great for quickly recording ideas and it comes loaded with a good selection of mini-sequences in different styles. There is also a large tutorial in the manual that helps you get to grips with Song Mode.
When I say 'arpeggiator' I actually mean to say that the PC3LE6 has sixteen independent arpeggiators - very impressive! What I like is that each zone in a setup can have its own arpeggio. That is very powerful indeed, again for a keyboard of this price, but it doesn't stop there - there is also a Riffs feature. As well as the sixteen simultaneous independent arpeggiators, you can also trigger up to sixteen simultaneous Riffs in Setup Mode. You could then set it up in conjunction with the eight drum pads and, for example, have drums start when you press pad 1, bass start when you press pad 2, a synth come in as you press pad 3, etc.
KURZWEIL PC3LE6 - CONNECTIONS
If we look at getting connected with the PC3LE6, you will see a vast array around the back, all of which are situated to the left-hand side.
On the far left is the headphone socket. I wish manufacturers would take note of what Korg do by placing the headphone socket on the front of the keyboard, preferably on the left. It is definitely the right place for it and keyboards should always be designed this way.
Next along are the balanced analogue outputs (Left (Mono) and Right) and then inputs for three pedals: two 1/4-inch footswitch inputs and a 1/4-inch expression pedal input. Next up are the RCA S/PDIF digital output, Contrast, MIDI In, Thru and Out, and finally, two USB ports (one for transferring programs using a thumb drive and the other for direct MIDI interfacing to a computer).
Finally, you can save your user programs, setups and songs to a USB thumb-drive or directly to a computer. Operating System updates can be loaded from a thumb-drive or directly from your computer and of course, the PC3LE6 sends and receives MIDI over USB.

](https://www.absolutemusic.co.uk/kurzweil-pc3le6-61-note-performance-controller-synthesizer.html)
KURZWEIL PC3LE6 - CONCLUSION
You really do get a lot for your money here. One of the main reasons people buy a Kurzweil keyboard is for the sound and this cut-down version does not disappoint. It is full of realistic sounds where Kurzweil have paid every attention to detail. I wish they would bring out a PC3LE Rack. I would love to have access to these sounds.
If you couple this with great user-friendly performance controls and a better-than-most keyboard action, as well as excellent drums and pads and an incredible arpeggiator, is there much more you could ask for? Any serious improvements like a big touch-sensitive coloured screen would add significantly to the weight and price. Yes, it is a shame that the polyphony is halved to 64 and yes, I think I would pay that extra to have this at 128, but at the end of the day this product has to be marketed with the PC3 and priced accordingly.
There is no sampling facility on the PC3LE6 either but if you are thinking about buying a new keyboard and sampling is not important to you, and you have an appropriate maximum budget, then I would certainly check out the PC3LE6.
For more information on the Kurzweil PC3LE6, click the link below or give us a call on 01202 597180.
Kurzweil PC3LE6 - More Info/Buy

Kurzweil PC3LE7 - More Info/Buy

Kurzweil PC3LE8 - More Info/Buy

******If you're interested in buying and you have seen it cheaper elsewhere, please call us or use our
---
As well as receiving our first rate customer service you can also claim money off your next purchase with our loyalty points scheme and receive a 3 year warranty if you sign up to our FREE VIP Club (click here for more infomation). Many of our items also come out on a FREE next-day delivery service to mainland UK customers, so you won't be left waiting!
Also, if you want to keep up with all our latest offers, competitions, news and videos, why not follow us on Facebook and Twitter?