Just Announced: Novation Peak Desktop Polyphonic Synthesiser
Posted on Mon 24 April 2017 in entries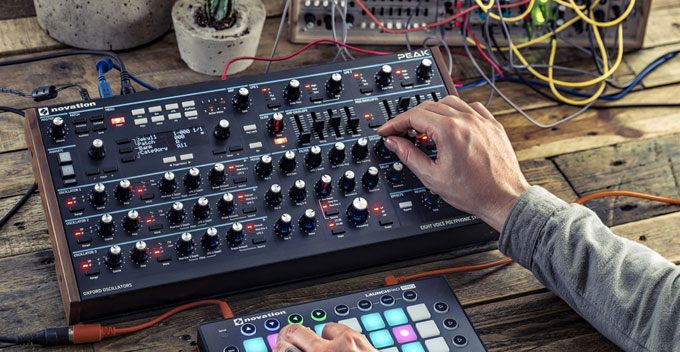 Novation has just announced two new products: the Novation Peak and the Circuit Mono Station. Right now, let's take a look at the Peak, which is an eight-voice desktop polyphonic synthesiser with three New Oxford Oscillators for each voice.
Novation has always been somewhat of a mainstay when it comes to accessible modern synths and controllers for both live and studio applications. In particular, their Bass Station, Launchkey and Impulse models are really popular here at Absolute Music.
The new Novation Peak has caught our eye because it houses three New Oxford Oscillators for each voice. Also, because the oscillators are NCOs (Numerically-Controlled Oscillators) they sound completely analogue but have the added flexibility of having 17 digital wavetables.
Not only does each voice have these oscillators but they also have a resonant multi-mode analogue filter and three distortion points (pre-filter, post-filter and global) in an analogue signal chain. In terms of effects, you will be able to find the usual array of reverb, delay and chorus effects on-board, as well as an arpeggiator. The Novation Peak is also capable of receiving polyphonic aftertouch, which puts expression right at your fingertips.
The extensive modulation system of the Peak puts a 16-slot modulation matrix and 16 direct assignments in the main controls on the front panel, cleverly arranged for intuitive patch design and sound editing. There's three ADSR envelopes and two LFOs for each voice, and more elaborate movements and secondary 'via' assignments are made just a few menu button presses away. Not only this but two 'animate' buttons give live performers instant one-touch transformation of patches.

The Novation Peak is looking like it would be an exciting addition to any studio and is a powerful bit of kit and it won't take long before you are making some impressive sounds with the Peak. It is equipped with all the connectivity that you would expect such as a CV modulation input, MIDI I/O on five-pin DIN ports, USB port for Mac or PC connectivity, where unlimited patches can be kept using the Novation Components software.
The Novation Peak is available to pre-order now so get in touch and be the first in the queue for its launch in June! You might also want to consider buying the additional aluminium stand which angles the Peak up at a more convenient angle.
You can now pre-order your Novation Peak with a 10% deposit - click here for details.
Key features of the Novation Peak
Innovative New Oxford Oscillators using two waveform generating techniques: NCOs (Numerically-Controlled Oscillators) and 17 digital wavetables
Pre-filter and post-filter distortion per voice, plus global distortion. Polyphonic aftertouch and linear FM. High-quality reverb, delay and chorus effects, and onboard arpeggiator
Extensive modulation system, with 16-slot modulation matrix and 16 direct assignments controlled on the front panel. Three ADSR envelopes and two LFOs per voice, plus animate buttons
CV modulation input for integration with modular systems
Compact desktop module design with optional die-cast aluminium stand for positioning (not included)