iZotope Nectar 2 and Vocal Synth Vocal Bundle Now Just £275
Posted on Sat 18 February 2017 in entries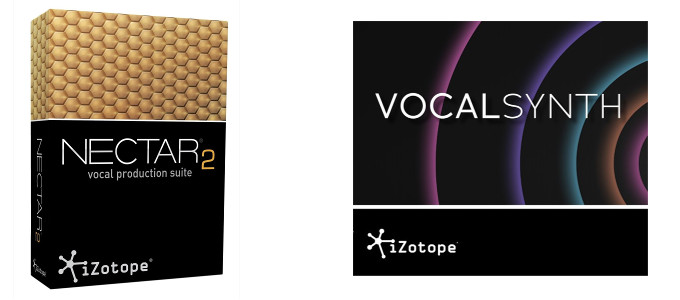 Due to popular demand iZotope has reinstated their special priced vocal bundle, combining Nectar 2 Production Suite and Vocal Synth for just £275.
Between now and 28th Feb you can get two of iZotope's most powerful (and fun) vocal tools for one low price. Included is Nectar 2 Production Suite with 11 powerful vocal production effects and Izotope VocalSynth to push your vocals beyond the limits.
For those that don't know about iZotope's VocalSynth, it is a plugin capable of helping you to achieve vocal sounds that range from iconic to wild. There's plenty in this package to try out from robot sounds, talkbox effects, computerised harmonies, as well as multiple octaves and doubles. VocalSynth can even create additional voices to fill out a composition and add depth and impact to your chorus or bridge.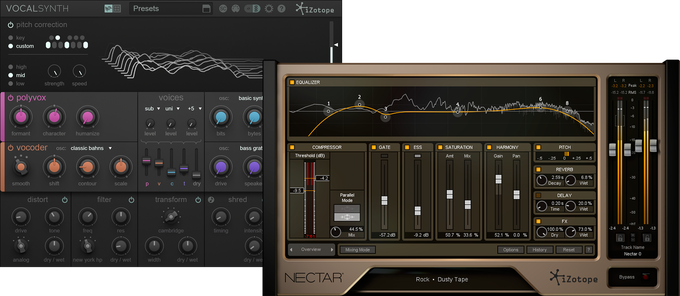 iZotope's powerful vocal production plugin, Nectar 2 can really help bring a vocal track to life with a huge set of tools that have been designed specifically for voice. Add impact and colour with a selection of reverbs and harmonic saturation effects. Tidy up the mix with pitch correction, de-esser, EQ, compressor, breath control and more.
There's also lots of handy presets to hand, allowing you to recreate classic and modern vocal styles at the click of a button with over 150 new presets in genres like Pop, Rock, Hip Hop, Indie, Jazz, and Voiceover & Dialogue. Each preset is a custom configuration of Nectar 2's modules, giving you a professionally designed effects chain for immediate results, along with the power to edit and customise to suit your style and requirements.
The bundle of these two powerful tools is now priced at just £275 (saving you 30%), but you will have to move quickly as this offer expires on 28th Feb. To get this special offer for yourself, just click here or give our team a call and we'll be able to help out with any questions.