iZotope Challenges you to 'Master the Mix' this March with discounts and tutorials
Posted on Wed 01 March 2017 in entries

Starting 2nd March, iZotope will be launching their "Master the Mix" campaign which will feature new tips and tricks on mixing and mastering with Neutron and Ozone. Until 30th March, customers can get special discounts on Neutron, Ozone, and Music Production Bundle 2 PLUS the offers will be sweetened with FREE Groove3 video tutorials.
PLEASE NOTE: This special offer has now finished.
Popular music production plugin developer iZotope has labelled March the month to 'Master the Mix' and to help you achieve better results at the post-production stage. We have got a fresh batch of stock of some of their best plugins and bundles at really low prices. So, let's take a look at what's on offer…
Let's start with a quick look at the analog-inspired iZotope Ozone 7 Mixing and Mastering software. Ozone 7 will really help bring a mix together and make the song sound like a complete unit. It allows you to control dynamic range and add character thanks to the well-received modules that are included such as the Vintage Limiter module and the Ozone Maximiser, which features a brand new frequency-specific IRC IV algorithm to deliver transparent mixes with less pumping and distortion. The Dynamic EQ, lives and breathes with your audio for finer control over your sound. Take advantage of the precision of an equaliser and the musical ballistics of a compressor in one integrated processor. Also, be sure to check out the new set of vintage-inspired processing modules in Ozone that put nostalgic tone at your fingertips, bringing the creative colour and character of analogue hardware to digital recordings.
Don't just take our word for it though, iZotope Ozone 7 is winning over the industry professionals as well. Following a Technical Excellence & Creativity (TEC) Award win for Ozone 4 in 2009 and a nomination for Ozone 5 in 2012, Ozone 7 Advanced won the "Signal Processing Software (Dynamics/EQ/Utilities)" category at the 32nd NAMM awards.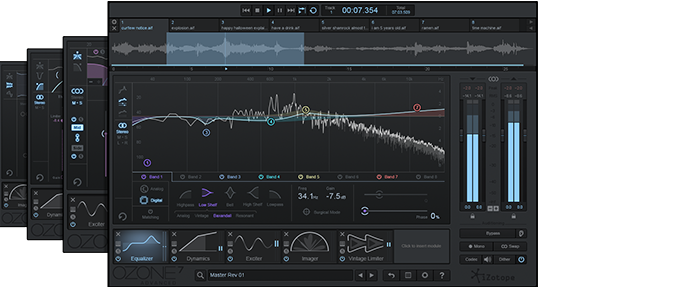 The iZotope Ozone 7 suite is usually £195 but during March (2017) it will be at the low price of £155. If you do get your digital hands on this brilliant download during March you will also get access to the Groove3 tutorial video which shows you lots of tips on how to get the most out of Ozone 7.
Next up in the promo is the iZotope Neutron bundle of five great-sounding processors that has really made a name for itself thanks, in-part, to its intelligent metering and analysis capabilities.
Neutron offers a brilliant starting point for mixing and mastering as it listens to your audio, performs an analysis the instruments and offers a tailored starting point for a powerful mix with a focus on clarity. The new Masking Meter can help you visually identify frequency collisions between instruments, allowing you to tweak each track so it sits better in the mix. Optimised for mixing, you can use this on dozens of tracks to carve away muddiness and reveal new sonic possibilities in your mixes.
The iZotope Neutron package includes five reputable mixing processors, including a 12-band static/dynamic Equalizer (with sidechaining to sonically balance sub-mixes), two multiband Compressors, a multiband Exciter (featuring Tape, Tube, and two special iZotope algorithms), and a multiband Transient Shaper, as well as an ultra low-latency BS.1770 True Peak Limiter – perfect for all your mixing needs.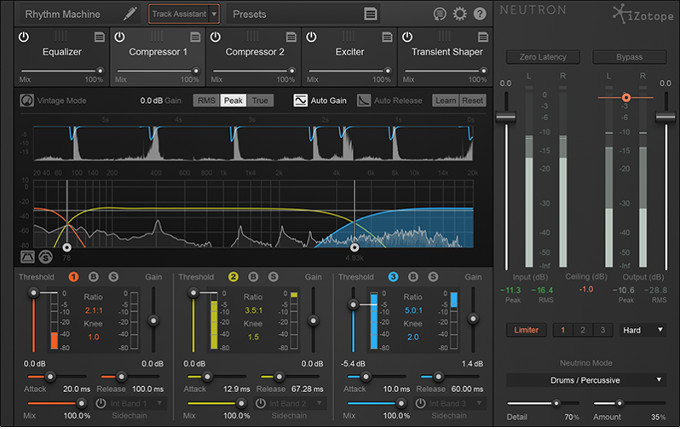 During March you can get the iZotope Neutron Mixing Console for just £155 (reduced from £195) or save £40 when you go for the Neutron Advanced package for £235 (reduced from £275). Not only will you get a great price if you buy in March but you will also get access to Groove3's 'Neutron Explained' tutorial video.
If you're looking for the best value package, we really recommend going for the iZotope Music Production Bundle 2. In this bundle you will get both of the aforementioned packages (Ozone 7 Advanced and Neutron Advanced). But that's not all, you will also be treated to loads of other goodies such as iZotope's VocalSynth vocal effects plugin, Nectar 2 vocal production suite, their Trash 2 Expanded distortion plugin, an RX Plugin pack and more. Buying all of this individually would normally cost over £1,600 but during March the iZotope Music Production Bundle 2 is just £389! Not forgetting that the Groove3 videos will also be at your fingertips to help you get the most out of your new software.
If you are unsure which of these great deals from iZotope will be the best for you then give us a call or pop in and see us and one of our experts will be able to help.