How to get upto £2,600 worth of UAD plugins for free - offer extended
Posted on Thu 31 August 2017 in entries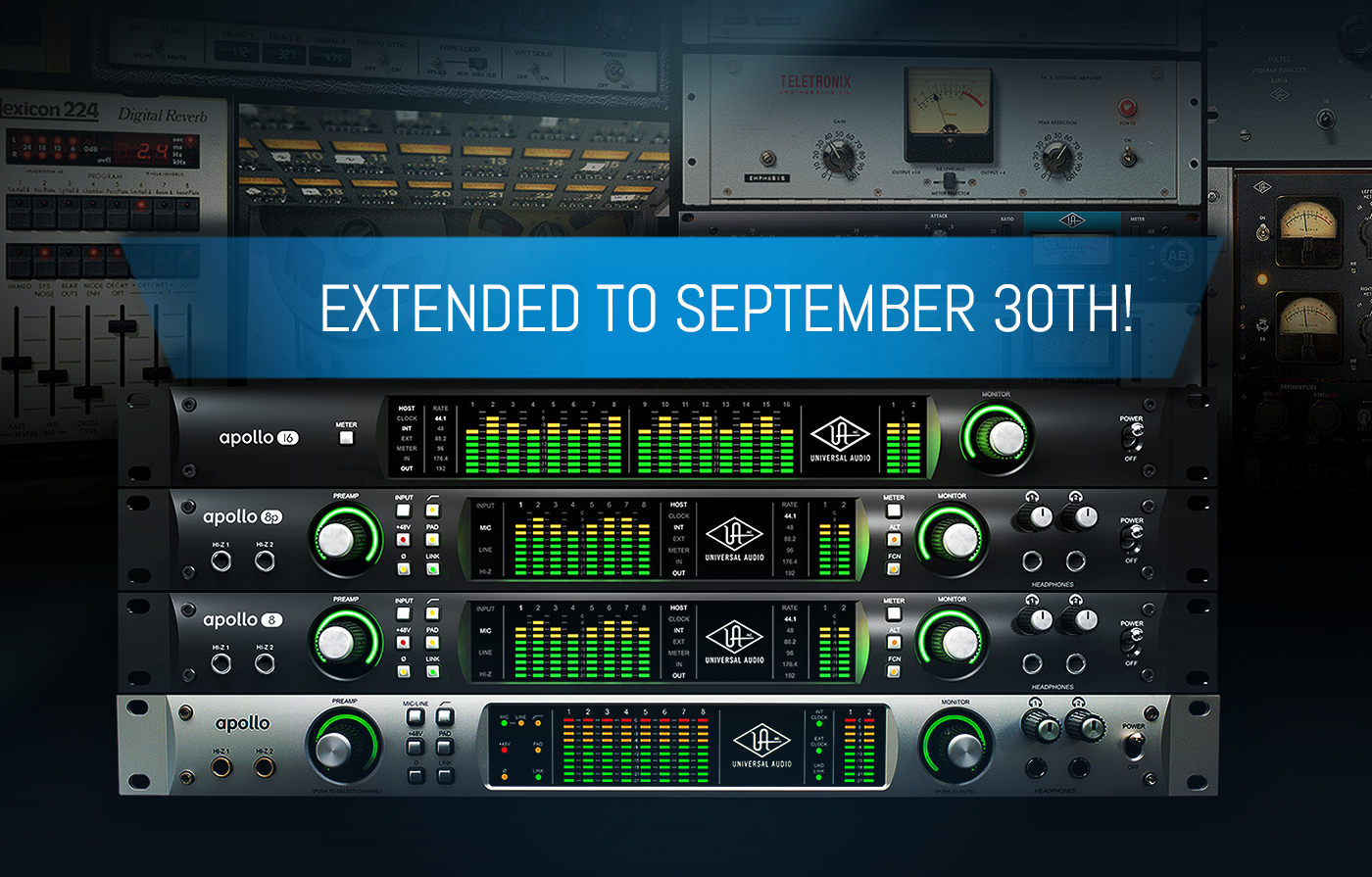 For a limited time, buy any award-winning Apollo rackmount audio interface here at Absolute Music and get an analog dream studio filled with up to £2,600 of genuine UAD plug-ins from Studer, Lexicon, AKG, Pultec, Fairchild, Teletronix, and more!
OFFER EXTENDED - NOW EXPIRES ON 30th SEPTEMBER
That's right — from April 1 through to September 30th — there's never been a better time to upgrade to Apollo, one of the most popular recording interfaces for Thunderbolt- and Firewire-based Mac and Windows studios.
Apollo boasts industry-leading A/D and D/A conversion. And with its onboard DSP processing, you can track through authentic UAD analog emulation plug-ins with near-zero latency - regardless of your audio software's buffer size, and without taxing your host computer's CPU.
It's like having all the processors of a dream vintage analog studio, right in your rack. All you have to do to claim your free plugins is register your new Apollo device and Universal Audio will do the rest. If you have purchased any qualifying products between 15th and 31st March, you will still receive the plugins.
Buy any Two Apollo Rack Interfaces (eg. the UA Apollo 8p or UA Apollo 16 v2 )and Get:*
1176 Classic Limiter Plug-In Collection
Studer® A800 Multichannel Tape Recorder Plug-In
UA 610 Tube Preamp & EQ Plug-In Collection
Lexicon® 224 Digital Reverb Plug-In
Teletronix® LA-2A Classic Leveler Collection
Pultec Passive EQ Plug-In Collection
Galaxy Tape Echo
Fairchild Tube Limiter Plug-In Collection
Oxide Tape Recorder Plug-In
EP-34 Tape Echo Plug-In
Precision Buss Compressor Plug-In
AKG BX 20 Spring Reverb
Cooper® Time Cube Mk II Delay Plug-In
Precision Multiband Plug-In
More than a £2600 value!***

Buy an Apollo 8 QUAD, Apollo 8p, or Apollo 16 Interface and Get:*
1176 Classic Limiter Plug-In Collection
Studer® A800 Multichannel Tape Recorder Plug-In
UA 610 Tube Preamp & EQ Plug-In Collection
Lexicon® 224 Digital Reverb Plug-In
Teletronix® LA-2A Classic Leveler Collection
Pultec Passive EQ Plug-In Collection
Galaxy Tape Echo
More than a £1500 value!***

Buy an Apollo 8 DUO or Apollo FireWire and Get:*
1176 Classic Limiter Plug-In Collection
Studer® A800 Multichannel Tape Recorder Plug-In
UA 610 Tube Preamp & EQ Plug-In Collection
Teletronix® LA-2A Classic Leveler Collection
More than a £900 value!***