How to Calibrate a Digitech Whammy Pedal
Posted on Fri 24 March 2017 in entries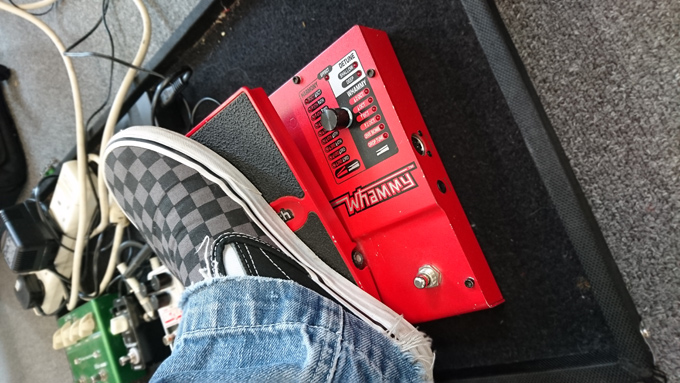 We love a good whammy at the weekend (or any day of the week for that matter)! But we have heard numerous players saying that they have fallen out of love with their Digitech Whammy and that it doesn't track as well as it used to, but what they might not realise is that it probably just need calibrating.
Follow these easy steps and your Digitech Whammy will be back on track again:
Start with the pedal disconnected from the power
Make sure the toe-edge of the pedal is all the way down (that bit it quite important!) and hold down the on/off button as you reconnect the power
Keep the button held down until one of the preset indicator LEDs come on (when we did it, this was the Octave Up Whammy setting)
Rock the expression pedal all the way back and then all the way forward. Do this about 4-5 times (this is the fun part because all the lights come on as you do it.
Press the on/off button again to exit calibration and you are good to go!
The Digitech Whammy is a pitch-shifting expression pedal and is somewhat of an unsung hero. The Whammy has had many famous users over the years including Tom Morello (Rage Against the Machine), Jack White (White Stripes), Matt Bellamy (Muse), Ed O'Brien (Radiohead) and even Jimmy Page. What else do you need to know? Oh yeah, you can order a Digitech Whammy here, and there is also a bass whammy too!
For a full review of the Digitech Whammy (in its various versions) head on over here.