FREE SQ1 or STAY Tower when you buy a KORG prologue 16
Posted on Mon 04 November 2019 in entries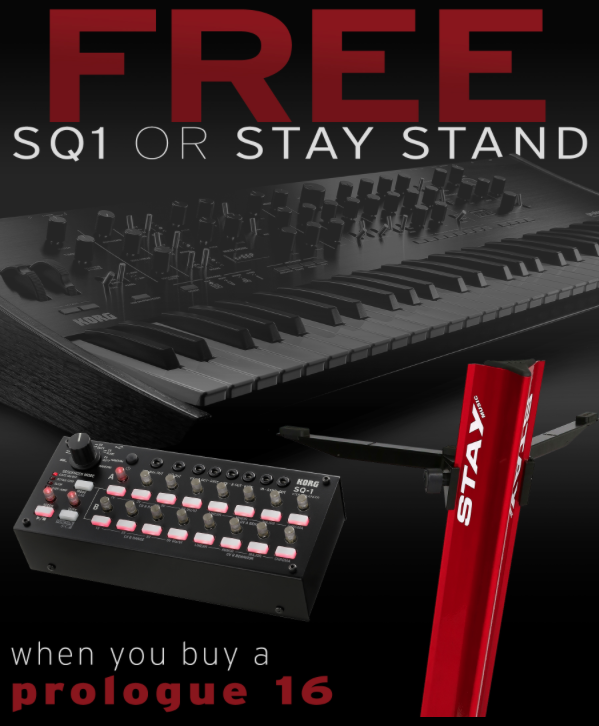 Buy an a Korg Prologue 16 and get a FREE SQ1 or STAY STAND.
To qualify for this amazing offer, you simply need to purchase a prologue 16 from Absolute Music, and send KORG UK the relevant claim form and till receipt.
Offer runs from 1st November 2019 until 31st January 2020.
++ | LIGHTEN YOUR LOAD. | ++ | The STAY Tower keyboard stand is the perfect solution for the performing musician. Its lightweight aluminium body makes loading in and out of venues a much easier experience. The robust frame supports up to three tiers, perfect for multiple keyboard setups, as well as being ideal for those players using laptops or samplers on stage. | | | | </p> | | | |   | | | | Click here for more info about the STAY Tower. | | | | ++ | | | EXPAND YOUR SOUND. | | | ++ | | | KORG's SQ1 is a compact step sequencer inspired from the 1978 classic SQ-10. Sync with vintage or modern synthesizers via a wealth of connectivity options and control everything from this single unit. Switch between a variety of sequencer modes on the fly and use the step buttons to create unique and inspiring performances. | | | | | | | | </p> | | | | | | | |   | | | | | | | | Click here for more info about the KORG SQ1. | | | ++ | ++