ESP GUITARS
Posted on Mon 13 May 2013 in entries

With Absolute Music having recently added ESP guitars to its lineup, now would perhaps seem like a good time to write an article on this much revered Japanese brand. ESP are possibly best known to the Heavy Metal crowd as they are one of the most respected & lusted after brands within this genre. Following Fender's Jackson buyout, they are now one of the few remaining truly independent modern guitar brands & the loyalty of their fan base is fierce; however, their roots run deep & to get the full story we have to go back further than you would think...
http://www.youtube.com/watch?v=7DqDCRd7wqg
ESP GUITARS - HISTORY
ESP (which stands for 'Electric Sound Products') began life in 1975 when Hisatake Shibuya opened a shop in Tokyo manufacturing replacement guitar parts. ESP's quality of work gained a reputation almost instantly & in 1976 they started offering guitars under their own brand name exclusively to the Japanese market.
It was in 1983 that ESP decided to enter the US market. This began (much as it had in Japan) with them offering their services in the replacement parts sector of the industry, while also handling the manufacturing for already established US brands such as Kramer & Schecter Guitar Research. Once again, their work started to turn heads almost instantly & within just a few years, custom-built ESPs could be found in the hands of well known artists ranging from the likes of The Rolling Stones' Ronnie Wood to Living Color's Vernon Reid. Then, in 1985, ESP's most prominent & long-standing artist relationship began...
The story goes that a then young George Lynch was growing tired of being stuck with budget guitars as a result of his endorsement deal with Aria. He had recently found a new level of success with Dokken & felt that maybe now he was worthy of a quality guitar! George had something specific in mind &, with them being Eddie Van Halen's brand of choice at the time, he figured that Kramer would be a good place to start. It was while visiting Kramer that he was informed that they didn't actually handle their own manufacturing & therefore wouldn't be able to do what he wanted; however, they recommended that he contact a Japanese company called ESP as they would surely be able to make whatever he had in mind. Following this & in need of a new neck for his homemade parts guitar (the infamous 'Tiger'), George & his guitar tech took some time out while on tour in Japan to pay a visit to the ESP factory. By the end of the day they had not only provided George with a new neck for the Tiger, but had also sketched out the designs for what was to become the 'Kamikaze' guitar. Upon its release in 1986, the Kamikaze became ESP's very first signature guitar & it has remained a part of the ESP lineup ever since.

In the late '80s/early '90s, ESP then decided to cease offering replacement parts, instead turning its focus solely to its own guitar line. This saw the expansion of its signature series with artists such as Metallica's James Hetfield & Kirk Hammett joining the fold.
The next major event in ESP's history was the introduction of the 'LTD' line in 1995. While ESP had garnered a reputation as one of the world's most highly respected modern guitar brands, they had been exclusively high-end & this made them inaccessible to a good deal of players. The Korean & Indonesian made LTDs addressed this issue & ESP guitars finally became available to the every-man. With the introduction of LTDs, ESP seemed to defy what had previously been possible on a 'budget guitar', to the extent that it persuaded Paul Reed Smith himself to follow suit (he even uses the same Korean factory to produce his 'SE' line), & it has served to help the company to grow from strength-to-strength ever since.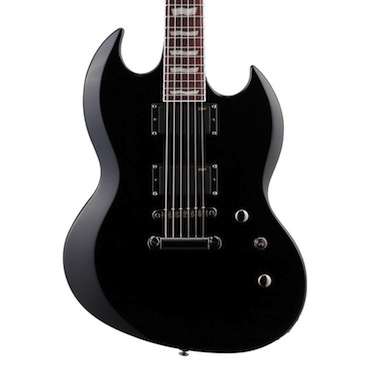 ](https://www.absolutemusic.co.uk/esp-ltd-viper-330-electric-guitar-black.html)
ESP GUITARS - THE PRESENT DAY
Today ESP cater to all levels of players & to all styles. Their lineup consists of everything from modern takes on Teles, Strats, LPs & other vitange-style guitars, through to Superstrats, extreme designs, basses & acoustics.
The Indonesian-made LTDs are great for the beginner looking for something both reliable & cool to learn on, while the Korean-made variants (the 1000 series) serve as the perfect choice for someone who's serious about their music but perhaps can't quite afford an ESP-proper.
Of the Japanese-built guitars, the factory made 'Standard' series is the more cost-effective, while the hand-crafted 'Original' series marks ESP's top of the line instrument. Of course, there's also the legendary ESP custom shop! This is not the usual pick-from-a-handful-of-options affair you find with most other brand's custom shops; with ESP the sky really is the limit & if it's physically possible they will build it for you (a quick search online will bring up some truly insane looking guitars courtesy of the ESP custom shop)! Check out the image below as an example, taken from the official ESP Guitars website.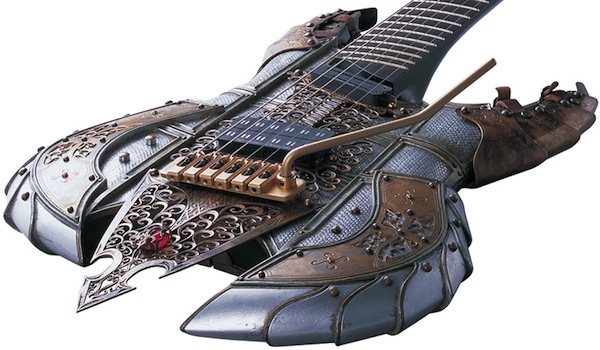 From the LTDs through to the Japanese ESPs, from the Eclipse through to the Horizon, ESP are a modern guitar brand that really do have a lot of bases covered! If you're Looking for a quality instrument, whatever the budget & you want something a bit different from the all-too-standard usual suspects then it may be worth getting down to the store & trying out an ESP!
At Absolute Music we stock a range of ESP guitars, from LTDs to genuine Japanese models! For more information on any ESP guitar, click the links below to view our range online or give us a call on 01202 597180.
CLICK HERE to view our range of ESP Electric Guitars