ELECTRO HARMONIX SLAMMI REVIEW
Posted on Fri 15 November 2013 in entries
This review was written by Joe Mann, who is part of the Absolute Music guitar team and one of our guitar technicians...
I currently own a Digitech Whammy & so when we got our first shipment of Electro Harmonix Slammi pedals in, I couldn't resist performing a side-by-side comparison to see how it shaped up. Before going into any details, I'll cut to the chase & just say that I was very impressed!
http://www.youtube.com/watch?v=SsDXAgfNBAA
The tone from the Slammi is much more organic & pleasing to my ear. The tracking is also superior. For me, these two points make using the Slammi a more enjoyable experience, as the effect comes across as creating a more natural, guitar like tone; it doesn't sound digitised or gimmicky.
I was also pleasantly surprised that I could play chords through the Slammi & they still sounded like chords! The octave down function sounds a lot more convincing as a bass guitar imitation. Being able to set the volume of the original dry signal against the shifted pitch is another great idea! I think the Slammi lends itself to experimentation & tonal exploration more than the Whammy does.
Although I must admit that the revolutionary free-standing design of Electro Harmonix Next Step pedals still feels a little unusual to me, after a bit of practice I did seem to get the hang of it. I imagine that this new design approach will probably put some people off given the tried-and-tested build of traditional pedals, but I don't think that anyone should knock it until they've given it a really good go. Once I became accustomed to the way that the pedal felt under-foot, I found I could rock it back & fourth at quite a speed & achieve a cool vibrato effect that I've always found the Whammy treadle too stiff to achieve.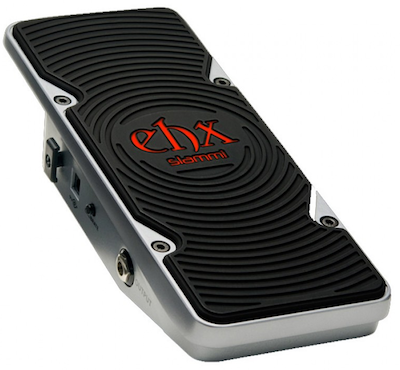 In the interest of fairness, I've tried to think of something that could be improved about the Slammi & the ONLY thing I can think of... I can't see what the settings on the side are in a poorly lit room. Hardly a big deal though and you could say that about most FX pedals.
A couple of other plus points to note are the 9 volt power supply, battery option, smaller footprint, the on/off switch is in the treadle & it's cheaper!! All this edges it out ahead of the competition in my opinion.
Given how well I've got on with the Slammi, it looks like that Whammy is going to have to make way on my pedalboard...
For more information on the Electro Harmonix Slammi pedal, click the link below, give us a call on 01202 597180 or e-mail guitars@absolutemusic.co.uk. Alternatively, feel free to pop into our store and demo one!
Electro Harmonix Slammi - More Info/Buy