ELECTRO HARMONIX BIG MUFF PI WITH TONE WICKER DISTORTION PEDAL REVIEW
Posted on Fri 17 May 2013 in entries

Hello... I'm Marc... and I'm a gear junky...! I've been playing the guitar and gigging in various bands for many years and in 2012 I got myself a job at Absolute Music to feed my habit and share my passion and knowledge of the products that I know and love. I'm going to use my blog to write short reviews of some of my favourite products to hopefully help others in their quest for finding the right gear for their needs and budget.
In this review I'm going to be talking about the Electro Harmonix Big Muff Pi with Tone Wicker Distorion pedal, which I recently added to my own pedal board...
http://www.youtube.com/watch?v=Zv1X1emjjDY
I have been doing some research trying to find a new distortion sound. Growing up in the 90s means that Grunge music has cemented its way in my heart. I heard that a lot of bands used this pedal and I have always been a huge fan of the famous 'Siamese Dream' guitar sound. So I thought I'd give this a go.
When I tried this pedal out, I pitted it against the normal Big Muff to see the difference and found myself swaying very quickly towards the one with Tone Wicker distortion! The standard Big Muff Pi is a fantastic pedal, don't get me wrong; however, I generally found myself wanting a little more treble or a little more versatility from it. But this is where Tone Wicker steps up to the plate. This thing gives the distinct Big Muff sound with that extra punch and kick that (for my tastes) sometimes lacked on the original pedal.
I find the Wicker function on this pedal makes it really stand out in terms of creativity. You can use this function to play around and create a unique distortion sound with that classic Big Muff tone. It basically produces a little more treble and clarity, whereas the original could sometimes sound a bit muddy. However, a great feature of the Wicker Distortion pedal is that if you simply turn the 'Tone Wicker' switch off, you've essentially got the original Big Muff Pi, so you can create the sound heard in 'Siamese Dream' if you so desire. So, for the extra cash you're getting essentially two pedals for your money.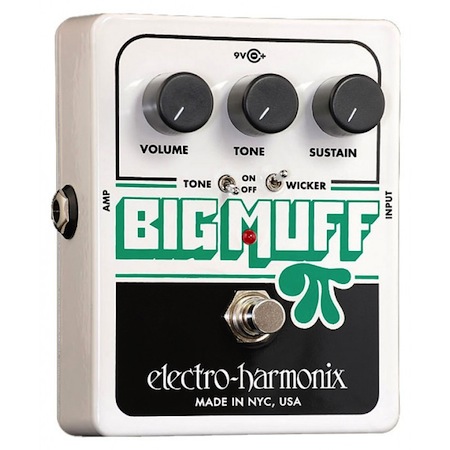 The Big Muff with Tone Wicker also has an option to turn the 'Tone' off. This dramatically boosts the volume, so you have to be a little careful when doing this that you don't blast your eardrums. However, this effect gives an almost tube amp sound to the distortion. Whilst it still has its roots in the Big Muff sound, the Tone Wicker pedal also presents a really nice option if you fancy a change. The only problem that occurs when the Tone is switched off is that your guitar can be a little prone to feeding back. However, this is just a case of balancing your gain and guitar settings.
Whilst the pedal's sound seduced me enough to go out and buy it, I would say that my only slight niggle is that I've used other distortion pedals that cut through the mix more clearly in gig situations. However, I am confident that there are ways to get around this. I just need a little more time to experiment with it.
Overall this is a very good pedal, although my honest opinion is that I don't particularly see why anyone would choose to go for the standard Big Muff when you also have this option. The Big Muff with Tone Wicker is way more versatile and has the original settings built-in if you don't fancy the additional options it offers. I know it's a little more cash, but in my opinion it's well worth it!
For more information on the Electro-Harmonix Big Muff Pi with Tone Wicker distortion pedal (or the original Big Muff Pi pedal), click the link below or give us a call on 01202 597180.
Electro-Harmonix Big Muff Pi with Tone Wicker Distortion Pedal - More Info/Buy