Cubase Pro 9 Crossgrade From Other DAWs
Posted on Thu 03 August 2017 in entries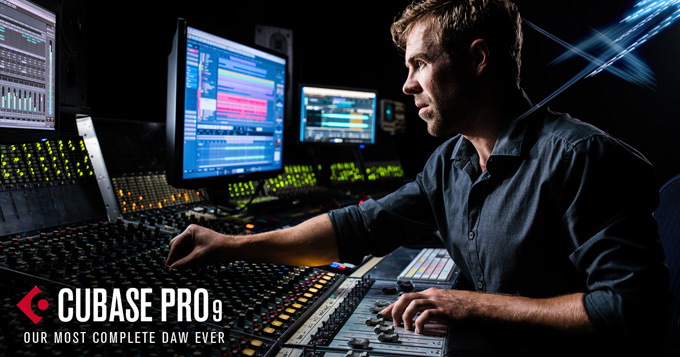 If you are thinking of making the leap over to Cubase from another DAW, now could be an ideal time. For a limited time, Steinberg is offering special discounts to owners of other DAWs.
Steinberg just announced that they are offering Cubase Pro 9 for the same price as the education version to users of other DAWs that are making the leap over to the latest version of Cubase. For just £279 you can own Cubase Pro 9, just as long as you own an activated version of any of the DAWs below:
Ableton Live – Standard & Suite (NOT Live Intro)
Logic Pro X
Avid Pro Tools Native & (NOT Pro Tools First)
Cakewalk Sonar Platinum & Professional (NOT Sonar Artist)
Image-Line FL Studio Signature & Producer (NOT Fruity Edition)
MOTU Digital Performer
Presonus Studio One Professional (NOT Studio One Artist & Prime)
Propellerheads Reason (Version 6 or higher)
This version of Cubase Pro 9 is a competitive crossgrade package. This means to purchase it, you need to complete a claim form (which we will email to you upon ordering) and provide proof of ownership of the one of the software packages mentioned above.
Acceptable proofs of ownership for the Cubase Pro 9 Crossgrade offer:
A copy of your purchase receipt for the original license or the most recent update/upgrade
Or a screenshot of your product registration
Or a photo of your package (either CD/DVD or printed manual), with the unique serial
number included in the photo
Unfortunately, without the completed claim form and one of the above proofs, we would not be able to supply the Cubase crossgrade software at this price. Please don't hesitate to contact us if you have any questions or we can help in any way.
What is new in Cubase 9?
Ground-breaking new features, streamlined workflows and stunning new plug-ins — the latest update enhances your favorite digital audio workstation in every direction and underlines Cubase's claim of being the most complete DAW available. The new Lower Zone gives you direct access to editors and the MixConsole without leaving the Project window; the perfectly integrated Sampler Track opens up new creative possibilities; and the surgically precise frequency EQ takes your mix to the next level. The new Plug-in Sentinel, Multiple Marker Tracks, the improved Maximizer — Cubase 9 introduces loads of new features that you won't want to miss in future music productions.
To order the Cubase Pro 9 Competitive Crossgrade offer, click here.