Best Battery Powered Busking Amps under £250
Posted on Wed 31 May 2017 in entries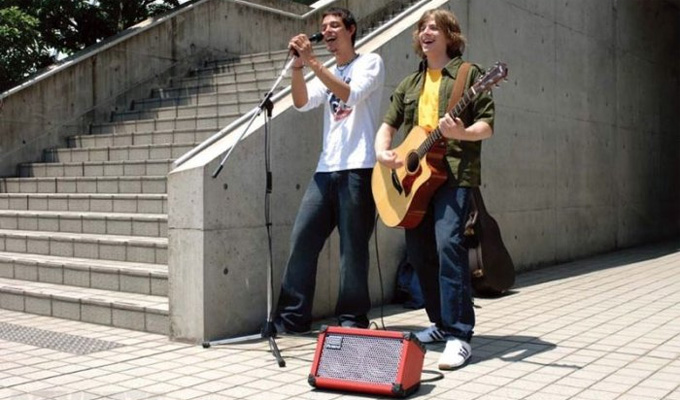 If you are a musician looking to earn a few extra pennies (which will probably be must of us!) then chances are you have considered going down the route of busking. Because we haven't all been blessed with a powerful enough set of lungs to power our voices to a volume that can contend with a busy street you will be needing a lightweight and battery-powered PA system or guitar and mic combo amplifier. Here's a quick run-down of a selection of battery powered busking amps under £250.

We're going to start at the cheapest end of the selection, with a brand that every guitarist will know. The Fender Passport Mini is a small guitar and vocal combo amplifier that has two channels (xlr microphone and guitar jack socket) with built in effects and level control for each channel. As you would expect from Fender, you can get some nice sounds from this unit and it can be tweaked using Fender's Fuse software on your computer via a USB lead. The Fender Passport Mini is rated at 7 watts and costs just under £130, so don't expect it to be too handy for busking in a busy street but it could handle small cafes. It can be powered by a power lead or 6 'C' batteries, it is about the size of a small practice amp and includes a rather useful metal handle that doubles as a tilt-back stand, other handy features include built-in tuner for the guitar channel, a headphone socket and an aux-in socket for backing tracks.

The next unit on the list is the Alesis Transactive Wireless 2 portable powered PA speaker. You don't get the tone and effects on-board that you get with the Fender but it does have a 25 watt power peak going through the 2-way 8-inch woofer, which Alesis claims can be heard at more than 150 feet away. A 50 hour battery life is also promised, meaning that you will be able to get a good handful of sessions out of it before needing to charge it via USB. One of the things that you will immediately notice when you turn it on is the included light show from the run of RGB lights around the edge of the front grille. The Alesis has two channels for mic and guitar with level control for each. Currently priced just under £210 and offering a useful amount of power, lots of battery life and bluetooth connectivity, the Alesis Transactive is a good deal and can be easily wheeled or carried around.

The LD Systems Roadjack 10 has a similar small-suitcase-on-wheels design as the Alesis with a 10 inch driver pushing 25 watts of power (a little larger than the Alesis) and an SPL (1W/1m) of 96dB, meaning it is still easily portable and will be capable of providing a good level of sound for street performers. The battery life is a little less on the LD systems unit (20 hours) but this is probably still ample for most users. It does however boast a decent level of connectivity options with a slot for a USB drive and SD card for backing tracks etc. It also has an infrared remote so if you are fortunate enough to have an assistant with you, they can tweak the sound from across the street as you perform. There is also a master 2-band EQ and reverb effect on-board. Currently priced at just under £240, it won't take long for this unit to pay for itself.

Next up is often the 'go-to' battery powered two-channel amp for busking, the Roland Cube Street. It still sits nicely in the sub-£250 price band and is weighted more towards the guitarist with its built in effects (chorus, flanger, delay, tremolo, reverb and delay), built in tuner and guitar amp modelling as well as a 3-band EQ. In terms of connectivity, there is the standard XLR input for a mic, guitar input, aux in and headphones output. It is the size of a guitar practice amp, meaning that is can be carried very easily or even stuffed into a large backpack without too much hassle. Roland promises a 15-hour battery life from 6 AA batteries, meaning if they do fall flat when you are out and about, it won't be too difficult to pick up a replacement set and get up and running again. In an ideal world we would be comparing a stat called SPL (Sound Pressure Level) for gauging power and oomph, however not all manufacturers list these numbers, so we are going to look at watts, which is not ideal but a reasonable place to start. The Roland Cube Street is rated at 25 watts through its two 6.5 inch speakers. It also has a good reputation so if you go anywhere with street performers, you won't be far from a Roland Cube Street.