Universal Audio Launches the Apollo Twin MkII
Posted on Wed 18 January 2017 in entries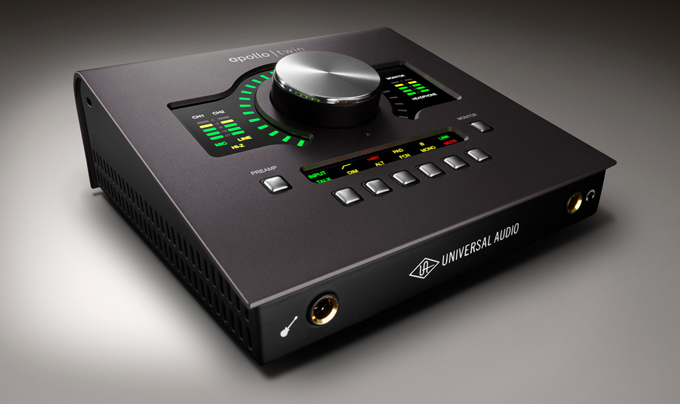 The next generation of the massively popular Apollo Twin promises completely redesigned A/D and D/A conversion with increased dynamic range and ultra-low THD. This 2x6 Thunderbolt audio interface for Mac and Windows features onboard UAD-2 Quad, Duo or Solo Core processing and Unison™ mic preamp emulation technology.
The Universal Audio Apollo Twin has been very popular here at Absolute Music, bringing impressive audio conversion with a desktop friendly unit size and simplicity that has a lot of studios really excited about upping their game. This new version brings a whole host of new features including Unison mic preamp emulation technology that gives the user access to the genuine tone of the most sought-after tube and transformer-based mic preamps including Neve, API, Manley and UA, all at near-zero latency. Unison technology is also found on Apollo Twin MkII's front panel Hi-Z instrument input, providing dead-on impedance and gain matching for exclusive guitar and bass amp models from Fender, Marshall, Ampeg and more.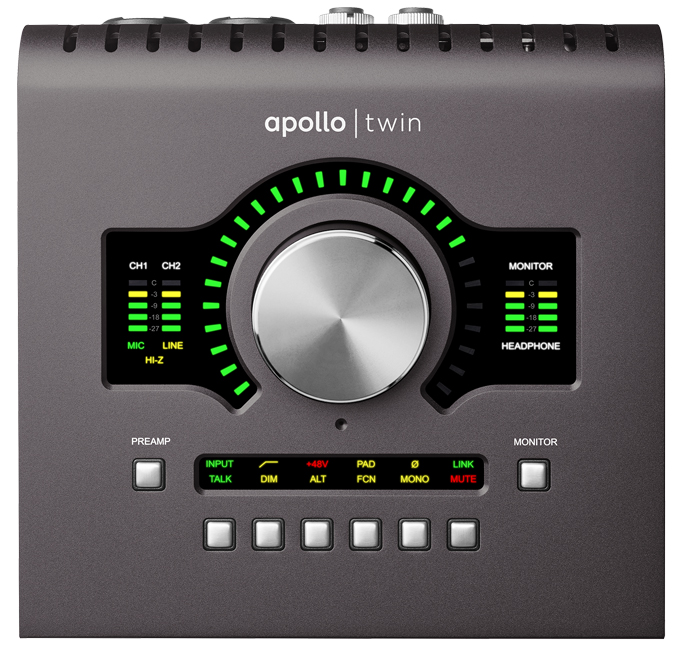 Right out of the box, the Apollo Twin Mk2 lets you record and mix through the full range of UAD Powered Plug-Ins of the "Realtime Analog Classics" suite of UAD plug-ins — the UA 610-B Tube Preamp & EQ, Raw Distortion, Softube Amp Rooms, legacy LA-2A and 1176LN compressors, Pultec EQs, and more — so you have a rack full of bonafide audio classics already onboard, all at near-zero latency. Of course, as with all Universal Audio products, you can purchase more plug-ins from the UA shop after trialling them on your system.

The actual unit itself is built to the same build quality that satisfied existing users will already be familiar with, alongside the new built-in talkback mic, an instrument input and headphone output on the front panel, 2 digitally controlled analog monitor outputs, 2 line outputs and 2 premium Unison mic/line preamps.
In addition to the popular UAD-2 SOLO and DUO Core models, the new Apollo Twin MkII is available in an ultra-powerful UAD-2 QUAD Core model, allowing more plug-in horsepower for running more complex emulations.
For more information on the fantastic Apollo Twin MkII Thunderbolt audio interface with realtime UAD-2 Quad, Duo, or Solo Core Processing for Mac and Windows from Universal Audio, get in touch or pop in and see us in our music superstore near Poole in Dorset.