UAD Apollo Premium Plug-Ins Promotion
Posted on Wed 01 October 2014 in entries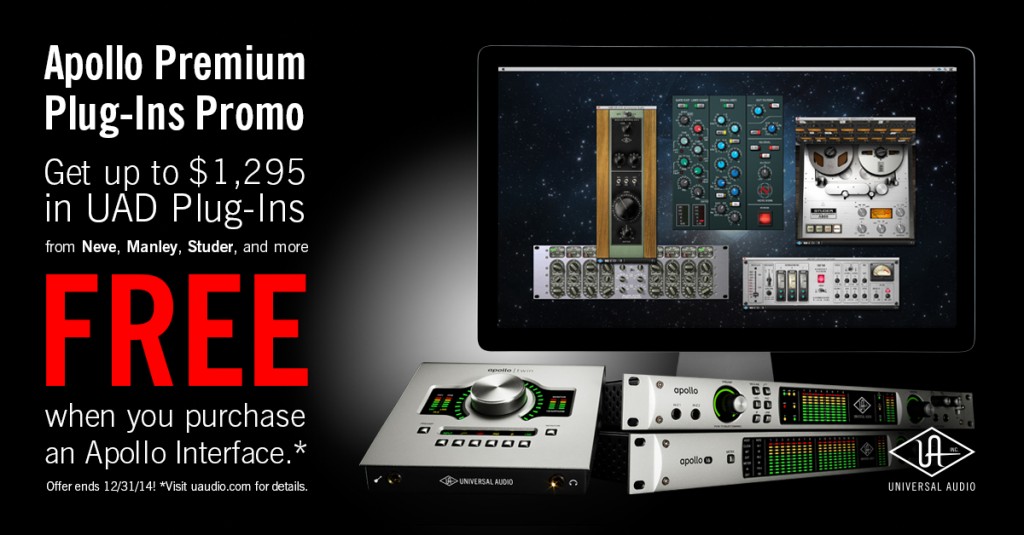 ](https://www.absolutemusic.co.uk/search.php?search_query=uad+apollo)
From October 1st - December 31st 2014, purchase and register a new Apollo Audio Interface — any Twin, Apollo, or Apollo 16 model — and you can get up to \$1,295 worth of UAD Plug-Ins — from the likes of Neve, EMT, Studer & Manley — for free!*
No coupons or redemption codes are necessary. The plug-in(s) will be automatically added to your account once you register your new Apollo interface.
Already own any of the promotional plug-ins? No problem. Purchase and register a new Apollo Twin, Apollo, or Apollo 16 and you'll receive a single-use coupon of equal value to the plug-in(s) you already own.
FOR MORE INFORMATION CLICK THE LINK BELOW, GIVE US A CALL ON 01202 597180 OR E-MAIL SHOP\@ABSOLUTEMUSIC.CO.UK.
* Free plug-ins vary based on the Apollo model purchased. For more information, visit www.uaudio.com/promotions.html.