Toontrack Progressive Foundry
Posted on Wed 04 November 2015 in entries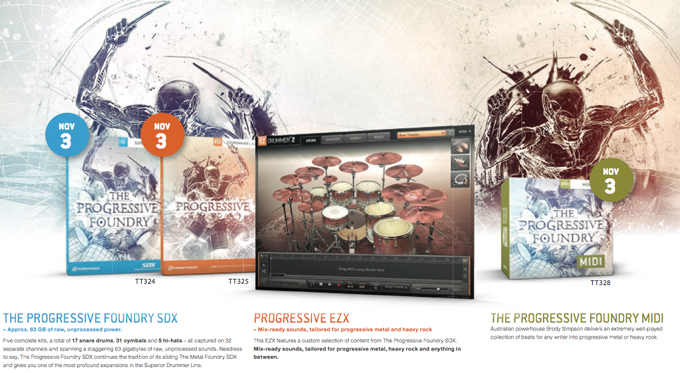 Five complete kits, a total of 17 snare drums, 31 cymbals and five hi-hats – all captured on 26 separate channels and spanning a staggering 63 gigabytes of raw, unprocessed sounds. Needless to say, The Progressive Foundry SDX continues the tradition of its sibling The Metal Foundry SDX and gives you one of the most profound expansions in the Superior Drummer Line.
The Progressive Foundry SDX was recorded at the renowned Sing Sing Recording Studios in Melbourne, Australia, by engineer/producer Forrester Savell. With credits on defining albums by Karnivool, Dead Letter Circus and I Am Giant, Savell is not only heralded for having shaped a few of the most sonically progressive productions in the modern Australian metal and heavy rock scene; his forward approach has also brought him to international fame.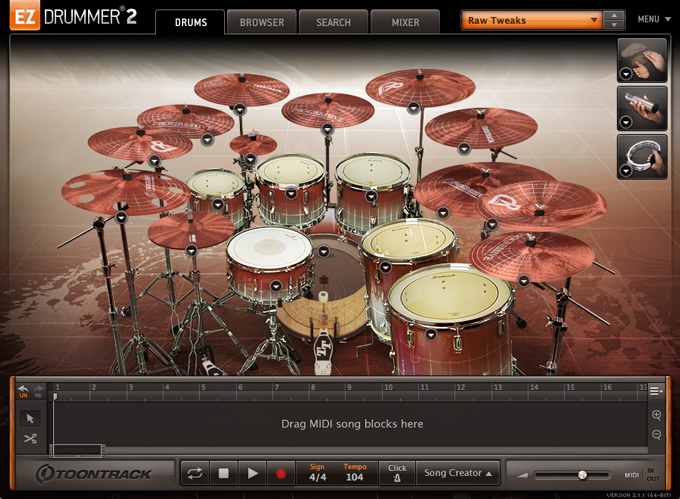 And it's not by chance that he picked the Sing Sing Recording Studios for this project. During its more than 35 years in business, the studio has collected a vast selection of top tier microphones and rare outboard gear. Combined with the dense wood-lined walls in its perfectly balanced A-room, Sing Sing has proven time and time again to be the perfect environment for broad, transparent drum recording. The drums, which were sampled by Karnivool's own Steve Judd, were scoured from all four corners of Australia and present a massive collection of the best in rare, vintage and modern.
The Progressive Foundry SDX gives you 63 gigabytes of raw power, ready for you to harness, mold and shape into your own mixes. Whether you're looking to make progressive metal, heavy rock or mix anything from tight to ambient drums, the powerful framework of Superior Drummer 2 leaves you at the helm – you decide. Start mixing.
FEATURE SPOTLIGHT
63 GB of raw, unprocessed drum sounds
Five (5) complete kits
Two (2) complete kits recorded with a "snare wires off" option
A total of 17 snare drums, nine (9) kicks and a wide array of cymbals
Recorded and engineered by Forrester Savell (Karnivool, Dead Letter Circus)
Sampled by Steve Judd (Karnivool)
Extensive MIDI library included
BACK TO THE FOUNDRY.
A versatile collection of grooves and fills for progressive metal and heavy rock.
This collection of drum MIDI comes from The Progressive Foundry SDX and presents a comprehensive collection of grooves and fills specifically intended for use in progressive metal and heavy rock songwriting. It was performed by Australian drummer Brody Simpson who delivers an extremely well-played set of inspiring and inventive beats in a variety of time signatures. Get anything from straight on pummeling 4/4 grooves for your traditional heavy rock songs to intricate, polyrhythmic patterns in 5/4, 6/4 and 7/4.
This is the perfect tool and foundation for your next riff or song. Start writing!
FEATURE SPOTLIGHT
Drum grooves inspired by progressive metal and heavy rock
4/4, 5/4, 6/4 and 7/8 variations in straight feel
Song structure categorization in each song folder (intro, verse, chorus, bridge etc)
Tempos ranging from 67 BPM to 180 BPM