TC Electronic Announce PolyTune 2 Mini & Noir
Posted on Mon 01 September 2014 in entries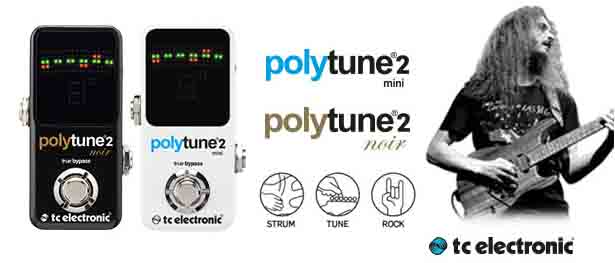 Since they first introduced the original PolyTune to the world in 2010, their mission has simply been to make tuning better, faster and easier. With PolyTune 2 they took all that was in the game-changing original, fine-tuning perfection with the addition of a ridiculously accurate ultra-fast strobe mode and a retina-scorching bright display. Now they have unbelievably managed to squeeze the same number of ultra- bright LEDs and added the same strobe mode into the Mini format.
http://www.youtube.com/watch?v=67gWReQb5gc
With their new display, ground-breaking polyphonic tuning mode,insanely fast and accurate strobe tuner and an unfathomably small enclosures, PolyTune 2 Mini and PolyTune 2 Noir will serve as a massive upgrade for guitarist's everywhere, whilst claiming very little of their precious pedalboard real estate. Just like their bigger brother though, True Bypass and Analog-Dry-Through guarantee no tone colouration, zero latency and no conversion of the dry signal for absolute tonal transparency.
Main Features
Incredibly small footprint
Ultra-precise strobe tuner mode (+/-0.1 cent)
Retina-scorching bright display
Available in original white (PolyTune 2 Mini) or über-cool black (PolyTune 2 Noir)
For more information on any of these products, click the links below, give us a call on 01202 597180 or e-mail shop@absolutemusic.co.uk.