Review of the New Universal Audio Apollo 8 Interface
Posted on Wed 06 May 2015 in entries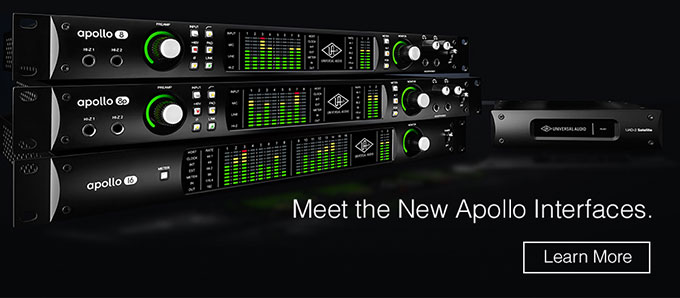 Recently, I became very aware that the quality of my Audio interfaces (yes, interfaces - I have more than one!) weren't really delivering. With a number of outboard devices, namely synths and processors, in my studio, I was becoming more and more aware that the sound going in to my computer from an audio source, was not coming back sounding the same. Sometimes, this can be a good thing, as colour and distortion are added, but it's nice to have the choice!
So my quest began to update the Audio interfaces in my studio, or more accurately the quality of the convertors I was using.
I have been a big admirer of the products produced by Universal Audio for some time, owning one of their voice channel compressors and also one of their UAD2 cards, which is a card designed to work alongside your computer to enable you to use their rather bewildering array of plug-in effects (more on those later!) so I was immediately drawn towards their new and expanding series of audio interfaces, under the name Apollo. I had heard through the industry grapevine that they were very much 'up there' with the big boys, in terms of quality, so I was keen to explore this for myself.
Currently in the Apollo product line, there are 4 options, depending on the amount of I/O that you require, and whether you need such niceties as onboard Microphone Pre Amps. The baby of the range is the Apollo Twin, which with it's wonderfully small desktop footprint, is the perfect unit for the project studio.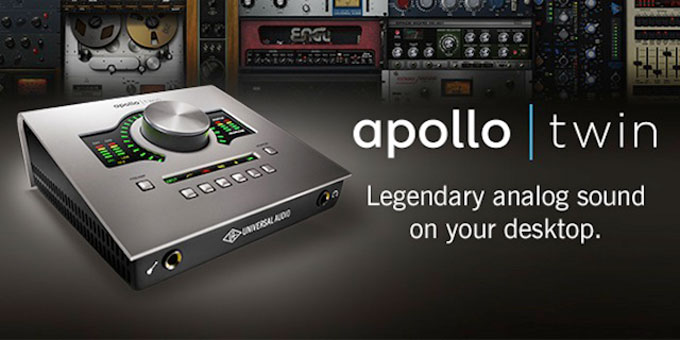 Next up in the range are the Apollo 8 and 8 Pre, both in 1U 19" rack mount form, the latter being equipped with extra Mic Pre Amps, whereas the Apollo 8 is a nice mixture of line and mic inputs. Both units also carry sensible options for Word Clock and light pipe connections.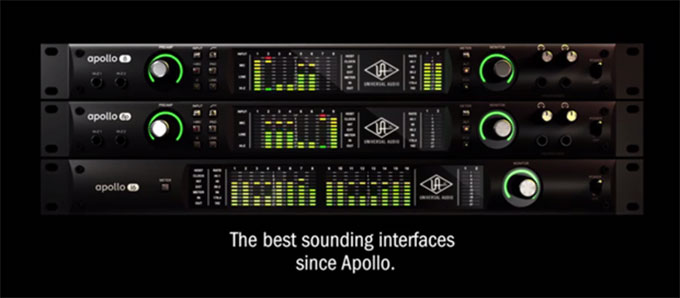 Finally, the last unit in the range is the Apollo 16, which, as the name suggests, offers 16 I/O on breakout DB25 cables, making it the ideal choice of you've got lots of line level devices or outboard. Which unit is for you would require some basic thought along the lines of 'How much do I want to record simultaneously?' but once you're out the other side of this, one of these boxes should fulfil each individuals requirements, and if it doesn't, you can always daisy chain them together to get even more connectivity! Great!

So knowing that I would probably want the best of all Worlds, I decided to concentrate on examining the Apollo 8, as it would give me a nice mixture of the I/O that I would require. The logical test to do next was play in a raw waveform from a synth, and listen to what came back. This is where my jaw hit the floor! The quality of the conversion was so pure and uncoloured that the resulting playback had the same clarity and depth that the original signal path had demonstrated. Next I tried various synth based phrases, some melodically driven and some percussive in nature. Again, the purity in the signal was exemplary and the accuracy of attack, with the more percussive figures, was enough to inspire me to start building up tracks while demo'ing the unit.
Once I had got this out of my system, I then moved on to playing existing tracks through the convertors. The Apollo's quality of conversion did not disappoint. Older music from the 70' and 80's had a real sense of weight - I was imagining that, allowing for digitisation, this would have been pretty much what the bands and musicians would have heard back in the day, with sparkling depth and sense of weight and clarity. More modern material sounded dynamic (or at least as much as commercial music can do in this day and age!) and had a real sense of sheen across the mix, so on the clarity and transparency front, the Apollo was impressing me.
So my mind was certainly heading in the 'made up' direction, but then I realised that the quality of the conversion was only part of the story. In this day and age of massed produced gear, some of which suffers from 'possibly not the best build quality', it was so wonderful to see something which was built like a tank. The metal chassis, coupled with solid buttons and knobs is refreshing, and certainly what I have come to expect from this highly respected company. The on/off knob itself is almost what you might describe as weapons grade, flicking on and off with an almighty thud!

But again, I hadn't even started to drift in to the world of the UA Plug-in, so first some background ; UA have a very distinct take on plug-ins - their main diet is to offer plug-in versions of some of the most amazing 'classic' outboard kit that has ever been manufactured, and these plug-ins really deliver. You do get a basic set of plug-ins with the Apollo's, depending on which model you purchase, and what offers are currently in place, and these typically include things like 1176 and LA-2 compressors, channels strips/Eq's and reverbs, but the fun really starts when you visit their online store and can start to peruse the amazing array of simulator plug-ins, with everything from mic pre models, to tape simulators and Moog filters, all of which can be downloaded and tried for 14 days, before purchasing! It's all there and it's all amazing! And the best part is that they are hosted on your Apollo, so your computer does not have to take the strain, added to which you can use them with the included Console software, so that you can add plug-ins to your signal path, with close to zero latency, which makes this an ideal setup for anyone also wishing to 'track on' instrumentals or vocals, on top of your existing track.
In summary, I just can't recommend Universal Audio Apollo series highly enough. Their staggeringly good quality conversion, coupled with build quality to put other companies to shame, is refreshing. And the plug-ins! Oh, the plug-ins!
DG's choice of the Top 5 UA Plug-ins
No.5 - Moog Multimode Filter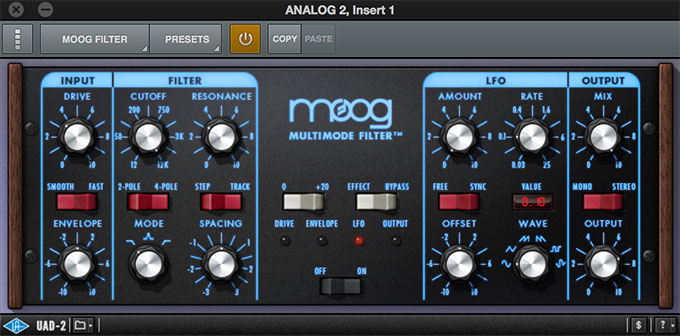 Although at first glance this is a somewhat specialised and unique plug-in, you'll find this classic filter in use on many a track by the likes of Coldplay and Radiohead. Owning a Mini Moog, as I do, I can't believe how identical UA have managed to get this filter to the original.
No. 4 - EP34 Tape Echo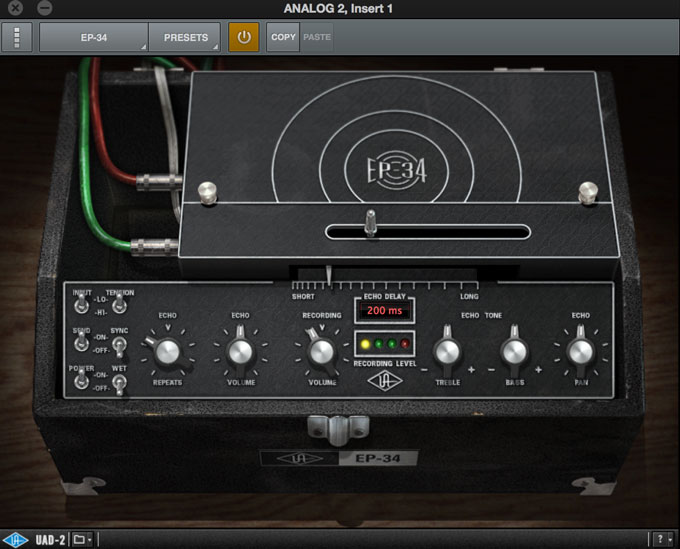 I'm a huge fan of echo and delay, so much so, I will often reach for this plug-in before I reach for a reverb plug-in. With its degenerative tone, you can imagine the tape whirring inside!
No. 3 - Neve 88RS channel strip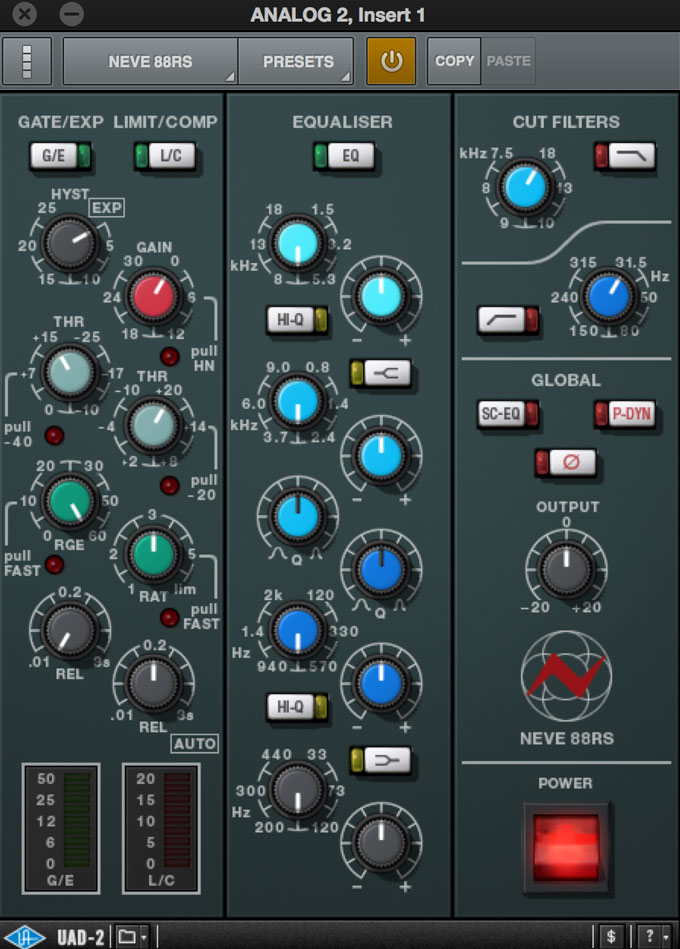 This classic Neve emulation gives you that expensive Neve sound on as many channels as you like. EQ section is sublime, with its innate ability to tighten up any track.
No. 2 - 1176LN Compressor

If there were ever a workhorse compressor, this would be it! It's sharp response makes this perfect for compressing Basses and Drums. The resulting fattening of the signal is a joy to listen too, and really helps things to sit in your mix!
No.1 - Ampex ATR-102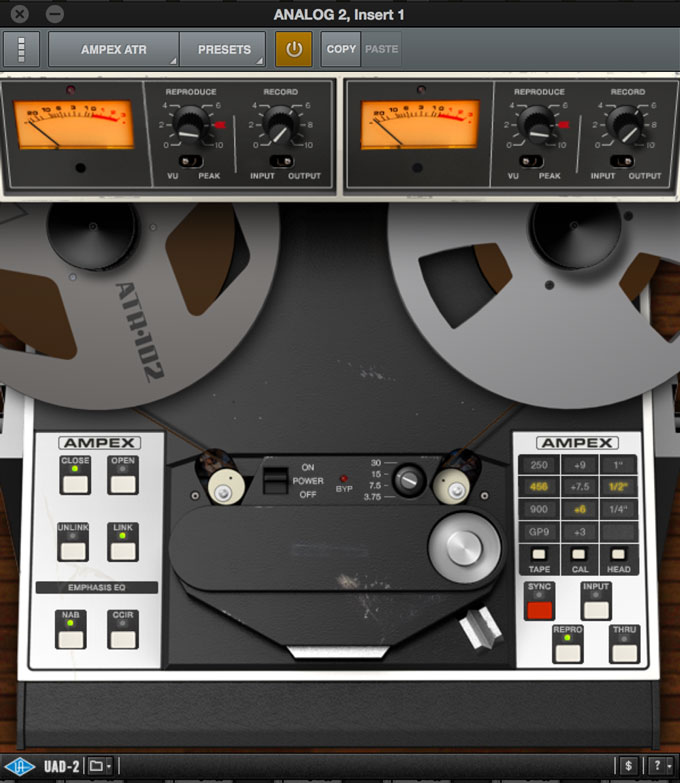 This absolute classic will add colour and distortion to any track, or even a whole mix. It's so good, Peter Gabriel used it across his entire mix on his last live tour! It's permanently plugged into my master buss!
FOR MORE INFORMATION GIVE US A CALL ON 01202 597180 OR E-MAIL SHOP\@ABSOLUTEMUSIC.CO.UK.