Novation Announce Circuit Components
Posted on Mon 18 April 2016 in entries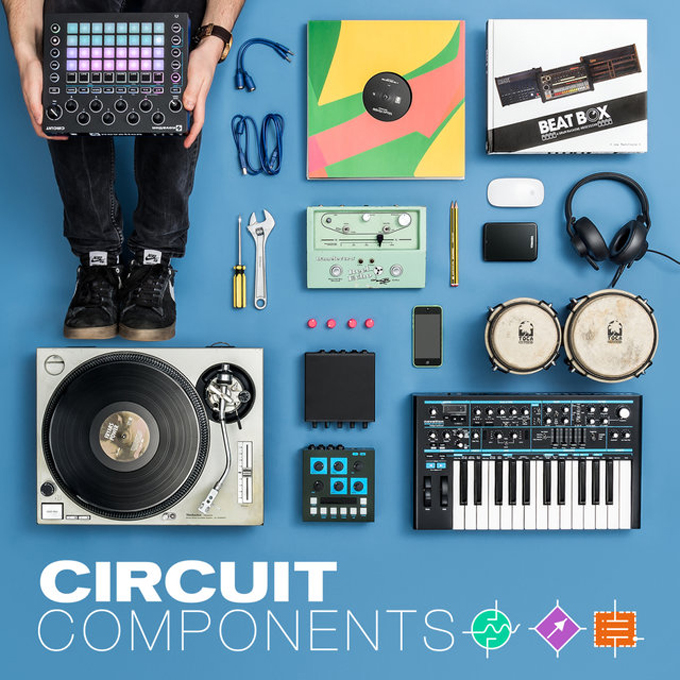 Circuit Components is a suite of tools expanding Circuit giving you all you need to design, create and customise your own unique instrument.
Sample Import
Simply drag and drop samples onto Circuit and create your own pallet of sounds to sculpt, shape, sequence and perform.
Your Samples on Circuit
You have 60 seconds of space (you're welcome) across 64 slots; use it for drums, one-shots, clicks, pops or bangs. Or chords, samples and synth stabs. Anything short and sweet
Anything Goes
Any MP3 or WAV; Sample Import will automatically convert your collection to be Circuit friendly upon upload
Create Sample Packs and Share
Sample Import exports too. Create your collections and save all 64 sounds as a single file. Keep as a backup or share with your friends, it's all yours
The Editor
Design complex patches from the comfort of your computer and then unplug for the ultimate standalone workflow
Full Access to Circuit's Nova Heritage
Access every synth parameter of Circuit's two powerful polysynths. With a little help from us, our close friends at Isotonik Studios have created a comprehensive synth editor, putting everything in your control
Mix up your Macros
Along with access to all synth parameters on the fly, you can customise Circuit's eight macro control knobs patch by patch
Editing for Everyone
You've possibly seen this in public beta as a Max4Live plugin, but now you don't need Live Suite and you don't need a Mac. Tweaked, refined, and souped-up just a little bit, Circuit Editor's official public release now runs standalone too, on PC or Mac
Share your Patches
Not content with keeping your sound design and synthesis skills to yourself? Circuit Editor allows you to save your patches to your computer. Lock them away in a secret folder or share them with friends (or just with the Circuit User Group on Facebook) – it's up to you. Make sure the people you're sharing with have the editor too, though. It's free.
The Librarian
Need Backup ?
Back up all of Circuit's 32 sessions to the cloud for the ultimate peace of mind and recall sessions in seconds from anywhere.
Now you can free up some space and make 32 more sessions worth of tunes, beats and tracks.​
The FirmWare
To use these Circuit Components, you'll need the latest firmware: Circuit v1.2 unlocks compatibility, along with the usual bug fixes, new features; some user requests, and a few of our own ideas
Play with Other Controllers
Record MIDI notes from external instruments plugged into Circuit: either chromatically, or tuned depending on your choice of key and scale
Manipulate Circuit's macro controls from an external MIDI controller and record as automation. You can even use your iPad
Play with Ableton
Automatically sync Circuit up with Live and easily record MIDI from your session – in tempo, in time, in key – with just a few clicks. You can even record your MIDI tracks from Ableton in one key and change it later in two button presses onboard Circuit
Momentary Record
Hold record, punch in and overdub notes or macros without losing your flow - or accidentally breaking your existing work
Step Edit
Even easier step-by-step automation: have a different pitch on your drums for each hit. Add FX to one note in a sequence. With the potential for a different sound on every step for every track, you don't need to do the maths to know that adds up to unimaginable potential – for deliberate creativity or happy accidents
External Preset Select
Remotely switch the sound of either of Circuit's two synths on the fly using MIDI program change messages. Remotely switch the sound of any of Circuit's four drums on the fly using MIDI CC messages. From any MIDI source