New Novation Circuit News
Posted on Tue 29 December 2015 in entries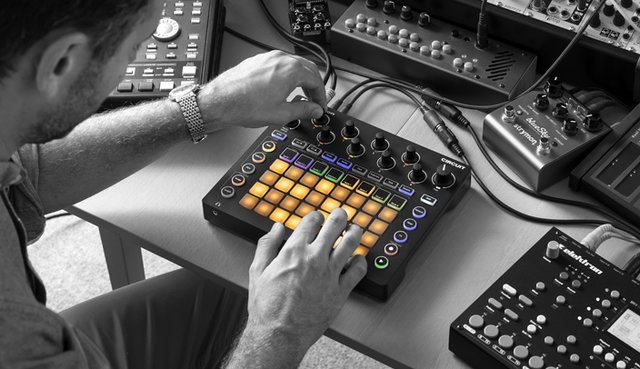 Synth Patch Editor
Beta Firmware
Midi CC Spec
First update released (in beta) which includes new hardware capabilities and bug fixes, plus a software synth patch editor made by Isotonik Studios, and MIDI CC specifications.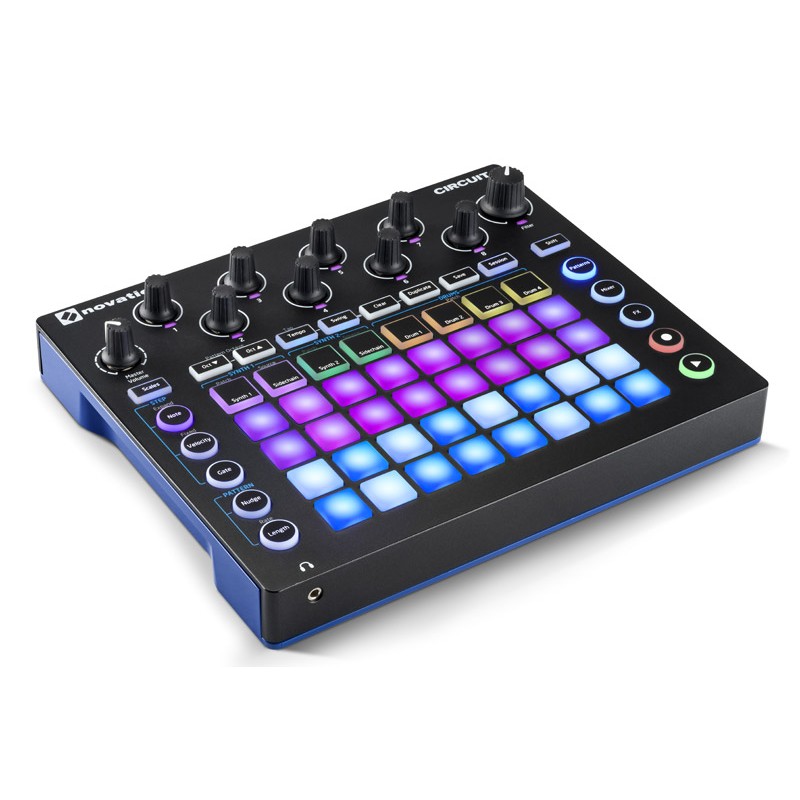 Beta Firmware Update
Included in this update:
Record External MIDI
Plug-in a controller keyboard using the included MIDI Din to Mini-Jack cable (additional MIDI cable required).
Use MIDI Channel 1, 2, and 10 to play and record Synth 1, 2, and Drums
All notes will be recorded into the sequencer
This all works via USB too. So you can have a MIDI file in your DAW and play it into the Circuit.
Improved Automation
Hold and release on Record button for temporary record
Easily switch in and out of record mode for quick automation and note overdubbing
Clear Step
When stopped, press record button, then a step. Holding Clear and wiggling a macro will delete the automation for that step only.
External MIDI program change
Change synth presets externally
Bug Fixes
Copying a step between tracks (synth -> synth, drum -> drum) now works correctly
Master filter is now always set to neutral (off) on startup irrespective of the knob position
Fixed stuck notes when switching sessions and after selecting patch 1
Fixed sporadic audio glitches with Synth
You can download it from the Novation beta website here:
http://beta.novationmusic.com/
Software Synth Patch Editor
We've partnered with our friends Isotonik Studios who've made a Max4Live device which can be used to edit synth presets on Circuit.
The software allows owners to edit patches on their Circuit, save new patches to their unit, or create their own bank of 64 patches. We hope this will encourage customers to share patches with other Circuit users (have your customers joined the Circuit Owners Group yet?!).
Download it here*:
http://isotonikstudios.com/novation-x-isotonik/novation-circuit-editor/
It is a Max4Live device and currently for Mac OS only, and they will need Ableton Live 9.5 Suite. This will run inside Live so also allows you to integrate Circuit into your Live workflow.
However, don't worry if you don't have Live Suite…..
Standalone versions are also available for Mac and PC. These are big files (because they operate in the Max Runtime environment), but are identical in function to the Max4Live version. They run on your computer even if you don't have Live, or Max4Live, or Max MSP installed.
Note that they are NOT plug-ins, so cannot be used in a DAW.
*this software has been built and will be supported by Isotonik Studios.
MIDI CC Specification
We've compiled a document containing every MIDI message that you can send to the Circuit to control synths, drums, mixer and FX, allowing users to create mappings for MIDI controllers.
Get the document here: http://uk.novationmusic.com/support/product-downloads?product=Circuit
The Future
This is just the beginning of our work to develop and expand the capabilities of Circuit.
We are working on other items that we'll release as soon as we can.
FOR MORE INFORMATION GIVE US A CALL ON 01202 597180 OR E-MAIL SHOP\@ABSOLUTEMUSIC.CO.UK.