Namm 2015: TC-Helicon
Posted on Wed 21 January 2015 in entries

TC Helicon are introducing a couple of new items this year at the Namm show 2015.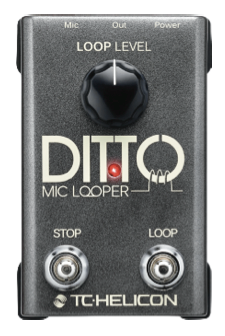 Go from idea to performance in an instant and build layered masterpieces with ease. One knob, two buttons – it couldn't be simpler! With its superior audio quality, unlimited overdubs and Undo/Redo, the Ditto Mic Looper is the essential choice for looping vocals and mic'ed instruments. Due for release Late Jan 2015.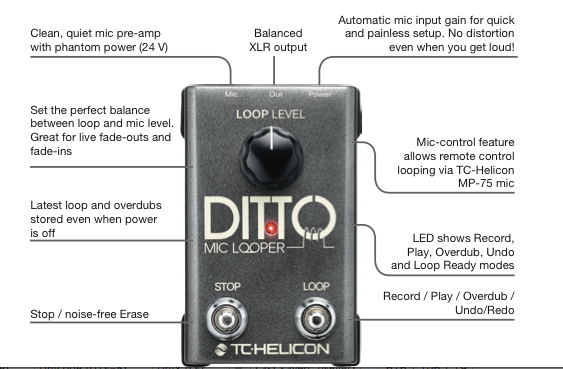 Feature Overview
24-bit uncompressed audio
5 minutes of looping
Unlimited overdubs
Undo / Redo function
Automatic Gain Adjustment
Instant one-tap Stop feature
Selectable overdub modes
Noise-free erase
Balanced XLR in- and outputs
Connects transparently between your Mic and PA
LED-indicator shows Play/Rec status
Latest loop and overdubs stored between power-ups
On-board mic pre-amp with phantom power (24V) for both dynamic and condenser microphones
Mic Control for remote one button looping with the optional TC-Helicon MP-75 microphone
USB connects to VoiceSupport for simple firmware updates
Compact, easy to use
Rugged all-metal construction
Includes 12V DC Power Supply
TC-Helicon MP-76 You've got the power


The MP-76 is the only microphone of it's kind. It's not only designed to endure a life on the road, it's designed to give you all the vocal control you could ever want. With its 4 Mic ControlTM buttons and a numeric LCD-display, the MP-76 puts effects control back where it belongs - into your hands.
• Dynamic performance microphone with superior vocal tone and feedback rejection
• 4 user-assignable Mic ControlTM buttons for creative FX control
• Backlit display shows preset number and HIT status
Compatibility
You'll need to own or purchase one of the TC-Helicon vocal processors listed below to access this magic.
The MP-76 is compatible with the following TC-Helicon products:
VoiceLive 3
VoiceLive Touch 2
VoiceLive Play
Play Acoustic
Play Electric
VoiceSolo FX150