NAMM 2015: Nord Electro 5 series keyboards
Posted on Tue 20 January 2015 in entries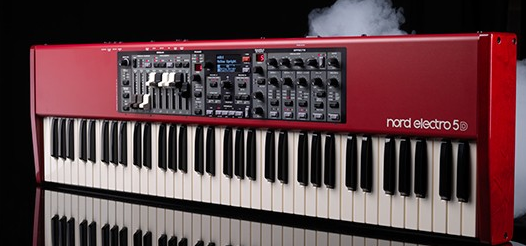 The Nord Electro 5. With greatly expanded memory, the added ability to split and layer and a live focused program section, the new Nord Electro 5 is a highly refined, focused yet flexible stage keyboard.
Three models will be available. The Electro 5D 61 and Electro 5D 73 feature semi-weighted waterfall keybeds with 61 notes (key-range C-C) and 73 notes (key-range E-E) respectively. The Electro 5 HP 73 features a Hammer Action Portable 73 note keybed (key-range E-E).
SPLIT AND LAYERS
The Nord Electro 5 has two sound slots that can be combined in a layer or split over the keyboard (Organ/Piano, Piano/Sample Synth or Sample Synth/Organ). Each of the sound slots can have specific effects, Control Pedal and/or Sustain Pedal assigned to them – for example chorus and Sustain Pedal on the Piano and some Delay and a Control Pedal on the Sample Synth. The split function includes 6 split points, indicated with LED lights.
Each of the effects sections can be assigned freely to either Upper or Lower parts.
The Nord Electro 4 Program Panel
SET LIST FEATURE
The Electro 5 features a new Set List mode that lets you easily organize a group of Programs for each specific song in the list. Each song can consist of up to 4 different Programs, freely assignable from your existing Programs. You can create unique Set Lists for different bands or situations and the names and order can be easily customized on the fly without connecting it to a computer.
The super clear new OLED display offers excellent overview when selecting sounds and editing programs.
Prices are still to be confirmed, but we know that the Electro 5 series models will ship in April.