Free Quad Satellite with Universal Audio Apollo Rackmount Interfaces
Posted on Fri 20 November 2015 in entries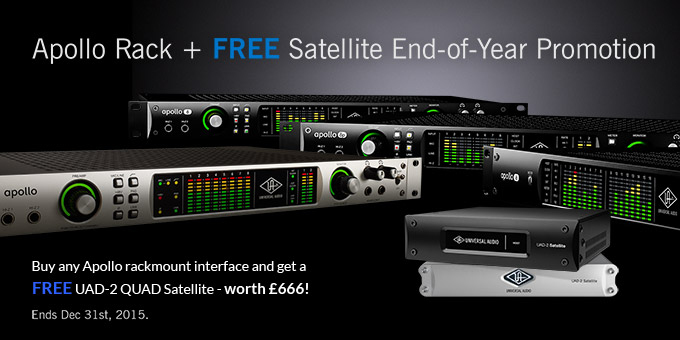 Looking to build a professional Apollo + UAD-2 recording system? Then you won't want to miss this special end-of-year promotion.
Just buy and register any new Apollo rackmount interface (Apollo 8, Apollo 8p, Apollo 16, or Apollo FireWire) through December 31st, 2015, and you'll get a UAD-2 QUAD Satellite DSP Accelerator — Thunderbolt or FireWire — absolutely free!
Award-winning Apollo interfaces deliver world-class sound quality, plus onboard UAD-2 processing to run the full library of UAD plug-ins. The included UAD-2 QUAD Satellite Thunderbolt or UAD-2 QUAD Satellite FireWire unit gives your Apollo interface an instant 4-core power boost — a £666 value — absolutely free! So you can run more of the UAD plug-ins you love, for the ultimate in classic analogue sound.
Details and Limitations
Offer valid only for customers who purchase any new Apollo rackmount audio interface (Apollo 16, Apollo 8, Apollo 8p, or Apollo FireWire) from an authorised UA retailer between November 20th and December 31st, 2015. Offer provides one UAD-2 Satellite QUAD Core DSP card (Satellite Thunderbolt or Satellite FireWire) per Apollo purchased within the promotional period. Whether customers receive a UAD-2 Satellite QUAD Thunderbolt or FireWire will be determined by Apollo purchased (Thunderbolt Apollos will receive Thunderbolt UAD-2 QUAD Satellites, FireWire Apollos will receive FireWire UAD-2 QUAD Satellites.) Offer valid only while supplies last.
FOR MORE INFORMATION GIVE US A CALL ON 01202 597180 OR E-MAIL SHOP\@ABSOLUTEMUSIC.CO.UK.