Focusrite Win A Record Deal
Posted on Wed 25 March 2015 in entries

Focusrite has teamed up with Caroline Records of Universal Music Group to offer one talented YouTube performer the recording contract of a lifetime.
It's simple for anyone to enter, just record & upload a YouTube video of yourself singing and performing an original song on an instrument, and submit it here.
This competition runs from now until June 10th 2015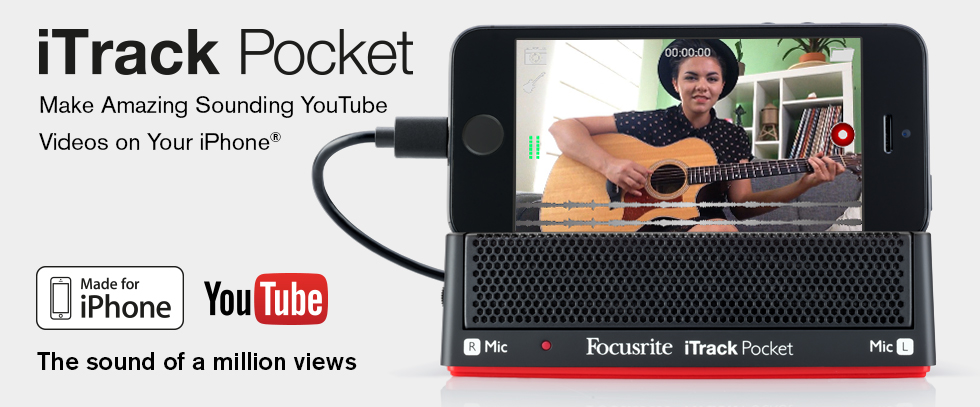 Record Quickly and Easily: You don't need any experience to start recording.  Just connect iTrack Pocket to your iPhone, open the app and hit record.
Make Professional Performances: Look and sound amazing on YouTube, by recording your performance in HD video with high quality stereo audio.
Record anywhere: iTrack Pocket does not require mains power so you can record at any location.
Easily Enhance Your Quality: Effortlessly find the perfect setting for the clearest possible recording, by letting the Impact app take care of all the technical setup for you.
Built for the YouTube Performer: iTrack Pocket holds your iPhone at the perfect angle for recording videos. Simply press record and edit in seconds. Your finished performance can be mastered and uploaded to YouTube with outstanding quality.
Get Great Guitar Sound: The dedicated guitar input and included amp simulation makes it easy to record amazing sounding guitar at the touch of a button.
Designed for Singer-Songwriters: The stereo microphone captures clear, detailed recordings of your performance: vocals, guitar, piano or any other instrument.
Instantly Master and Upload: Comes with the easy-to-use app, Impact by Focusrite, which will make your performance look and sound professional, then let you upload it straight to YouTube.
Officially for iPhone: Approved by Apple, so you can connect to any lightning compatible iPhone with the Lightning cable included. Made for iPhone 5, iPhone 5C, iPhone 5S, 6 and 6 Plus.