Focusrite Red 4Pre Audio Interface Announced
Posted on Thu 17 March 2016 in entries

Focusrite have a long and successful history when it comes to producing high quality audio interfaces and microphone pre-amps. Their latest offering raises the bar yet again, with a truly ground-breaking interface that promises the highest audio quality, tried-and-tested pre-amp design, and unrivalled connectivity.

The Red 4Pre is Focusrite's best audio interface yet, with dual Thunderbolt 2 ports, Pro Tools|HD support and Dante network audio connectivity. With a total of 58 inputs and 64 outputs, the Red 4Pre can handle enormous channel counts while retaining sub-2ms latency, and allows comprehensive routing of pristine quality audio over its various connections.

Four digitally-controlled super-clean mic preamps have been included that have their heritage in the legendary Focusrite Red range, but have been upgraded, have 'evolved' if you like, to push the sonic boundaries even further, including an 'Air' control that switches in the transformer sound known and loved by engineers and producers the world over.

Advanced 24-bit, 192kHz digital conversion strategies have been employed to deliver Focusrites' best sounding interface to date, and boasts up to 121dB dynamic range whilst retaining impossibly low distortion spec's (≤0.0009% THD+Noise) and a frequency response flat from 20Hz to 35kHz ±0.25 dB.
The majority of functions can be intuitively accessed through the three colour screens and a handful of controls. Metering is comprehensive, and setup time is reduced due to active sensing and automatic configuration of connected peripheral devices.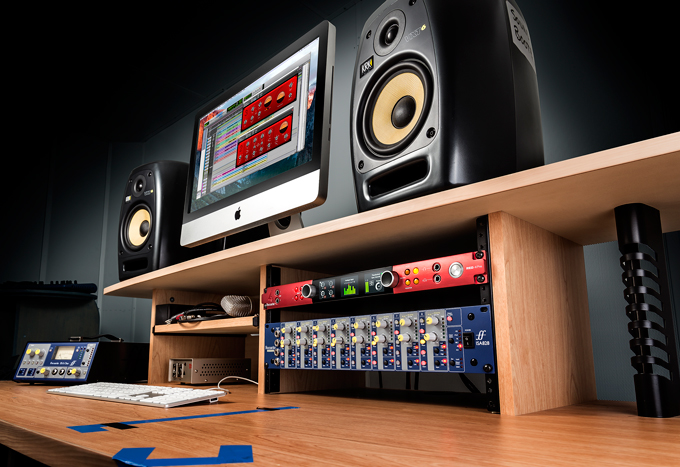 So who should be looking at the Focusrite Red 4Pre?
Pro Tools HD owners can take advantage of the dual DigiLink connectors, and all get the benefits of the Red 4Pre whilst working in their familiar environment. Two primary ports are included on the unit as standard.
Larger studios and studio complexes can route audio throughout the entire studio space using the dual Ethernet ports for Dante™ audio-over-IP networking, allowing you to expand your studio via Ethernet with additional channels anywhere on your network, with low latency and lower cost. Add channels by connecting additional Red or other Dante-compatible components to the Ethernet ports.
If you were ever considering just getting a set of world-class mic pre's, then the Red 4Pre could be just what you need, and with imperceptibly low-latency performance, tracking live whilst monitoring is seamless, even with host plug-ins running whilst recording.
Included software
Every Red 4Pre includes Focusrite Control software, allowing mic preamp control and the quick and intuitive set-up of mixes and monitors; the Red plug-in suite, which accurately models Focusrite's classic Red 2 and 3 EQ and compression; and Softube's Time and Tone bundle – a unique plug-in pack including four of Softube's professional quality plug-ins: Drawmer S73 Intelligent Master Processor, TSAR-1R Reverb, Tube Delay and Saturation Knob.
The verdict
Featuring a beautiful yet robust design, the Red 4Pre represents the perfect balance of form and function, delivering the sound quality, transparency and versatility that audio professionals have come to expect from Focusrite.
For more information on the Red 4Pre , click the link below, give us a call on 0120 597180 or e-mail shop@absolutemusic.co.uk.
Focusrite Red 4Pre Audio Interface - More Info/Buy