Crimson guitars in stock and ready to roll
Posted on Thu 05 January 2017 in entries
In late 2016 we teamed up with Crimson Guitars (who are based right here in Dorset, UK) to stock some of their fine instruments, all of which have been hand crafted under the watchful eye of master luthier, Ben Crowe. We are really excited to have these guitars in stock, not only because they are very local to us but also because they are shockingly beautiful guitars, in every way possible.
As we discovered when we visited the Crimson workshop in Piddlehinton, near Dorchester in Dorset, each of these hand-made guitars gets an impeccable level of detail from to start to finish and receives a full setup and rigorous quality inspection before leaving the factory. If you haven't watched the video yet, we encourage you to do so as it shows the level of detail that Crimson work to when putting a guitar together. You can clearly see that these people care very deeply about their products and know what they are doing...and it shows! We can not speak more highly of these instruments.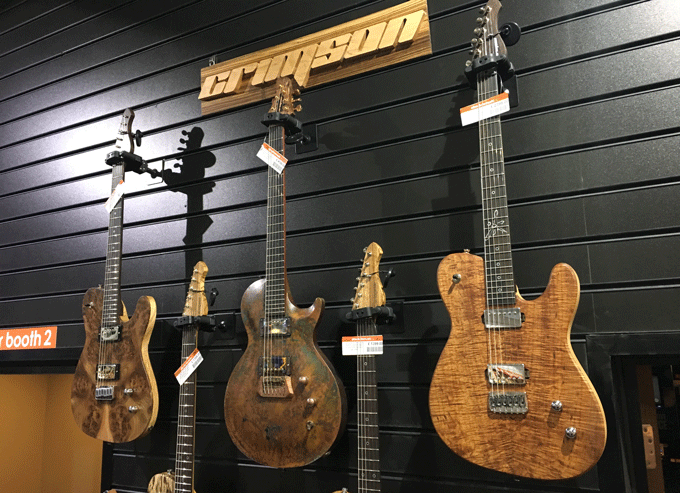 Although each one is entirely unique, Crimson guitars come in 5 different series. The range starts with the One Series, which offers a professional quality guitar but at the most accessible price point possible for a UK made hand built guitar with selected tone woods and Crimson's own designed pickups. The Raw Series features more unusual woods that you won't find in many other guitars such as Lake Ash and Holey Chestnut, each with unique grains and knots. The Artist Series is the leader of the pack with the best looking and feeling guitars in the Crimson catalogue. The Custom Shop guitars are, as the name suggests, customised versions of those seen in the Artist Series (this is where you may also find the use of copper!). Lastly, the Master Builds are the pinnacle of the Crimson range, where each guitar is taken from start to finish by just one master luthier, getting their full attention and feature the highest quality components.
We currently have a handful of Crimson guitars in stock and ready for you to try out. One of the first things that strike many people when they first see a Crimson on our shop wall is the unusual and exotic woods that are used, for example we currently have guitars made from Spalted Ash, Burl Elm and even one with a Paduak body and copper top.
[caption id="attachment_17796" align="aligncenter" width="680"]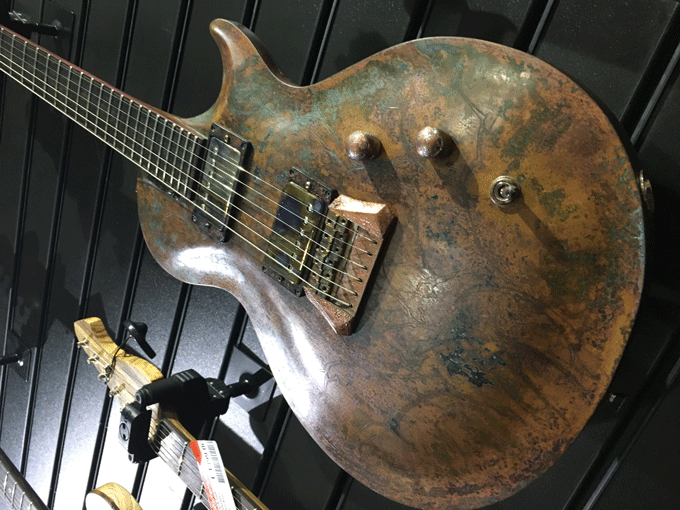 ](https://www.absolutemusic.co.uk/catalogsearch/result/index/?mode=grid&q=crimson&queryFromSuggest=true&userInput=crim) Crimson Guitars Master Built 45RPM MBCCT Electric Guitar, Copper Verdigris[/caption]
We've noticed that the theme throughout every aspect of these guitars is 'exceptional', whether that is the grain of the wood, the hand-wound specially-designed pickups or the oil stain finishes...these are truly exceptional guitars. But don't just take our word for it, come along to our guitar superstore in Poole, Dorset and try one out for yourself.