Behold the Rebirth of a Legend - The Akai MPC X and MPC Live
Posted on Mon 09 January 2017 in entries

One of the world's most influential manufacturer of music production gear, Akai Professional announces two new standalone music production centers to add to its iconic MPC line.
Cast your mind back to the late 80's, Die Hard and Who Framed Roger Rabbit are in the cinema, Red Red Wine and Sweet Child o' Mine are in the charts and electronic music was just about to be revolutionised thanks to the introduction of Akai's MPC60. To say that the MPC was a game changer is somewhat of an understatement, the sequencer went on to have a huge impact on how music was made, thanks in no small part to its legendary "swing" settings. Skip forward nearly 30 years and after numerous versions being released and bucket loads of hits being produced, the MPC is about to undergo another transformation with the release of the Akai MPC Live and the Akai MPCX.
[caption id="attachment_17835" align="aligncenter" width="680"]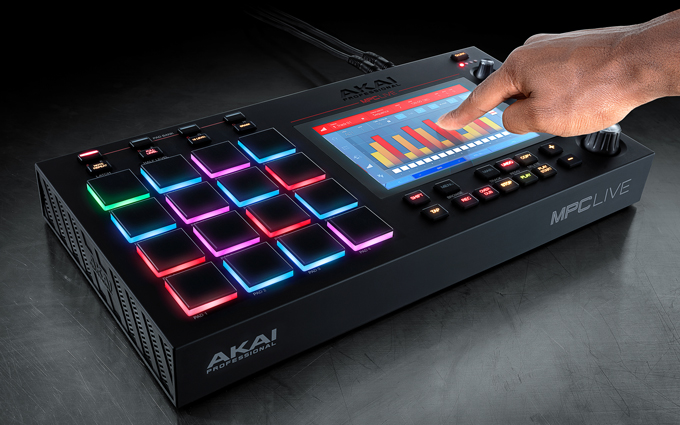 ](https://www.absolutemusic.co.uk/akai-mpc-live-standalone-music-production-centre.html) MPC LIVE[/caption]
MPC Live
At the heart of the new MPC Live is a full-colour 7-inch multi-touch screen, 16 velocity- and pressure-sensitive RGB pads, four touch-capacitive Q-Link controls and a large, clickable master encoder knob. Featuring multicore processing technology, 2GB of RAM and an expandable 16GB of on-board storage (a far cry from the original MPC60, which had 750 kB memory as standard, expandable to 1.5 MB!). The MPC Live is as powerful as any MPC that has preceded it. Thanks to a ultra-portable lightweight footprint (5.5 lbs or 2.4kg) and battery powered operation via the internal, rechargeable lithium-ion battery. Thanks to its native integration with  MPC Software 2.0, the MPC Live allows the user launch clips with real-time time-stretching; sample, grab, pinch & edit waveforms; program the step sequencer; record, sequence & edit audio/MIDI live; apply XY FX in real-time, and much more directly from the gesture controlled capacitive color screen.

At the back of the unit you will find 2-in/2-out MIDI ports, 6 configurable 1⁄4" balanced jack outputs, 2 USB-A 3.0 slots for thumb drives or MIDI controllers and a SD Card slot for loading samples and projects. Also acts as a control surface for MPC 2.0 software, which is compatible with Mac & PC as a plugin in for all popular DAWs, or as a full-featured standalone unit.
[caption id="attachment_17834" align="aligncenter" width="680"]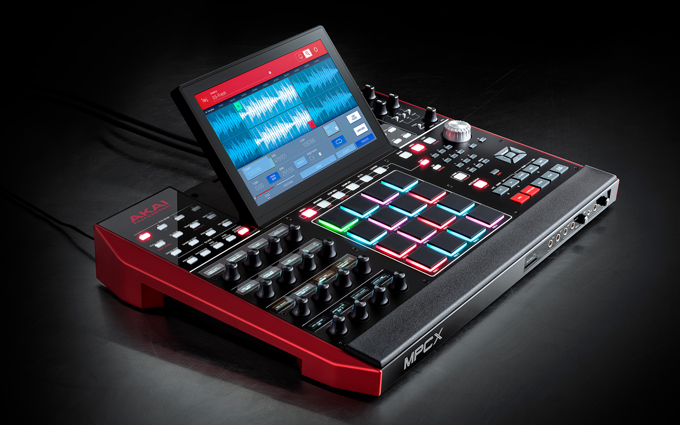 ](https://www.absolutemusic.co.uk/akai-mpc-x-standalone-music-production-centre.html) MPC X[/caption]
MPC X
The new Akai MPC X is a standalone beat production machine featuring a full-colour multi-touch screen, which is slightly larger than the MPC Live at 10.1-inch and 16 pressure-sensitive RGB pads (obviously, these are still square, in keeping with Roger Linn's original iconic design) – all fuelled by a multicore processor surgically tuned to power the newly launched, and reimagined, MPC Software 2.0TM. Rounding out the controls are dedicated menu buttons, a large master encoder knob and 16 touch-sensitive 360o assignable pots (Q-Links) with adaptive OLED displays, perfect for viewing and precisely automating individual parameters to deliver expressively nuanced recordings. With Akai's MPC-X the tactile ease-of-use found on smartphones and tablets combines with full-featured production functionality for an unleashed creative experience – launch clips with real-time time-stretching; grab, pinch & edit waveforms; program the step sequencer; record, sequence & edit audio/MIDI; apply XY FX and much more directly from MPCX's 10.1" multi- touch capacitive color screen and dedicated hardware controls.

As with the MPC Live, the MPC X boasts an array of connectivity options with a 2-in/4-out MIDI configuration, ensuring seamless connectivity with controllers and MIDI compatible sound modules. Also in its arsenal of inputs and outputs are 4 selectable inputs: 2 XLR / 1⁄4" combo jacks with switchable phantom power, 2 instrument level; 1⁄4" jacks, turntable RCA input with ground peg and 1⁄4" and 1/8" headphone outputs. But it doesn't stop there, we know that many of you out there will get excited by the 8 configurable CV/Gate outputs on board, enabling the analogue control of modular gear, such as classic synths, which could make the MPC a natural choice for the centrepiece for of your rig.

We are very excited to announce that Absolute Music has been selected to be one of a very small number of music shops in the UK to be a MPC Specialist Centre, meaning we have access to the new flagship MPC products and a level of product knowledge that you won't find anywhere else in the area. Also, both the MPC Live and MPCX will be available for demo in store, and to buy from our online store soon with free next day UK delivery. If you have any questions about the new range from Akai, one of our specially trained MPC eXperts will be able to help.
[caption id="attachment_17836" align="aligncenter" width="680"]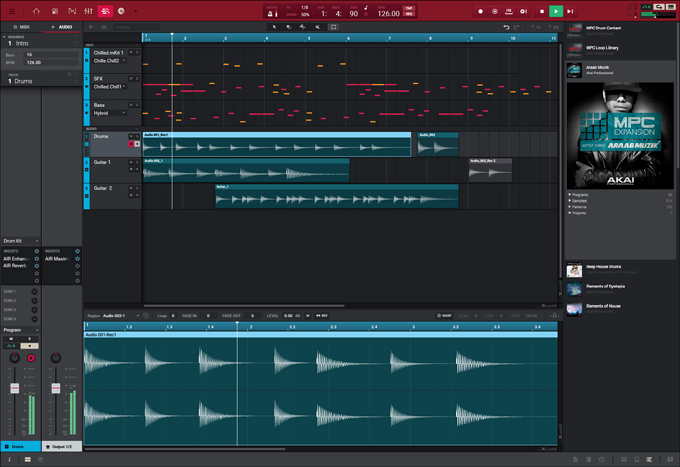 ]({static}/uploads/2017/01/MPC-Software-Image-1.jpg) MPC SOFTWARE[/caption]