Absolute Music's Guitar Workshop
Posted on Thu 14 April 2016 in entries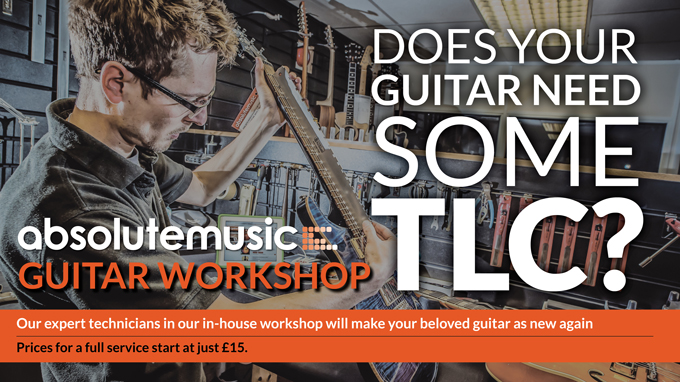 Our expert technicians in our in-house Guitar Workshop are here to help your guitar playing and looking like new, even the vintage models. With over 10 years experience, we carry out repairs, modding or servicing of any kind on any guitar, whether you bought it here or not!
We do it all
Whatever needs doing to your beloved guitar, our technicians can take care of it, from set-ups, fret dressing to neck cleaning, installing or changing pickups and machine heads, fitting saddles and pots, adding strap buttons or tremolo systems, and all kinds of mods or repairs.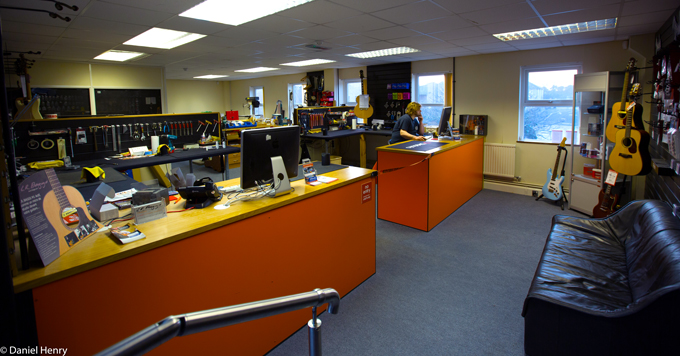 We advise you to bring in your guitar so that we can see it and chat through what you and your instrument need, give you an estimate and book it in there and then.
We've got all the parts
We also sell hundreds of parts and accessories, from selector switches, saddles and strap buttons to jack sockets, bridge pins and machine heads.

If we don't have a specific part in stock, we will happily source and stock whatever you're looking for. Check out the Guitar Accessories section on our website or give our Guitar Workshop a call on 01202 597180 for more details.
Minimum bench charge £10
Labour costs (per hour) £40
Please note that all parts and strings will be charged for in addition to our service package or labour/bench charges.
Amp and effects repairs
We also take care of repairs and servicing of guitar amps, effects and other recording gear through our in-house Service Centre (located downstairs).
Bronze Service
This is our standard service that also covers basic jobs such as restringing or neck cleaning.
Acoustic 6-string £15
Electric (6 string) £20
Bass Guitar £20
Acoustic 12 String £25
Electric with Tremolo £25
Electric 12-string £30
Electric w/locking trem £35
Silver Service
Our intermediate service that includes careful checking of all aspects of your guitar.
Acoustic 6-string £35
Electric (6 string) £40
Bass Guitar £40
Acoustic 12 String £45
Electric with Tremolo £45
Electric 12-string £50
Electric w/locking trem £55
Gold Service
An advanced detailed service that includes full inspection of ALL elements of your guitar.
Acoustic 6-string £50
Electric (6 string) £55
Bass Guitar £55
Acoustic 12 String £60
Electric with Tremolo £60
Electric 12-string £65
Electric w/locking trem £70