4 Gig-Ready Compact PA Systems for Under a Grand Reviewed
Posted on Mon 10 April 2017 in entries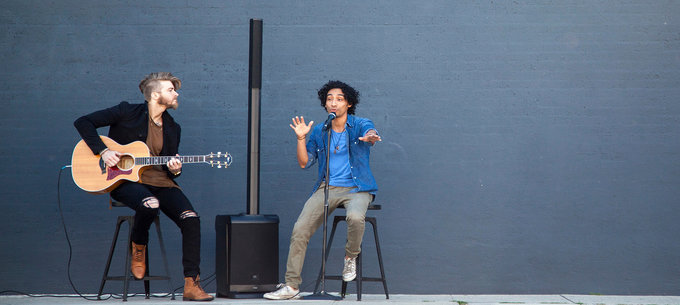 Ask any musician what their least favourite part about gigging is and it is highly likely that they will say loading the car at the end of the night. We've all been there, thrown everything possible at an audience for two hours, knowing full well that the most physically demanding part of the night is still to come. The 4 PA systems compared in this shootout all claim to be light and compact enough for even the most divaish of singers to easily load into a car at the end of the night, sound good enough to keep the audience, and venue management, happy and not take many gigs to pay for themselves.
But these aren't the normal PA desk and separate speaker setups. You will notice from the pictures that these are linear, column-like, systems that are designed to give a wide spread of sound of vocals, acoustic guitars and maybe a sax/trumpet directly to the audience, eliminating the wastage of conventional systems where the sound literally goes over the heads of the crowd. These systems go by a variety of names from the simply put 'compact PA systems' to 'Linear array systems', and slight variations of each.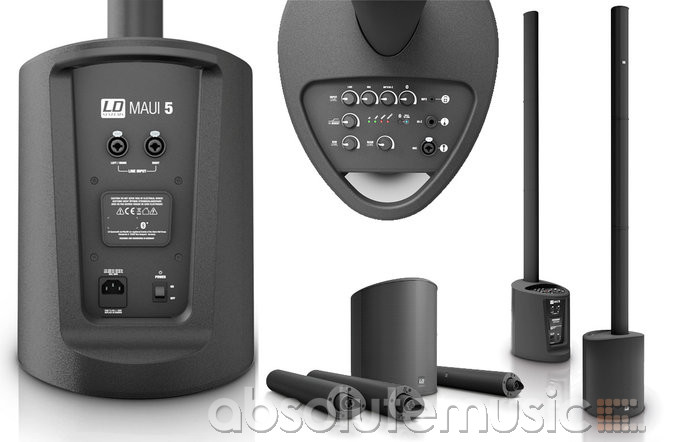 LD Systems MAUI 5 Ultra Portable Column PA System with Mixer
The LD Systems MAUI 5 provides sound reinforcement with extended coverage and feedback resistant monitoring from a subwoofer base and 3-piece column system which assembles in seconds with custom multipin connectors. Because of this collapsible design, there are more parts to it but it does mean that it takes up a lot less room in the car (or the spare room at home!) and weighs only 11kg. The LD Maui 5 is the entry level system and does only give 200 watts RMS of power, which is enough for an acoustic duo or solo act in a small pub but at just over £400 it won't take long to pay for itself.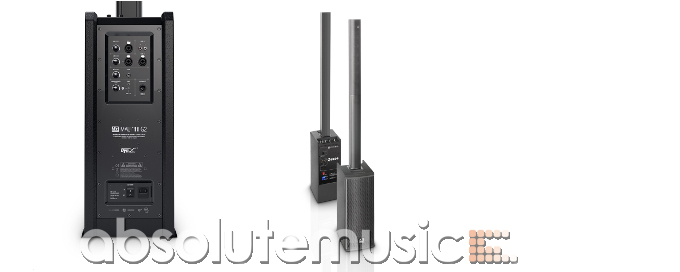 LD Systems MAUI 11 G2 Portable Column PA System with Mixer and Bluetooth, Black
Next up is the older brother of the Maui 5, the LD Systems Maui 11 G2, which is not the most sleek looking package in the lineup, but you can almost forgive its looks because it does take the top place when it comes to power - it pushes out 500 watts and also gives great feedback protection and a multiband limiter to prevent clipping, all for little over £600. Because it is bigger, and more brute-like it is heavier, weighing in at 24.9kg making it the heaviest of the selection, the LD Systems Maui 11 G2 is the most powerful.
Bose L1 Compact Portable PA System
When it was released, the Bose L1 compact PA system was a huge game changer for musicians and venues. The clarity, sound quality and portability of the L1 was a big hit across the board. A few years later and the Bose L1 system is still massively popular. Weighing in at a total weight of 11.2kg, Bose boast that it can be carried to the car in one trip and set up in under a minute. The L1 Compact system is not the most powerful in this selection (it packs a modest 200w punch) but it does have a reputation for clarity and sound quality.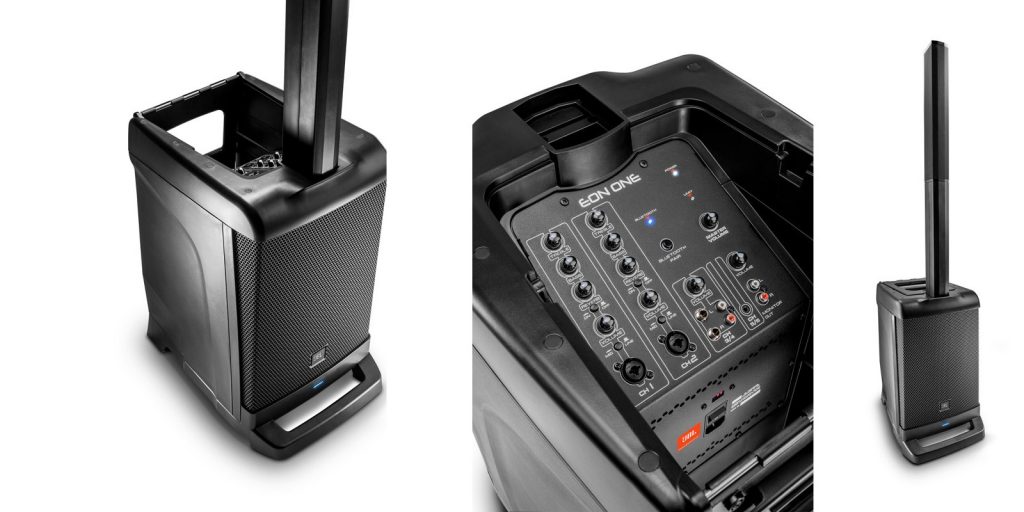 JBL EON ONE All in One Linear Array PA System
Sitting at just under £900, but slightly higher priced than the Bose, the highest priced system of the lineup is the JBL EON One, which offers up 380 watts of punch, putting it just behind the Maui G2 but it does weigh around 5kg less (a reported 18.5kg total weight). The JBL EON One boasts the largest subwoofer in its class, measuring at 10 inches and gives a pretty solid wallop. It is also the only one of the lineup to feature channel specific reverb, which would be an essential addition for any solo or duo act that didn't want to bring any additional boxes or equipment.