SONTRONICS SATURN REVIEW
Posted on Wed 25 August 2010 in entries

Here's the recent review of the gorgeous new Sontronics SATURN microphone that appears in our current in-store brochure...
SONTRONICS SATURN - INTRODUCTION
Inspired by vintage vocal mics but packed with the most modern mic technology, the new SATURN flies the flag for this proudly British brand…
Here at absolutemusic we've always been fans of British microphone brand Sontronics. After all, they're based in Dorset just like we are so it's good to support your homies, right? This year, Sontronics has celebrated its five-year anniversary marking the milestone with the release of five new mics, one of which is the stunning five-pattern SATURN…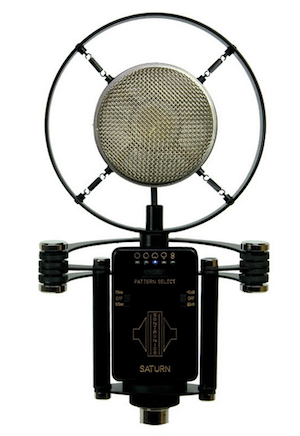 ](https://www.absolutemusic.co.uk/sontronics-saturn-multi45pattern-condenser-microphone.html)
SONTRONICS SATURN - OUT OF THIS WORLD
All Sontronics mics are designed by the brand's founder and MD Trevor Coley, and the SATURN is one of his more fanciful designs based, he says, on the classic broadcast mics of the 1940s and 50s. It definitely strikes a pose with the round grille suspended by springs in the 16cm diameter ring and its classy shockmount, unique to Sontronics. The only thing missing is Nina Simone to huskily croon into it!
Sontronics not only designs all its mics in the UK, but also develops them here, and the pre-production model of the SATURN apparently did the rounds of various studios and colleges before it hit the shelves. Feedback from the engineers, producers and lecturers involved in the beta-test process (including Flood and Alan Moulder) helped to shape the mic we see today, and all involved attest that the SATURN is a very impressive all-rounder.
SONTRONICS SATURN - MASTER OF ALL TRADES
The SATURN boasts five polar patterns – subcardioid, cardioid, hyper-cardioid, omnidirectional and figure-of-eight – switchable using a selector wheel. A cool blue LED will show you which one is switched in.
Giving the mic a quick test in our studio, we were immediately impressed by SATURN's unique styling and great build quality. The mic's performance is as good as its looks, with clear definition across all frequencies, topped-off with a nice amount of presence to help it cut through a busy mix. It gave us excellent results on vocals and instruments, supporting its claim as a great all-rounder. There was even a hint of a valve mic sound about it!
This means that whether you're after a wide-open, ambient room mic or a killer sound on your vocals, a mind-blowing result on a drumkit or a true reproduction of your guitar amp, the SATURN really does deliver in all departments.
SONTRONICS SATURN - IN A LEAGUE OF ITS OWN
Like all Sontronics mics, the SATURN comes with a Lifetime Warranty and is beautifully packaged with its unique 'sci-fi' shockmount in a smart aluminium flightcase.
You can try the SATURN and the full Sontronics range of mics and preamps in our showroom.
SONTRONICS SATURN - AND THE REST...
As Sontronics celebrates its fifth birthday, the range continues to expand. The new STC-10 pencil condenser and STC-20 large condenser have been introduced to appeal to those of us after a great-sounding bargain, while the new STC-2X adds extra oomph with its omni and cardioid patterns plus two-stage pad and two-stage filter.
If phantom-powered ribbons are your thing, you've got SIGMA, DELTA (for guitar amps) and Apollo (stereo ribbon) to choose from. Not forgetting all of Sontronics' handhelds, valve mics, studio condensers, preamps, stands and accessories! There's never been a better time to buy British!
SONTRONICS SATURN - SPECS
Polar patterns: Five (subcardioid, cardioid, hypercardioid, omni-directional, figure-of-eight)
Pad/attenuation: -10dB, -20dB
High-pass filter: 75Hz, 125Hz
Freq. response: 20Hz to 20kHz
Max. SPL: 130dB
Self noise: 14dB
Power: 48V phantom power ±4V
Comes with: shockmount and aluminium flightcase and Sontronics' Lifetime Warranty
For more information on the Sontronics SATURN or any other Sontronics mic, click the link below or give us a call on 01202 597180.
Sontronics Saturn - More Info/Buy

******If you're interested in buying and you have seen it cheaper elsewhere, please call us or use our
---
As well as receiving our first rate customer service you can also claim money off your next purchase with our loyalty points scheme and receive a 3 year warranty if you sign up to our FREE VIP Club (click here for more infomation). Many of our items also come out on a FREE next-day delivery service to mainland UK customers, so you won't be left waiting!
Also, if you want to keep up with all our latest offers, competitions, news and videos, why not follow us on Facebook and Twitter?