MACKIE THUMP TH-15A REVIEW
Posted on Sat 03 September 2011 in entries

You can read more reviews like this, listen to Tony's productions, purchase synth patches and more at his personal site -> Tony Long Music.
MACKIE THUMP TH-15A - INTRODUCTION
If you are in a small local band, you will be very familiar with the lugging around of heavy gear; upstairs, through fire-doors, down narrow corridors... in fact, quite often through an assault course of obstacles until you reach the stage or area where you are to setup your gear. With heavy back-straining PA speakers this can often be a very painful experience and quite frankly it is not what you really want to do before performing for a couple of hours. It has therefore been a challenge for speaker manufactures to create a very powerful speaker with an in-built amplifier in a lightweight package, especially as more often than not these cabinets need a vast frequency range to cope with anything from deep synth basses to crisp sizzling hi-hats and therefore must have a 15" bass-pounding woofer as well as a high-frequency compression driver!
Mackie are a leading speaker manufacture and have been looking at this problem for some time. Their famous and most popular cabinet, the SRM450 almost achieves this with a great sound and a weight of 40 lbs. (18 kg), but these are reasonably expensive speakers and still not that light in weight. With this in mind they have produced a cheaper and lighter speaker - the Mackie Thump. The Mackie Thump comes in two sizes - The TH-15A with a 15" Woofer and the TH-12A with a 12" woofer.
MACKIE THUMP TH-15A - INITIAL COMPARISON WITH BEHRINGER B300 SPEAKER
I currently have a pair of Behringer B300s and these sound just great, but they are very heavy at 63 lbs. (29 kg) each, so I thought that I would do a series of sound comparisons and specification comparisons with the Mackie Thump TH-15A, which only weighs an incredible 36 lbs. (16.3 kg).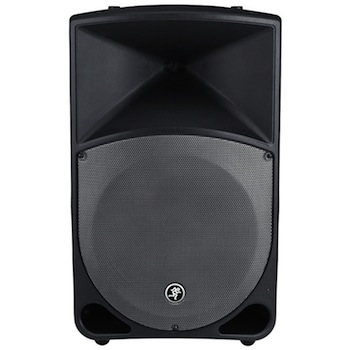 ](https://www.absolutemusic.co.uk/mackie-thump-th4515a-active-pa-speaker-200w-rms-each.html)
My first observation was that although I prefer the handle design of the Behringer (because you can get your whole hand around it), the weight and the weight distribution do not make your life easy. The Mackie handles are moulded into the design and whilst this is not as effective, the reduced weight and even weight distribution make transportation a doddle.
The cabinet sizes are very similar, although the Behringer is slightly larger, however, the Mackie Thump TH-15As have more power (400 Watts compared to the Behringer's 300 Watts). The Mackie Thump TH-15A's specs are: 400W of ultra-efficient Fast Recovery amplification comprising of Low Frequency 300W peak power (Class-D) and High Frequency 100W peak power (Class A/B). They have high-output transducers with precision 2-way crossovers and transducer time-alignment. You can download both manuals easily from the web and make more detailed comparisons if you wish.
One minor issue: as I easily lifted my Mackie Thump TH-15A onto my PA stand, I noticed that there was no locking clamp fitted to secure the speaker to the pole. It was not a problem with the stands I have as they fit quite firmly, but this could be an issue for some people, especially if the speaker would not stay in the desired position. I am sure that there are many quick and easy solutions to this and Mackie's design team obviously decided that in order to keep the costs down this was not a big problem.
MACKIE THUMP TH-15A - CONNECTIONS
The connections are different on these two speakers. The Mackie simply has a balanced Mic/Line input connector and a Thru connector (both of type XLR), whilst the Behringer offered a little more flexibility with both XLR and a quarter inch TRS jack inputs.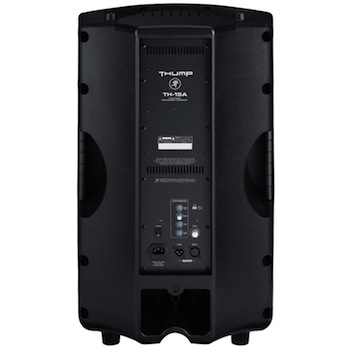 ](https://www.absolutemusic.co.uk/mackie-thump-th4515a-active-pa-speaker-200w-rms-each.html)
MACKIE THUMP TH-15A - SOUND TEST: DRUM MACHINE
I decided to start off by connecting a drum machine to test a wide frequency range and see how the two different speakers compared. I set up both with no EQ and my first judgement was that the sound of the Behringer was slightly warmer, although I must say that there did not appear to be a highly significant difference between the two. Well, not to my ears anyway! This pleased me because I started to think that it did seem possible to have no loss of quality, but have a much lighter speaker.
My next test was to adjust the EQ to try and achieve the best detail in the sound. The Mackie Thump TH-15As have an adjustable 3-band contour EQ with sweepable mid-frequency, whilst the Behringer just having a simple 2-band EQ. The Mackie Thump TH-15As obviously came out on top here as I was able to adjust their 3-band EQ to a greater extent to get the best out of each sound. I must say, I preferred the sound of the hi-hat cymbals on the Mackie Thumps, which were more crisp and defined. They reminded me of my Paiste Formula 602 Sound-Edge hi-hats and I couldn't believe how good they sounded when I first bought them.
MACKIE THUMP TH-15A - SOUND TEST: VOCALS
The next test was to plug a microphone in directly. The good thing about these type of speakers is that you don't necessarily need a mixer. You can just plug a mic straight in and if you have two Thumps you can simply daisy-chain the two using the XLR Thru connector. I used a Shure SM57 and this time I found that I preferred the warmth of the Behringer. However, as before, by adjusting the Mackie's EQ, I found that I was still able achieve what I was after.
There is a little bit of noise at low volume levels with the Mackie Thump TH-15A but for stage use this is not a problem. The Behringer also had some noise but it was a lower and quieter hum. I use one of my speakers as a vocal-only foldback monitor so it is very important to me as to how clearly the vocals cut through. I think that one of the main aspects that will help me considerably is the Mackie Thump's three-band EQ, whereby I can adjust the vocal output to suit the different environments.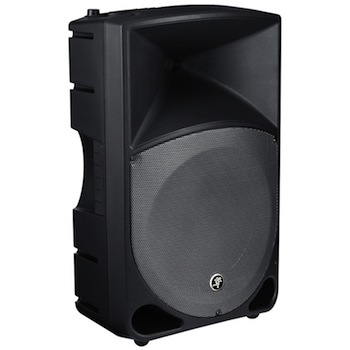 MACKIE THUMP TH-15A - SOUND TEST: SYNTH
I connected my Korg Triton and used one of my own piano patches that I love. One of the songs that I perform has a constant low E piano bass note and this always sounded great on my Behringer and I wanted to be sure that it would feel the same on the Mackie Thump TH-15A - and yes, it was very pleasing to me! It had that lovely deep thump to it, without sounding muddy and it still cut through despite the bass player coming in with his powerful bass-line. The top end of the piano was outstanding and when you consider the price of these speakers, the quality is comparable with more expensive models.
Korg are great at string sounds and these sounded awesome through the Mackie Thump TH-15A, giving a very powerful and warm sound. The more I use the Mackie Thump under different conditions, the more I am convinced that it does exceptionally well in the high and low frequencies and it is only in the mid-range that it does not seem as good as the Behringer, but I am not talking a lot of difference here. Other synth sounds and basses all sounded very solid and tight. The Mackie Thumps can certainly handle these lower frequencies and I was very impressed, especially as there was no sub bass speaker being used. Mackie also did make a sub - the Mackie Thump TH-18S, but this has now been discontinued. They now just do the SRM1801 1000 Watt 18" woofer, weighing 73lbs (33.1Kg) and costing approximately twice the cost of a TH-15A.
MACKIE THUMP TH-15A - SOUND TEST: CD
I think a good test is to put an assortment of music through these speakers; Rock, Trance, Dance and Hip Hop etc. My research shows that many DJs are purchasing the Mackie Thump TH-15A for many reasons, but mainly the obvious: - cost, weight and sound. The majority of DJs want that powerful low-end, but want to avoid a distorted, muffled sound. The fact that they can get those cutting highs as well makes the Mackie Thumps a very attractive package to them and they can fine tune with the help of the parametric mid control.
I tried anything from Queen to Rihanna and a great deal in-between. I must say that despite what I put through, I seem to draw the same conclusions. If anything I would like a little improvement in the mid-range. This conclusion is only there because I have something there to immediately compare with. In a real situation I would find the sound very pleasing. In addition, I may need to work a little harder with the EQ settings. In fairness to Mackie, the Thumps have the following specifications for EQ: the High EQ gives you 15dB boost or cut above 12kHz. The Mid range EQ gives you 15dB boost or cut, centred at any frequency between 100Hz and 8kHz (this range will cover the male and female vocal range). The Mid Freq knob ranges from 100Hz to 8kHz and determines the centre frequency for the Mid EQ filter. This allows you to zero in on the precise narrow band you want to have affected by the Mid EQ. Lastly the Low EQ gives you 15dB boost or cut below 80Hz. It is here so you can get that real punch in bass drums.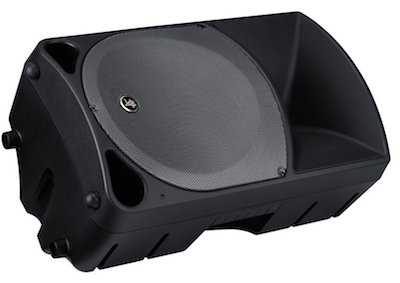 ](https://www.absolutemusic.co.uk/mackie-thump-th4515a-active-pa-speaker-200w-rms-each.html)
MACKIE THUMP TH-15A - CONCLUSION
It is hard not to love these speakers, with 400 watts of power at your disposal in a carefully designed, incredibly lightweight package. You can transport them quickly and easily to your gig and they give you the frequency range that satisfies the deep bass needs of most DJs and synth players, all at an incredibly competitive price. Coupled with the fact that you have 3-band EQ and the Mackie name, sound quality, design and reputation, there is not much else you could want. I am not saying that the Mackie Thump TH-15As are the best speakers in the world but I am saying they are the best for their price and weight. They have a wide range of uses and you can pole mount them, use them as a wedge monitor or use them with a stereo keyboard of DJ set up. There is nothing else out there that can compete on this level. They certainly suit my requirements, so I have now bought one!
For more information on Mackie Thump TH-15A PA speakers, click the link below or give us a call on 01202 597180.
Mackie Thump TH-15A (Single) - More Info/Buy

Mackie Thump TH-15A & SRM1801 PA System - SAVE £££s!!! - More Info/Buy

Mackie Thump TH-12A (Single) - More Info/Buy

Mackie Thump TH-12A (Pair) - More Info/Buy

******If you're interested in buying and you have seen it cheaper elsewhere, please call us or use our
---
As well as receiving our first rate customer service you can also claim money off your next purchase with our loyalty points scheme and receive a 3 year warranty if you sign up to our FREE VIP Club (click here for more infomation). Many of our items also come out on a FREE next-day delivery service to mainland UK customers, so you won't be left waiting!
Also, if you want to keep up with all our latest offers, competitions, news and videos, why not follow us on Facebook and Twitter?