APOGEE DUET 2 REVIEW
Posted on Thu 21 April 2011 in entries

The Apogee Duet 2 is a 2 Input / 4 Output USB 2.0 audio interface for Mac, which improves on arguably the most popular portable audio interface ever, the Apogee Duet (if you couldn't guess!) With new advanced features, improved performance, and a better sound quality, the Apogee Duet 2 could well become your home studio's new best friend!
The original Duet was famed for its sleek design, one knob interface, and immaculate sound quality… it has even been used in the recording process on a number of GRAMMY award winning records. And the good news is, it just got better…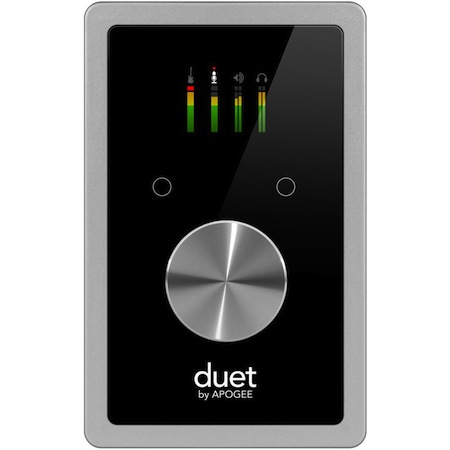 ](https://www.absolutemusic.co.uk/apogee-duet-2-usb-20-audio-interface.html)
APOGEE DUET 2 – FROM MAC TO PRO STUDIO IN AN INSTANT
The Apogee Duet 2 is a fantastic portable solution for turning your Mac computer into a fully fledged professional studio. With the Duet 2 you can hook up your instruments/microphones and make professional quality recordings (up to sample rates of 192 kHz) wherever you are! Then, when you need to mix your tracks, the Apogee Duet 2 offers pristine quality outputs, allowing you to hear your recordings in amazing detail, so you can refine your projects just like a pro! And even when you aren't mixing, the outputs of the Apogee Duet 2 are significantly better than your standard laptop headphone output, so even if you're simply kicking back and listening to iTunes, you will never want to be without the Duet 2…
APOGEE DUET 2 – IT'S ALL ABOUT THE SOUND
When building the Duet 2, Apogee drew inspiration from the latest technology that was being used to construct their flagship audio interface, the Symphony I/O. As such, the Apogee Duet 2 features a completely new mic pre and converter design. The mic pres feature all new components and seamless click-free transitions as the gain wavers within their amazing 0-75 dB range! This allows you to set the perfect level whilst delivering ultra-low noise and smooth, crisp detail. Plus, the Duet 2 mic preamps are optimised for any sound source so no matter what you are recording, you can be confident that you will capture maximum detail.
The new AD/DA converters employ state-of-the-art components and next-generation conversion, allowing you to get the purest recording and most detailed listening experience possible.
APOGEE DUET 2 – FULL COLOUR DISPLAY
The Apogee Duet 2 features a full colour high resolution OLED display, which acts as your reference for all its controls. From this one small screen you can gain visual feedback for metering, the numeric values for input and output levels, input grouping and phase, plus muting, phantom power and Soft Limit indication. With all this information available directly on the Apogee Duet 2, you can fine-tune your whole project without even having to look up at your computer screen!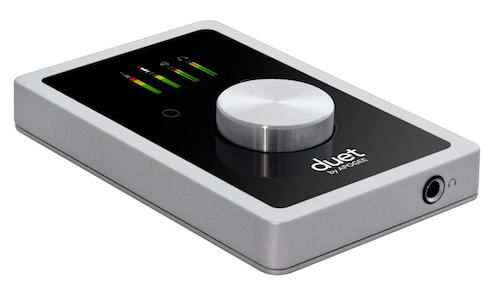 ](https://www.absolutemusic.co.uk/apogee-duet-2-usb-20-audio-interface.html)
APOGEE DUET 2 – TOUCH PADS
New to the Apogee Duet 2 is the inclusion of two touch pads, which let you control its many features with unsurpassed ease. These touch pads are both customisable, which lets you gear the Duet 2 towards your way of working by allowing you to program in your 2 most used features to make them instantly accessible via the Duet 2's interface. Customisation is extremely easy, meaning that it is quick to switch the functions of the touch pads depending on what task you are doing… for example, you may want to use the touchpads to do something different depending on whether you are recording or mixing.
The touch pads are located either side of the encoder knob (labelled 'Left' and 'Right' on the included Maestro 2 software), and allow you quick access to functions such as "Mute Outputs", "Dim Outputs", "Sum to Mono", "Toggle Headphone Source", and more!
APOGEE DUET 2 – NEW BREAKOUT CABLE
If you've never seen the original Duet before, then you will probably be wondering how Apogee manage to fit all this connectivity into a device that is so slim and portable. The answer to that is very simple, but at the same time it is highly innovative. The Apogee Duet 2 connects to a 'breakout' cable, which splits into 2 XLR/1/4" combo input connections and 2 1/4" jack output connections! Like I said, it's such a simple idea, but so effective as it allows your device to stay amazingly portable whilst offering all the connectivity of a much larger interface.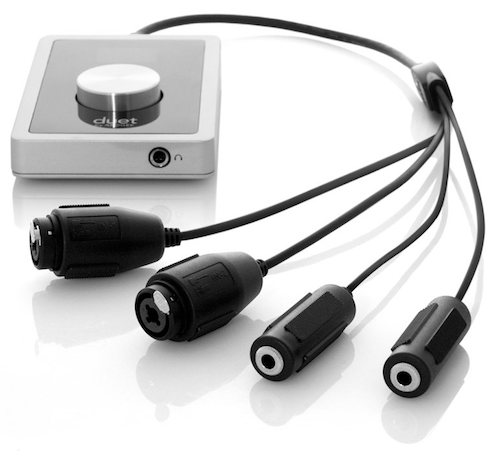 ](https://www.absolutemusic.co.uk/apogee-duet-2-usb-20-audio-interface.html)
The Apogee Duet 2 features a newly designed breakout cable, which is even more streamlined to fit in with the build of the interface (the old Duet featured separate XLR and jack inputs). Plus, there is no need to worry about wobbly connections, as the Apogee Duet 2 features an easy cable management and locking connection.
APOGEE DUET 2 – MAESTRO 2
Maestro 2 is the software that comes with the Apogee Duet 2 and it features a new look compared to the original Maestro software (that comes with the original Duet), but it still employs an easy single window and a multi-tab interface for quick access to all device and system settings including the aforementioned touch pad assignment, as well as Soft Limit selection, output assignments, dim and mute output selection, sample rate selection (with choices of 44.1 kHz, 48 kHz, 88.2 kHz, 96 kHz, 176.4 kHz, and 192 kHz), and an improved low latency mixer.
Maestro 2 is designed to be as streamlined and user-friendly as possible, with all functions available from a single window design.
APOGEE DUET 2 – SOFT LIMIT
Soft Limit can be heard on countless platinum selling records around the world. It employs an analogue design to prevent digital clipping by rounding off transient peaks in real-time before they pass through the analogue-to-digital converter. In essence, this allows you to record several more decibels of apparent level whilst subtly providing an analogue-style warmth to your sound! This really is some impressive technology!
APOGEE DUET 2 – 4 ANALOGUE OUTPUTS
Apogee listened to customer feedback when designing the Duet 2, and gave you what you wanted… separate headphone and speaker outputs! Stereo headphone outputs or left and right mono speaker outputs can be assigned in pairs to output 1-2 or 3-4 or the low latency mixer, and you can also select to place them in stereo, mono, muted or dimmed modes!
This has many useful applications. For example, DJ users can monitor a separate mix in their headphones to the one that the club is hearing, or live performers or studio artists can send a click track to in-ear monitors/headphones whilst sending a backing track to the main speakers.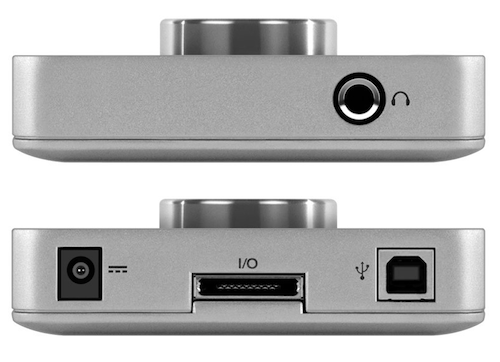 ](https://www.absolutemusic.co.uk/apogee-duet-2-usb-20-audio-interface.html)
APOGEE DUET 2 – BREAKOUT BOX ACCESSORY
This is another feature that Apogee have implemented in response to customer feedback, and it is extremely handy for clearing up your cluttered wires (although it doesn't come as standard with the Duet 2 – you have to purchase it separately). The breakout box is a solid aluminium case with 2 1/4" instrument inputs, 2 XLR microphone inputs, and 2 balanced XLR outputs. The breakout box features studio quality I/O connectors and comes with a 2 meter cable to connect it to the Duet 2. It is basically just a neater way to organise your cables… not essential… probably best used in your main studio as it makes the Duet 2 a little less portable… but if you are a "neat-freak", then you will definitely want one!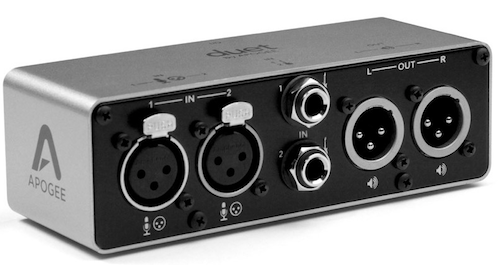 ](https://www.absolutemusic.co.uk/apogee-duet-2-breakout-box.html)
APOGEE DUET 2 – BALANCED OUTPUTS
Yet another feature added in response to customer feedback, and definitely a worthwhile improvement in my books. The Apogee Duet 2 now offers balanced output connections to any studio monitor or outboard equipment. Balanced outputs feature noise reduction measures, so as well as giving you a cleaner overall signal, they allow you to run longer cables, and are compatible with a wider variety of audio equipment.
APOGEE DUET 2 – ONE KNOB, MULTIPLE FUNCTIONS!
Its the feature that makes the Apogee Duet stand out… that large dial featured on the Apogee Duet 2 is the central control feature for the interface. It allows you to scroll through the Duet 2's inputs and outputs and set levels whilst using the OLED screen to visualise what you are doing.
APOGEE DUET 2 – SUMMARY
It's portable, it's sleek, it's innovative, it looks like a James Bond gadget, and it offers superb audio quality for both recording and playback. What other reasons do you need to buy one? I'm definitely feeling the new black and silver colour scheme as well, and the addition of the OLED colour screen is also fantastically handy… the less you have to look at the computer screen whilst mixing, the smoother your work flows (or that's what I tend to find). Plus, the assignable touchpads are also a really nice workflow addition. In fact, everything that has been added to the original Apogee Duet to make the Duet 2 has been implemented for good reason.
The bad news though is that naturally, with all these extra features, the Duet 2 comes with a more expensive price tag then the original Duet (which is still an awesome product by the way), so it is probably worth taking a little look at how the Duet 2 differs from the original Duet so you can make a more informed decision on which interface will suit you best (and possibly save you money)… after all, there is no point in throwing extra money at features that aren't essential to you when a cheaper product exists that will do do exactly what you want.
So, for starters the original Duet connects to your computer via a Firewire 400 connection (compared to the USB 2.0 connection of the Duet 2). USB 2.0 is rated with a slightly faster data transfer rate compared to Firewire and it is more universally compatible, but Firewire connections supply data at a more consistent rate and put less load on your CPU... so I can't really see there being much of a difference here. The Duet 2 also offers an optional DC power connection, but again I do not see this as a major difference, as both Duet models can be powered from their respective connections to the computer.
Where things start to get a little more interesting is when I mention that the original Duet only offers 2 output channels, i.e. it does not feature an independent headphone output. Therefore, if you are likely to want to use the interface for DJing purposes, or routing a click track independently of the main music, then you will want the Duet 2. The speaker outputs are also not balanced on the original Duet. For most people (who I imagine will be using the Duet for portable headphone mixing, or in their home studio), I don't think that this will make much of a difference. Again, if you are running large cables between the outputs of the Duet and your monitors, then I would recommend spending the extra money on the Duet 2… if not, then no need to worry!
Of course, the touchpads and colour screen are the main noticeable improvements on the Duet 2, but the original Duet still gives you a number of LED indicators to monitor the state and levels of recording. It gives you 2 input level meters, an output indicator LED, and even phantom power indicators for each channel. Of course, the OLED full colour screen does look nicer, and it's a lot more flexible and intuitive than the LEDs of the original Duet, but is it worth the extra money to you? That's what you have to ask yourself!
Again, another nice, but not essential update for the new Duet 2 is the newly designed breakout cable, which compacts both the XLR and 1/4" jack inputs into one combination connection. This is as opposed to the breakout cable of the original Apogee Duet, which features separate connections for both, and therefore makes the breakout cable slightly more cluttered.
Finally, the Apogee Duet 2 includes Soft Clip, Sum to Mono, Dim Outputs, and Toggle Headphone Source features. So if any of the upgrades that I have mentioned tickle your fancy, then the Apogee Duet 2 awaits your purchase! If you didn't want to spend quite that much money, but still wanted a highly sleek and portable recording device that offer fantastic audio quality, then check out the original Apogee Duet… after all, it's no coincidence that it's been a popular product for such a long time…
For more information on the Apogee Duet 2, click the link below or give us a call on 01202 597180.

Apogee Duet 2 Breakout Box - More Info/Buy

******If you're interested in buying and you have seen it cheaper elsewhere, please call us or use our
---
As well as receiving our first rate customer service you can also claim money off your next purchase with our loyalty points scheme and receive a 3 year warranty if you sign up to our FREE VIP Club (click here for more infomation). Many of our items also come out on a FREE next-day delivery service to mainland UK customers, so you won't be left waiting!
Also, if you want to keep up with all our latest offers, competitions, news and videos, why not follow us on Facebook and Twitter?