ROLAND TD-11 AND TD-15 DRUMS
Posted on Thu 22 March 2012 in Drums

Roland announce four new kits in their renowned V-Drums electronic drum kit series at Musikmesse 2012, consisting of the TD-11K, TD-11KV, TD-15K and TD-15KV.
The Roland TD-11K features a SuperNATURAL sound engine, 'Behaviour Modelling' provides a natural drumming experience, it includes 50 onboard kits (25 preset and 25 user), professionally recorded backing tracks, training tools and a USB function. The TD-11K features a mesh snare, 3 tom pads, 3 cymbal pads, a kick pad and a hi-hat pad with a controller. The TD-11KV is similar to the TD-11K, but it features mesh heads on all three toms as well as on the snare drum.
[caption id="attachment_3404" align="aligncenter" width="600" caption="Roland TD-15KV Electronic Drum Kit"]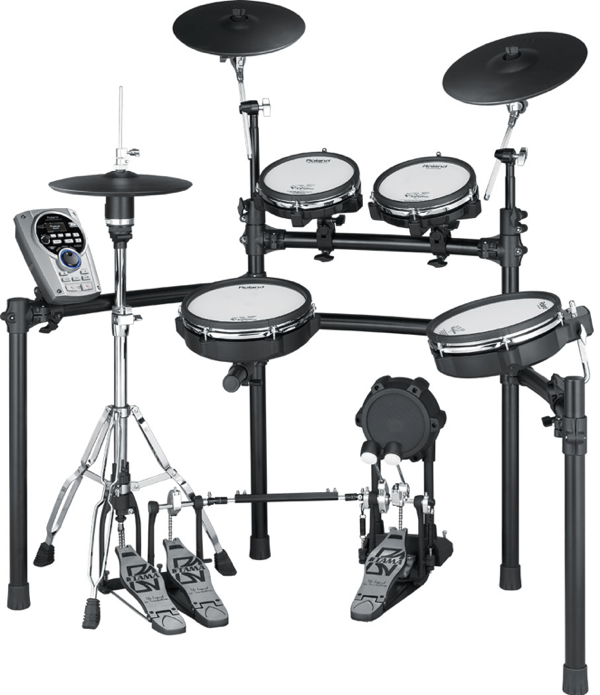 ](https://www.absolutemusic.co.uk/store/drums-20/electronic-kits-201/roland-td-15kv-v-drums-v-tour-electronic-drum-kit-47910)[/caption]
The TD-15K comes from Roland's V-Tour series. It improves on the TD-11 models by featuring the powerful TD-15 drum module, which features 100 onboard kits (50 preset and 50 user). It also features mesh heads for the snare and for all the toms. The TD-15KV improves on the TD-15K by offering the two-piece V-Hi-Hat for a more realistic feel and playing experience.
For more information on any of these kits, give us a call on 01202 597180, click the links below or visit the official Roland website.
Roland TD-11K Drum Kit - More Info/Buy
Roland TD-11KV Drum Kit - More Info/Buy
Roland TD-11 Drum Module - More Info/Buy
Roland TD-15K Drum Kit - More Info/Buy
Roland TD-15KV Drum Kit - More Info/Buy