TRAKTOR KONTROL X1 MK2 JUST ANNOUNCED!
Posted on Wed 10 July 2013 in DJ Gear

Native Instruments have just announced that they have updated their Traktor Kontrol X1 USB controller, which gives hands-on control over looping, syncing and effects across two of your Traktor decks. Although the Traktor Kontrol X1 Mk2 features a similar design to the original, there are a number of updates that make it more intuitive. The most obvious of these improvements is the touch-strip, which can be set to control a number of different parameters such as track position, pitchbend and FX.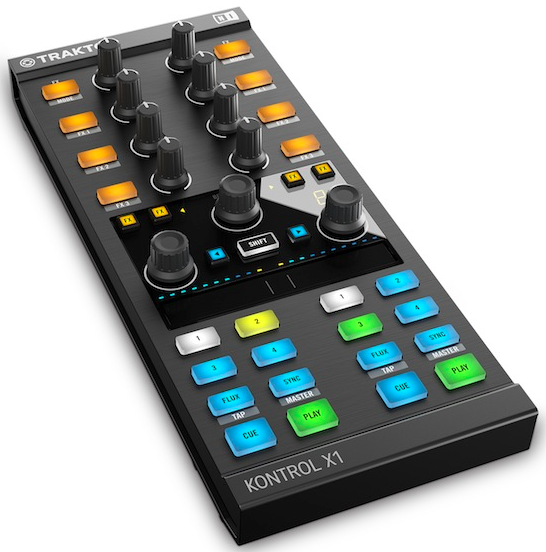 ](https://www.absolutemusic.co.uk/native-instruments-traktor-kontrol-x1-mk2.html)
Also new on the Kontrol X1 Mk2 are the multi-coloured cue point trigger buttons, which allows you to identify different cue and loop points more easily. Of course, there are also a number of smaller improvements, which should make working with the X1 Mk2 more enjoyable, such as an improved 7-segment display and LED indicators on the touchstrip for in-depth visual feedback.
If you already work with Traktor software then the new Kontrol X1 Mk2 is an ideal way to get more hands-on in order to elevate your mixes. It plugs straight into your computer via USB and instantly maps itself to Traktor, the industry's leading professional DJ software. You can even combine two together to gain four-deck control, or of course mix and match with other Native Instruments Traktor controllers such as the Traktor Kontrol Z2 mixer, Traktor Kontrol F1, or Traktor S2 or S4. It will even integrate into a Traktor Scratch set-up, incorporating timecode vinyls and CDs with turntables and CD decks.
Although the Traktor Kontrol X1 Mk2 doesn't come with any Traktor DJ software (as the likelihood is that most people who buy it will be adding to an existing Traktor set-up), it does come with a €50 voucher for use in the online Native Instruments store. This voucher becomes available upon registration of the X1 Mk2.
For more information of the Traktor Kontrol X1 Mk2, click the link below or give us a call on 01202 597180.