Pioneer 20th Anniversary Cashback Offer
Posted on Fri 01 August 2014 in DJ Gear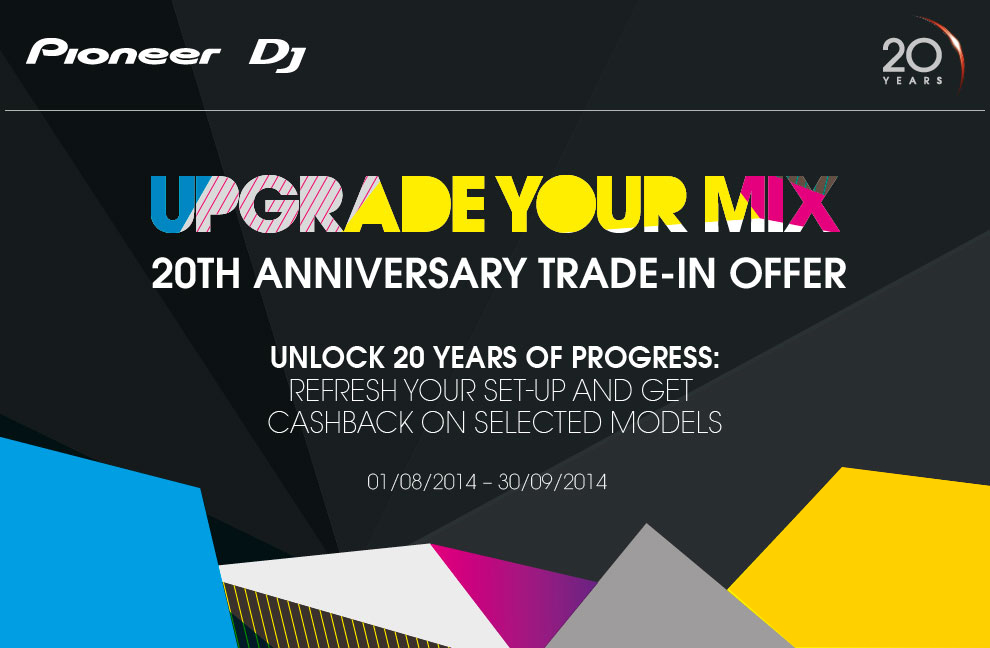 Trade in your old Pioneer gear to receive money off new DJ products! Plus, there's a free set of professional DJE-1500 in-ear headphones up for grabs for the first 100 valid claimants.
HOW IT WORKS
Complete and print the claim form - click here.
Bring the claim form and your old product(s) to us at Absolute Music between 01/08/2014 to 30/09/2014.
Buy an eligible Pioneer DJ product; trade in your old product and ask the dealer to complete and sign your claim form.
Visit the Customer Online Tracking System, log into your account and upload the signed claim form and receipt of purchase.
Cashback will be paid directly to your bank account within 28 days.
ELIGIBLE PRODUCTS
Trade in your (any colour and versions thereof):
CDJ-1000, CDJ-800, CDJ-500, CDJ-400, CDJ-200, CDJ-100S, DJM-800. DJM-600, DJM-500, DJM-400, DJM-300, EFX-1000 and EFX-500.
And upgrade to:
For more information on the Pioneer cashback offer or any product included in it, give us a call on 01202 597180 or e-mail shop@absolutemusic.co.uk.