NATIVE INSTRUMENTS ANNOUNCE TRAKTOR KONTROL Z1
Posted on Tue 11 June 2013 in DJ Gear

Scheduled to hit our store early next month (July 2013), we're pleased to announce the new Traktor Kontrol Z1 from Native Instruments. This compact little mixer is extremely versatile. You can either connect it to your computer via USB for a way of getting more hands-on with Traktor Pro 2 software, or you can hook it up to an iPad or iPhone and use it with Traktor DJ on the iOS platform (it even comes with a 30-pin iOS cable for connecting up)!
The Traktor Kontrol Z1 is a portable two-channel mixer controller with a pro-quality built-in soundcard. You can connect your headphones directly to it and even hook up a pair of powered speakers or amp!
http://www.youtube.com/watch?v=QXaD3KZ_2T0
The Traktor Kontrol Z1 features 3-band EQ controls for achieving that perfect blend in the mix, a gain control for each channel, plus filter controls (for adding further variation to your sets) and pre-listen controls, allowing you to cue tracks quickly and easily. Of course, it also features an upfader per channel as well as a crossfader, allowing you to perform scratching and smoother, more natural mixes when working with software.
The Z1 is built very robustly, with high-quality controls for life on the road. It also features backlit buttons, making it easy to see what you're doing in dark DJ booths, plus illuminated level meters for each channel. Gone are the days of having to lug hundreds of records between gigs. Now you can perform professional DJ sets with just an iPhone and one of these! It even charges your iOS device when plugged in, so there's no need to worry about losing power mid-way through a mix!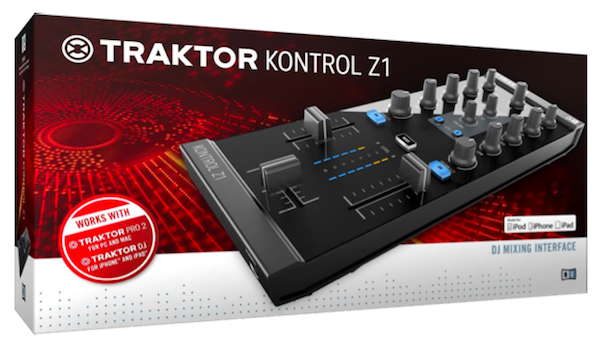 For more information on the Traktor Kontrol Z1 or to pre-order/buy, click the link below or give us a call on 01202 597180.