TOONTRACK METAL MONTH 2013
Posted on Wed 06 November 2013 in Computer Music
November isn't just the time of year when moustached men sprout up all over the country (CLICK HERE for more information on Movember if you have no idea what I'm on about)! For the last few years, November has also been Toontrack's Metal Month, with great deals and new products announced regularly throughout this period.
Toontrack are kicking off Metal Month 2013 by releasing two massive money-saving EZdrummer bundles, as well as offering 50% off selected Metal expansion packs. Read on to find out more...
http://www.youtube.com/watch?v=8EE-imDI6ac
Metal Month is based around Toontrack's EZdrummer and Superior Drummer software, both of which come packed with professional drum samples and MIDI loops for creating the perfect percussive accompaniments for your tracks.
EZdrummer is a useful tool for songwriters who just want to get their ideas down and sounding great as quickly as possible. EZdrummer samples are all pre-mixed by professionals, so all you have to do is select the ones that suit your song best and pop them in your project!
Superior Drummer on the other hand is aimed more towards professional producers. It provides controls to tweak your drum sounds in order to fully customise them for use in any project. Because of this, Superior Drummer sounds are dry, with no processing on them, in order to provide you with a blank canvas for sculpting the sound to your own particular needs. This makes Superior Drummer a more powerful producer's tool, but less immediate for achieving professional-sounding results. That said, you can use EZdrummer files (and EZX expansion packs) with Superior Drummer if you want to add some ready-processed sounds to your library, but you cannot use Superior Drummer files (and SDX expansion packs) with EZdrummer. EZX expansion packs use a 16 bit format, whereas SDX libraries make use of 24 bit resolution for higher-quality sounds.
METAL MONTH BUNDLES
It wouldn't be a proper metal month without some special Toontrack bundle offers and this year, we've got two to tell you about!
1. DRUM FUNDAMENTALS: METAL BUNDLE
Includes EZdrummer, Drumkit from Hell EZX expansion pack, Metal Machine EZX expansion pack and three metal MIDI packs, all for just £129!
CLICK HERE for more information on this bundle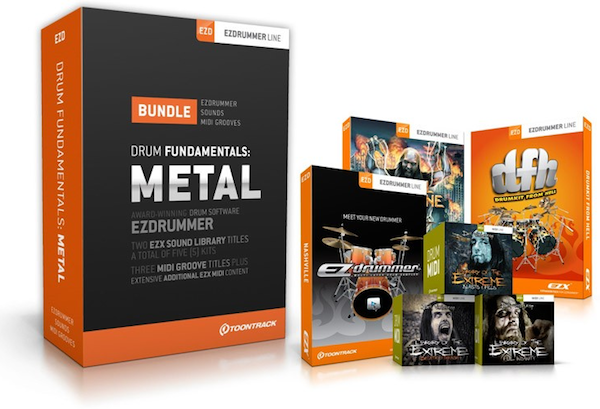 2. DRUM FUNDAMENTALS: ROCK BUNDLE
Includes EZdrummer, Rock Solid EZX expansion pack, Rock! EZX expansion pack and three rock MIDI packs all for just £129!
CLICK HERE for more information on this bundle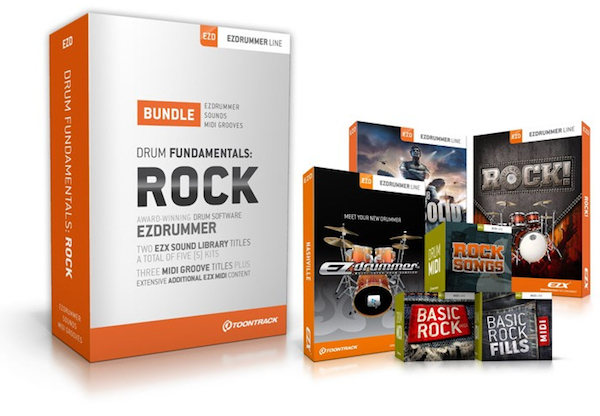 SAVE 50% ON SELECTED EXPANSION PACKS!
Grab the Drumkit from Hell, Metalheads, Metal Machine or Rock Solid EZX expansion packs for just £24.95 each (usually £49.95), or The Metal Foundry SDX Superior Drummer expansion pack for just £59.95 (usually £115).
Don't forget that this is only the start... watch this space for more Metal Month announcements throughout the rest of the month!
For more information on any Toontrack product, click the links in this article, give us a call on 01202 597180 or e-mail shop@absolutemusic.co.uk.
Toontrack EZdrummer - More Info/Buy