The HeadRush Pedalboard - A familiar name for a game-changing new product
Posted on Sat 22 July 2017 in Computer Music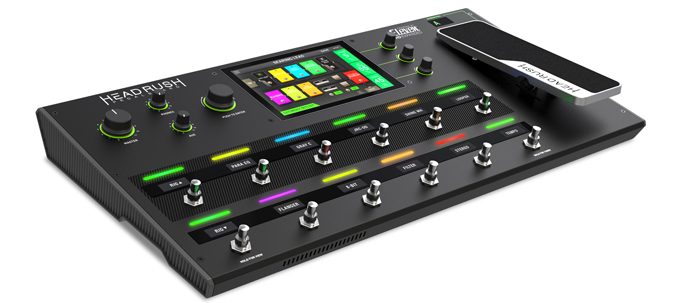 The effects pedal fans out there will already know the name 'HeadRush' and will associate it with the looper and delay pedal by Akai that got experimental guitarists very excited. A similar thing is about to happen again. In a bizarre twist of events HeadRush is now its own brand and is releasing its own pedal into the wild, but it's not just a delay looper. It's pretty much a spaceship control desk.
The HeadRush Pedalboard features a finely tuned quad-core processor and an exclusive Eleven HD Expanded™ DSP software. It also delivers a very versatile and responsive amplifier, cabinet, microphone and effects modeler. Because is does so much it, naturally, has a lot of buttons and knobs (12 footswitches, an expression pedal and 7 level and effect-tweaking knobs to be precise). But it doesn't stop there, the HeadRush also boasts a 7-inch touch display, yes...an effects pedal with a touch screen! We know what you're thinking, and no...it probably won't break if you go near it in a pair of heavy shoes, in fact it is all housed in a seemingly very rugged steel chassis.

As mentioned above, there was shuffle around in the company and the HeadRush Pedalboard was created by the original team that brought you the Avid (Digidesign) Eleven. Because of the team's background in modelling, the new Pedalboard delivers a more than satisfying range of classic vintage and modern amp and FX models, including exclusive original boutique effects that can't be found anywhere else, as well as the ability to load your own custom impulse response (IR) files. The HeadRush Pedalboard also delivers long-awaited exclusive features including gapless preset switching, a looper with over 20 minutes of record time, the ability to peel off loop layers in the reverse order they were added, and much more.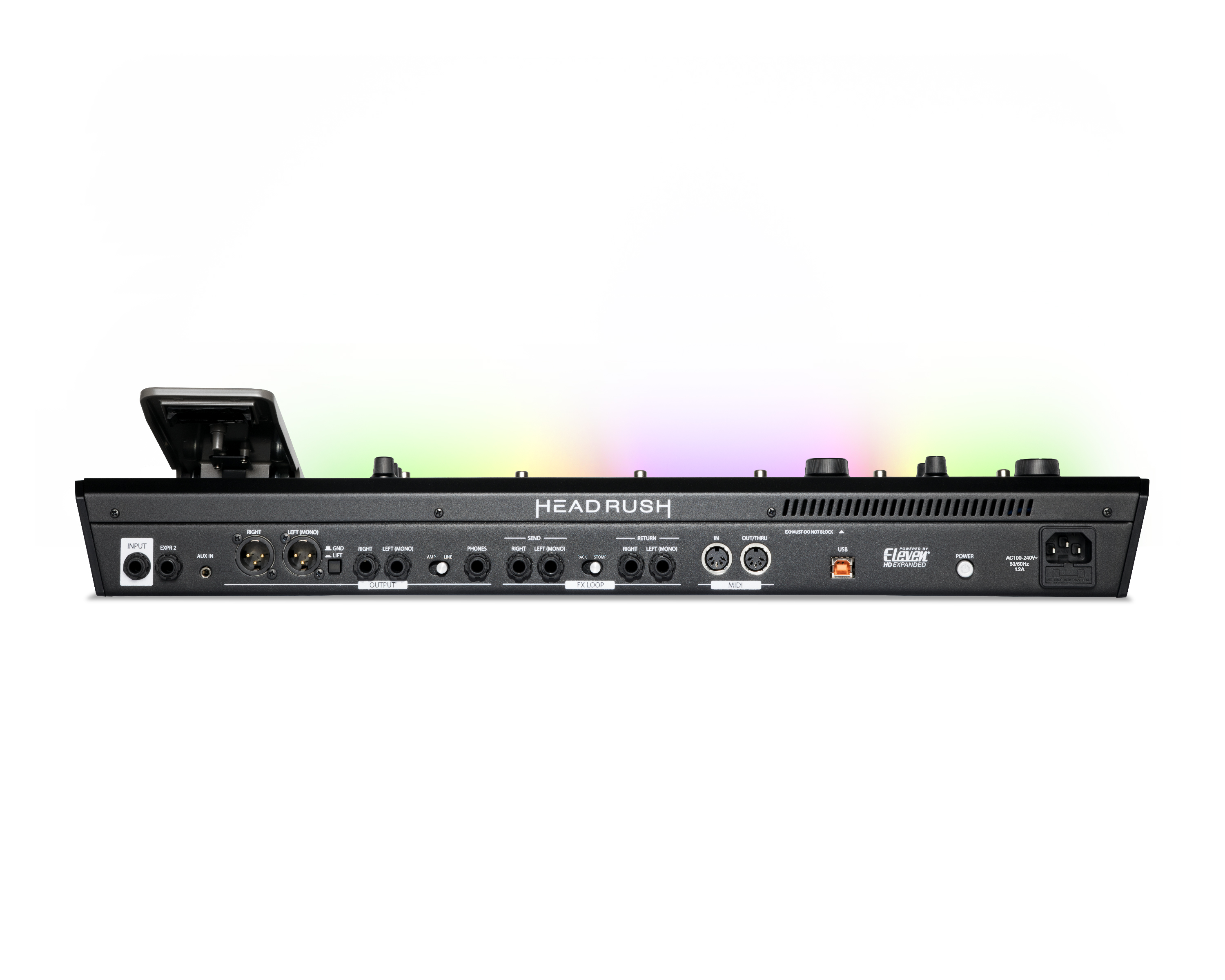 If you take a peek around the back of the unit you will see that the number of buttons on the top is matched by the number of ports on the back, with a plethora of connectivity options. You'll see the standard input/outputs but also designated ports for the send and return for the effects loop of your guitar amp as well as MIDI in/out, aux in, left/right XLR outputs and a USB port for recording straight to your PC or Mac.
The heart of the HeadRush Pedalboard is the 7-inch touch display and a guitarist-centric, ultra-intuitive user interface – literally touch, swipe and drag-and-drop to instantly create and edit rigs with amazing speed and accuracy. The large display also gives clear feedback when performing live, especially when tweaking tones using the expression pedal in 'Hands-Free Mode'. Everything about the HeadRush Pedalboard is designed to make it simple, fast and intuitive to jump right in and create amazing sounding rigs in seconds.

With countless ways to tweak and modify the players sound the new HeadRush Pedalboard has the potential to be the holy grail of guitar effects floorboards for serious players. Don't believe us?? Get in touch or come and see us to try it out for yourself when we get one for demo!
Main features of the Headrush Pedalboard
Gapless preset switching with reverb/delay tail spillover
Record and re-amp via USB
Hands-free edit mode
⅛" (3.5mm) aux input
Custom-designed quad-core DSP system
Integrate your FX and outboard gear
¼" (6.35mm) headphone output
Individual footswitch OLED screens
Road-ready steel chassis
MIDI input and output
Looper with 20 minutes of record time
Universal power supply