STEINBERG ANNOUNCE CUBASE 7.5 & ARTIST 7.5
Posted on Fri 29 November 2013 in Computer Music
Steinberg have today announced a major new update to their Cubase and Cubase Artist DAWs. Cubase 7.5 and Artist 7.5 pack in a shed load of brand new features and workflow improvements to aid creativity and the production process. With new and improved instruments and effects, the 7.5 version also offers enhanced sonic possibilities for the modern producer/engineer.
The 7.5 updates will be available as paid updates for all existing users of the Cubase DAW, or if you activated after the 14th of October 2013 it's free! Read on to find out more...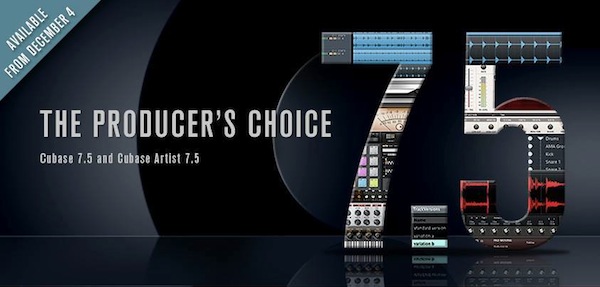 NEW FEATURES
• TrackVersions: Create parallel alternate versions of a track or a group of tracks.
• Track visibility management: Hide the tracks you don't want to see and create view sets and use intelligent View Agents to focus on what matters. Helps keep your project view uncluttered.
• Instant transient navigation: Hitpoints created automatically in background and "tab to transient" always available for audio material on any track.
• Re-record mode: Restart a recording just by hitting the record button again.
• Saving your Track Quick Controls: Save and load Track Quick Control assignments and apply existing Track Quick Control presets to other track types.
• The key to better scores: Additional MIDI editing functionality for Score Editor.
• Tighter instrument integration: Multi-MIDI-in and multi-audio-out for instrument tracks, VST Instruments Rack and tracks in perfect sync for better project overview and VST Quick Controls for handy access to parameters.
• Feel the beat with Groove Agent SE 4: Successor to Groove Agent ONE with enhanced functionality.
• HALion Sonic SE 2: New Trip virtual analog arp synth with 150 new sounds.
• Fresh construction kits: 30 MIDI construction kits with over 800 MIDI loops to matching instruments.
• Audio mangling with LoopMash FX: Adding the latest style breaks, tape-stops, stutters and more to your tracks.
• REVelation reverb: Super-smooth, silky algorithmic reverb.
• Magneto 2: A legendary tape saturation sound processor reengineered and expanded.
• Internet recording: Audio and MIDI recording over the Internet. (Not available in the Artist version).
VIDEOS
For more information on some of the new features of Cubase 7.5, check out these videos that we put together with Steinberg product specialist Andy...
REVelation Reverb
http://www.youtube.com/watch?v=FfBYPsGICrU
Groove Agent SE 4
http://www.youtube.com/watch?v=atwdaesverQ
Creating a Scratch Track
http://www.youtube.com/watch?v=LqxiD9GiHlk
Magneto 2 & Loop Mash FX
http://www.youtube.com/watch?v=jQ-_J6_MkYA
New VST Instruments & Quick Controls
http://www.youtube.com/watch?v=b1romKt4s4M
VST Instrument Racks & Controls
http://www.youtube.com/watch?v=G-bVpJhmJvA
WHAT'S THE DIFFERENCE BETWEEN CUBASE 7.5 & CUBASE ARTIST 7.5?
Although many of the new features of Cubase 7.5 are also featured in the Artist package, there are some important differences to recognise between the two versions. Cubase Artist 7.5 is essentially a cut-down version of Cubase 7.5. It limits the number of audio, instrument and MIDI tracks that you can run in a single session (to 64 and 32 and 128 respectively), comes with half the number of VST slots as the full version and ships with fewer instruments, effects and sounds. It also doesn't feature many of the advanced tools that are included in Cubase 7.5, such as OMF import/export, Nuendo live project import, support for external instruments and effects, project browser, 5.1 mixing support, automation panel and more.
For more information on Cubase 7.5, Cubase Artist 7.5 or which upgrade path to take, please click the links below, give us a call on 01202 597180 or e-mail shop@absolutemusic.co.uk.
Steinberg Cubase 7.5 - More Info/Buy
Steinberg Cubase Artist 7.5 - More Info/Buy
CLICK HERE to view our range of Cubase/Cubase Artist 7.5 products, bundles & upgrades