SONODYNE MONITORS BACK IN STOCK
Posted on Mon 19 August 2013 in Computer Music
We're pleased to announce that we've recently received more Sonodyne monitors on a special European deal, which will allow you to make unbelievable savings. Our latest delivery has brought in some b-stock SM50Aks for just £449 for the pair (usually £669), new SM100Aks for £640 per pair (usually £998) and the largest and bassiest SM200Aks for just £780 (usually £1270)!!!
Sonodyne monitors are renowned for their clarity and are extensively used across the world, most notably as the monitor of choice in the Indian film industry. In this offer, they represent some of the best monitors out there for the price and simply have to be considered if within your budget - this really is a cracking deal! Check out Music Radars review of the SM100Aks - CLICK HERE!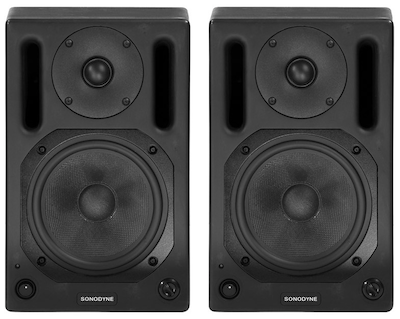 Don't believe us? Visit us in our Bournemouth pro-music superstore and hear them for yourself. We think that you'll be pleasantly surprised...
For more information on any Sonodyne monitor of money-saving bundle, click the link below, call us on 01202 597180 or e-mail shop@absolutemusic.co.uk