MEGA DEAL ALERT! ROB PAPEN'S EXPLORER III FOR JUST £299!
Posted on Fri 02 May 2014 in Computer Music
Rob Papen is a professional sound and synth designer and his software instruments and effects have been adopted by numerous professional producers and sound designers across the world. Rob's portfolio includes the wall-shaking SubBoomBass; the ultra-versatile Blue II; the aggressive analogue-modelling sounds of Predator; Blade, which gives you the unique sounds of additive synthesis; the powerful percussive sounds of Punch and plenty more!
The eXplorer III bundle includes all Rob Papen's virtual synths, along with his award-winning effects plug-ins; in total, that's 11 professional products.
The cost of purchasing each of these plug-ins separately would set you back around £750! However, the Rob Papen eXplorer III bundle retails for just £395... and for a limited time, while stocks last, we can do even better and offer it for just £299 in our MEGA DEAL!!!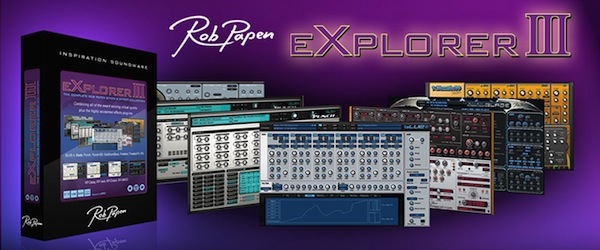 WHAT DO I GET IN THE MEGA DEAL BUNDLE?
The mega deal bundle comes with RP-Distort software and an upgrade to eXplorer III, which is partially how we can offer it at such a low price. Therefore, once received, you will firstly need to install the RP-Distort software, followed by the upgrade, which will then unlock all of the Rob Papen plug-ins in the eXplorer III bundle. Once upgraded, it's just like you bought the eXplorer III bundle straight-out, so it's well worth it, considering that you're saving £96!
The full eXplorer III bundle consists of the following products:
• Blue II: Crossfusion synthesis, combining FM, phase distortion, wave shaping & subtractive synthesis.
• Predator: Phat analogue-modelling synth.
• Predator FX: Filter, modulation, vocoder and effects plug-in.
• Blade: Cutting edge additive synthesis plug-in.
• Punch: Sampled and synthesised drums in a high quality percussive instrument.
• SubBoomBass: Ultra-deep groove bass synth with built-in step sequencer.
• RG: Electric & acoustic guitar grooves with sequencer and synth effects.
• RP-Distort: Distortion effects plugin with additional innovative features.
• RP-Delay: Delay,. reverser, 6 lines, 8 filters, 4 LFOs and more.
• RP-Verb: An advanced, transparent and musical reverb algorithm with easy controls.
• RP-AMOD: Features classic audio modulation FX to spice up your tracks.
If you already own a Rob Papen product then you can also upgrade to the full version of eXplorer III for £299 and gain access to the additional plug-ins within the bundle - CLICK HERE.
If you have any questions about the mega deal, eXplorer III bundle or any Rob Papen product, please click the links below, visit our store, give us a call on 01202 597180 or e-mail shop@absolutemusic.co.uk.
Rob Papen eXplorer III Mega Deal - More Info/Buy