IZOTOPE NEWS: Special Pricing on Izotope Creative Products
Posted on Tue 07 June 2016 in Computer Music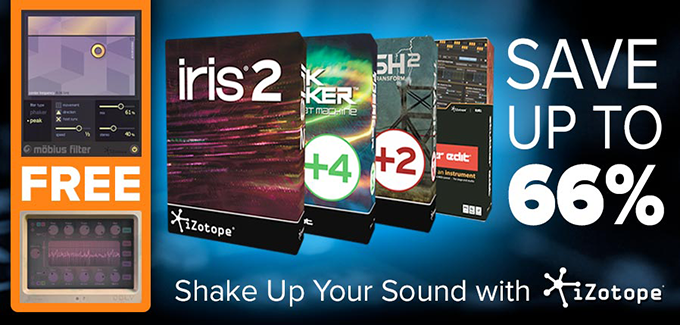 iZotope are offering a great discount on some of their most creative and inspiring Creative products until the 14th of July 2016.
When it comes to instant inspiration, the iZotope Creative Bundle is in a class of its own with four instruments and effects plus expansion packs to dive into and start producing unique and exciting sounds straight away. Between 7th June and 14th July, The Creative Bundle is reduced by 30% and also includes DDLY Delay and Mobius Filter effects plugins for free – that's over £620-worth of software for just £245.00!
The Creative Bundle consists of IRIS 2, Break Tweaker Expanded (including 4 Expansion Packs), Trash 2 (plus 2 Expansion Packs) and Stutter Edit. Ideal for inspiring new directions in music and sound design, the Creative Bundle will revolutionize your sound, again and again.
Iris 2: The World is Your Instrument.
An inspiring and playable sample-based synthesizer, Iris 2 combines the power of a sampler with the flexibility of a modular synth. Get started fast by selecting from hundreds of expertly crafted patches, then immediately tailor them with simple Macro Controls built right into the Patch Browser. Build custom patches quickly by layering audio samples from the included 11 GB library or by uploading your own WAV and AIFF files. Apply modern modulation, filters, and effects to reveal an entirely new palette of musical possibilities.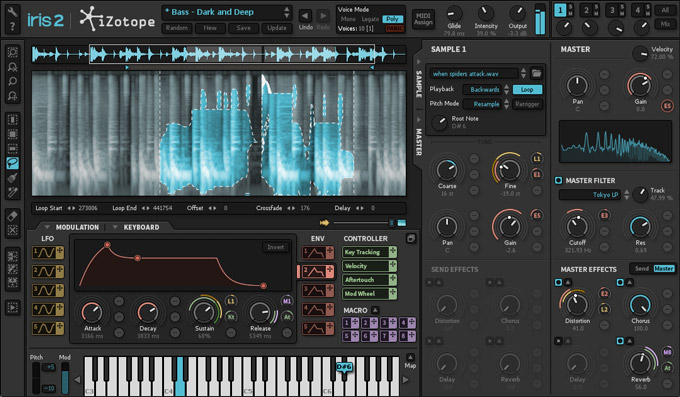 BreakTweaker Expanded: Make beats you've never heard before.
Designed by BT and developed by iZotope, BreakTweaker is not just a drum machine: it's a drum sculpting and beat sequencing environment that blurs the line between rhythm and melody. Give your beats an ever-evolving depth that gets better the longer they play. Use rhythmic slicing to drive everything from pitched melodic lines to sweeping rhythmic overtures. Top it all off with the best drum sample library in existence, curated by BT, iZotope, and top producers today. Explore a new era of rhythmic possibilities!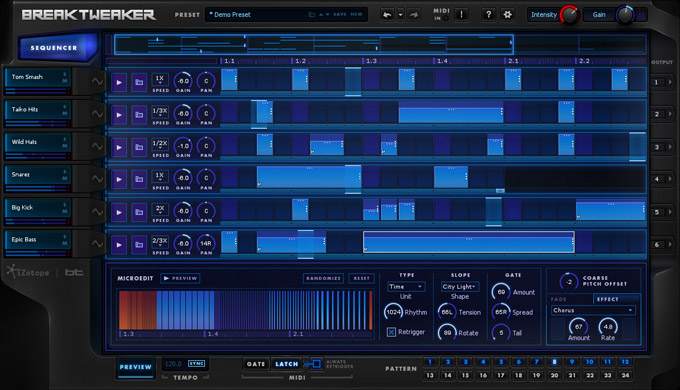 Trash 2: Distort. Mangle. Transform.
Trash 2 takes the best of Trash and makes it even better. With an entirely new sonic architecture, brand new features, optimised performance, better sound quality, and support for modern hosts and formats, Trash 2 is primed for a powerful new era of audio mangling, distortion, and experimentation. Let sonic mayhem ensue.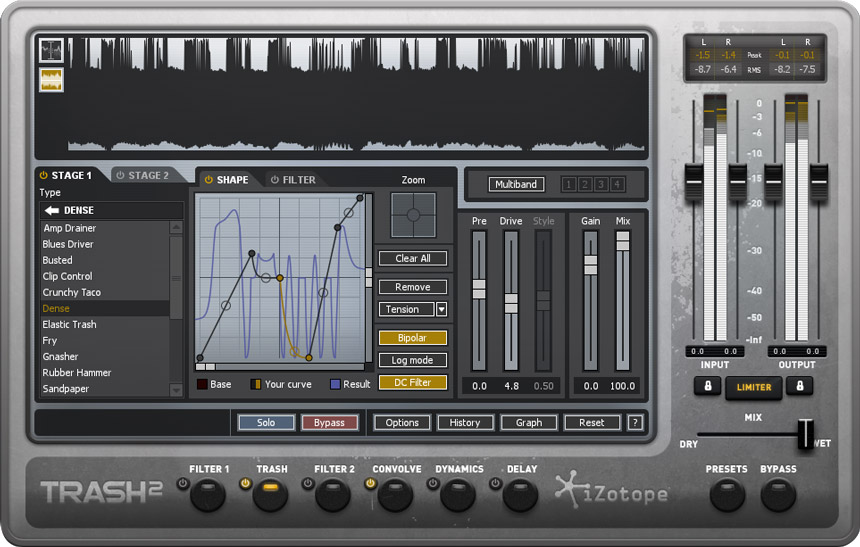 Stutter Edit: Play effects like an instrument
It's an effect. It's an instrument. It's Stutter Edit—an innovative tool for both studio and stage, designed by BT and developed by iZotope. Tear up your tracks in real time, building thrilling fills, complex effects, shimmering sweeps, and staggering stutters that will leave your listeners screaming for more. They'll think you spent hours slaving over the slices... but all it took was a press of a key. (Don't worry, we won't tell.) Push your performances and production into a new realm of musical intensity with Stutter Edit.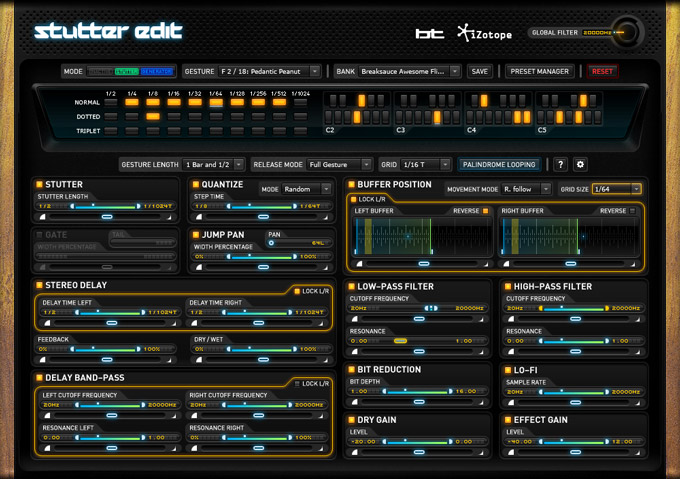 DDLY Dynamic Delay
DDLY Dynamic Delay responds to your track's musical dynamics to create versatile and intriguing delays. It's a one-of-a-kind effects plug-in that delays the signal differently depending on the character of the sound, without turning your track to aural mud. Adjust the threshold to split your signal based on transients, then send it down two separate analog or granular delay paths. Get a cleaner, more complex sound than a traditional full-signal delay plug-in with DDLY!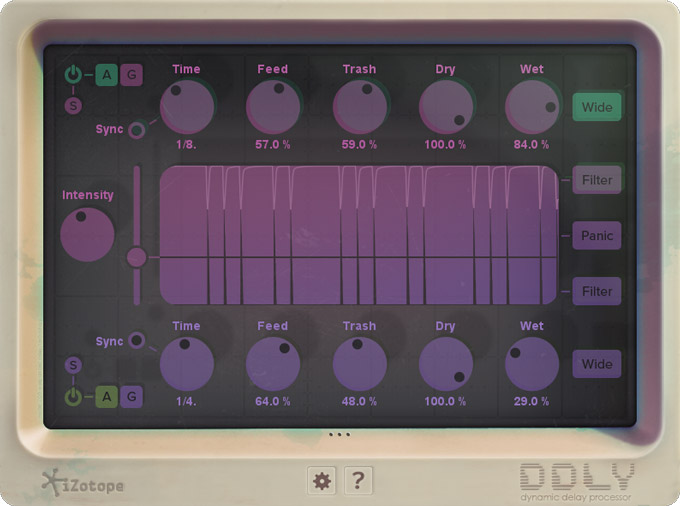 Mobius Filter
Add movement and emotion to your music with Mobius Filter's infinitely ascending or descending filter sweeps. Find the sweet spot for your track quickly and fluidly, to push to extreme heights or add subtle hints of motion. Create fresh filter effects for any genre—massive filter swells, psychedelic alternatives to flange effects, or fresh inspiration for adventurous soundscapes.
Based on the auditory illusion of the Shepard tone, Mobius Filter creates perpetually rising or falling effects while maintaining full-frequency bandwidth. Add it to any source audio to instantly create fresh energy for your tracks.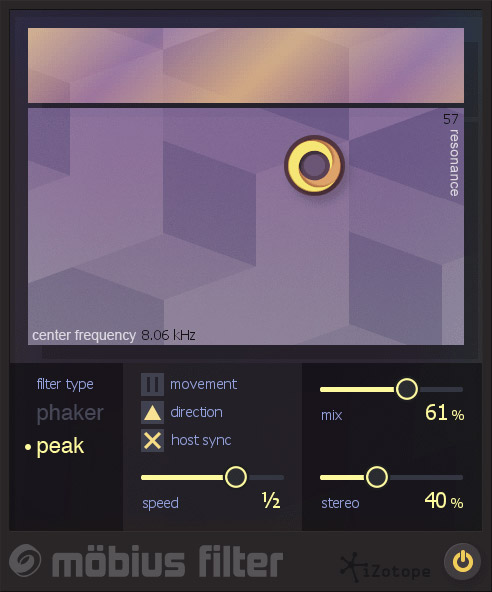 Izotope are also offering great discounts on BreakTweaker Expanded, IRIS 2 or Stutter Edit by themselves.
These deals run until the 14th July 2016, in fact, the Creative Bundle Crossgrade is only available until then, so grab yourself a bargain and a bucketload of inspiring sounds for the summer!