HUGE WINTER SAVINGS WITH TOONTRACK
Posted on Wed 18 December 2013 in Computer Music
Toontrack are the makers of the hugely popular EZdrummer and Superior Drummer drum software plug-ins, which provide you with a shed-load of professional samples and the tools for creating natural grooves. For those that need to add to their percussive library, Toontrack also provide a number of expansion packs, containing professionally recorded drum samples and MIDI loops for working with specific genres.
The great news for anyone searching for a way to add professional drums to their projects is that from now until 31st January 2014, Toontrack are offering HUGE savings of up to 50% across their range of award-winning drum software.
Read on to find out more...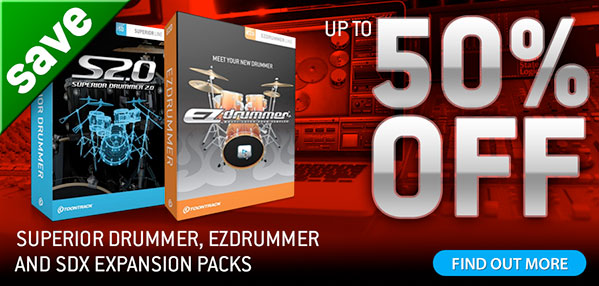 • Get EZdrummer for just £39.95 - usually £74.95!
• Get Superior Drummer for just £109 - usually £179!
• Get the crossgrade from EZdrummer to Superior Drummer for just £67.50 - usually £135!
• Get any SDX Superior Drummer expansion pack (excluding the new Rock Warehouse SDX) for just £57.95 - usually £115!
After some drum software but confused as to which would suit you best? Hopefully this simple description will help you to decide...
EZdrummer is primarily designed for musicians and songwriters, who just want to get their ideas down and sounding great as quickly as possible. Because of this, all EZdrummer samples are pre-processed (i.e. tweaked by the professionals so that they already sound like they're part of a hit track).
Superior Drummer on the other hand is designed for those who want maximum flexibility and deeper control. All Superior Drummer (and SDX) samples are supplied as dry recordings, which gives you a blank canvas in order to tweak the sounds to fit in with any given project. This means that you aren't relying on preset sounds, although if you need something more immediate, you can always use EZdrummer samples (available as EZX expansion packs) with Superior Drummer. Please note that this does not work the other way round though, i.e. you cannot use Superior Drummer samples with EZdrummer.
For more information on any Toontrack product, click the links below, give us a call on 01202 597180 or e-mail shop@absolutemusic.co.uk.
Toontrack EZdrummer - More Info/Buy
Toontrack Superior Drummer - More Info/Buy
Toontrack EZdrummer to Superior Drummer Crossgrade - More Info/Buy
CLICK HERE to view our range of SDX Superior Drummer expansion packs