FOCUSRITE INTRODUCE SCARLETT 6i6 & 18i8
Posted on Tue 07 May 2013 in Computer Music

Focusrite have just this instant announced two new USB 2.0 interfaces: the Scarlett 6i6 and 18i8. These beautiful looking devices join the existing (and very popular) family of Scarlett interfaces to make a range that should have a product to suit the needs of almost everybody!
As you can probably guess, the Scarlett 6i6 is a 6-in, 6-out device, whereas the Scarlett 18i8 is  an 18-in, 8-out interface, with both being aimed at artists, producers, bands and home-studio owners. Of course, both feature a number of Focusrite's award-winning mic preamps and 24bit/96kHz conversion and both will also work with iOS devices such as the iPad using an optional Apple Camera Connection Kit (sold separately).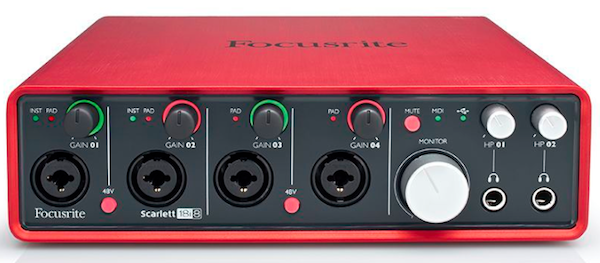 ](https://www.absolutemusic.co.uk/focusrite-scarlett-18i8-usb-audio-interface.html)
So, looking at each interface in a little more detail, the Scarlett 6i6 features two of Focusrite's microphone preamps, a stereo line input and a stereo digital S/PDIF input. In terms of outputs, the 6i6 has four line outputs, a stereo digital S/PDIF output and two headphone outputs, which can be routed as you see fit. The addition of the second headphone output is extremely handy if, for example, you are working with a vocalist that needs a special mix to be set up and sent to only their headphones whilst you listen to the full track through yours. The Focusrite Scarlett 6i6 also has a 5-pin MIDI output and input in case you are working with additional MIDI equipment that does not possess USB connectivity.
The Scarlett 18i8 is designed for artists, bands and producers that require more ins and outs. It features four microphone preamps, 4 line inputs, a stereo digital S/PDIF input, plus it can be expanded with another 8 channels of ADAT using an optional ADAT device, such as Focusrite's Octopre MkII or MkII Dynamic. This provides the option for expanding your set-up should you need more I/O in the future. The Scarlett 18i8 also provides two line outputs, a stereo digital S/PDIF output and two independent stereo headphone outputs.
Both the Scarlett 6i6 and 18i8 come with a wealth of software, including the Scarlett Plug-In Suite (includes high-quality compression, gating, EQ and reverb plug-ins), Ableton Live Lite (for recording you tracks), Loopmasters sample content and the Novation Bass Station analogue-modelling software instrument.
For more information on either the Scarlett 18i8 or Scarlett 6i6, click the links below or give us a call on 01202 597180.
Focusrite Scarlett 18i8 - More Info/Buy