ELEVEN & MOOGERFOOGER BUNDLE WITH AVID
Posted on Wed 10 July 2013 in Computer Music

Eleven is a software plug-in for adding genuine guitar tones to your projects, with models based on a range of sought-after vintage and modern tube amps, speaker cabinets and mics. Presets include models based on Fender, Marshall, Mesa/Boogie and Soldano amps and you can create your own completely custom sound by mixing your choice of amps, cabs and mics. Apply them to your own electric guitar or get creative by adding them to other instruments!
Avid's Moogerfooger Bundle provides plug-in emulations of some of Moog's awesome analogue Moogerfooger units! The Moogerfooger Bundle comes with emulations of the Moogerfooger Ring Modulator, the Moogerfooger Low Pass Filter, the Moogerfooger 12-stage Phaser and the Moogerfooger Analogue Delay!
These bundles have a combined RRP of over £600, but the great news for customers is that you can bag them both for significantly less with Fast Track Solo and Fast Track Duo audio interfaces!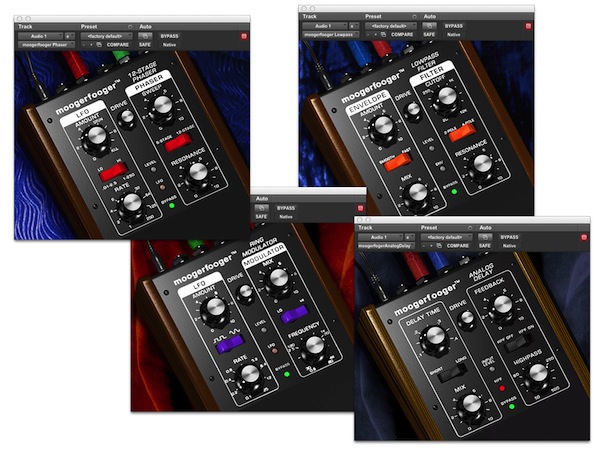 Eleven and Moogerfooger Bundle software will be available with these interfaces for the forseeable future (and the interfaces also come with Pro Tools Express) so they provide an excellent value-for-money package...
The Avid Fast Track Solo is a perfect interface for small home-recording projects, providing one input for a microphone and one for an electric guitar or bass, along with two unbalanced outputs. Although the Avid Fast Track Duo is still a 2-in, 2-out device, it provides more flexibility for recording projects, offering microphone, guitar and line level connections, as well as two balanced outputs.
Don't forget that by purchasing the Avid Fast Track Solo or Duo interface along with the relevant crossgrade, you can also get the full version of Pro Tools 11 (along with the interface and included software) for less or the same as Pro Tools 11 costs on its own! In fact, purchasing an Avid Fast Track Solo interace with an upgrade is the cheapest way to get Pro Tools 11 if you're not a student or teacher. For more information on these bundles, check out the links below.
For more information on either the Avid Fast Track Solo or Avid Fast Track Duo interfaces, which both come with Eleven and Moogerfooger Bundle software, click the links below or give us a call on 01202 597180.
Avid Fast Track Solo - More Info/Buy
Avid Fast Track Duo - More Info/Buy
Avid Fast Track Solo with Pro Tools 11 Bundle - SAVE £££s!!! - More Info/Buy
Avid Fast Track Duo with Pro Tools 11 Bundle - SAVE £££s!!! - More Info/Buy